The Alarm Is Sounding–Respond in Prayer!
Angela Rodriguez, IFA Contributing Writer
|
August 27, 2022
The Alarm Is Sounding–Respond in Prayer!
Angela Rodriguez, IFA Contributing Writer
|
August 27, 2022
I Prayed
have prayed
Father, we pray that, as we move into the month of Elul, we would be inspired to stand and pray for change. Continue to move in our nation, God, and bring its citizens back to You.
Analysis. Imagine you're lying in your cozy, warm bed when all of a sudden the alarm goes off. How do you respond? Do you stay tucked under the covers while the loud, shrill sound continues? Do you turn it off and go back to bed? Or, does the sound drive you to jump up and get ready for the day? Hopefully, the loud blast opens your eyes and urges you to move instead of staying asleep.
View Comments (13)
This is how we should approach the biblical month of Elul each year. Known as the month of reflection and repentance, it's a unique time to hear the awakening blast of the shofar (trumpet) that's being played by our King and Creator. We are urged to open our ears so we can hear and heed the voice of our Savior as he prepares us for the year to come. On the Gregorian calendar, Elul will fall in August or September yearly. This year it will begin on August 28, 2022 and last until sundown on September 25, 2022.
Unprecedented events have unfolded in just the last year both nationally and globally which remind us that observing Elul is more important than ever. These events and issues reveal that spiritual battles are increasing not only in number, but in severity. During Elul, the shofar is sounded as not just an awakening blast, but as an alarm.  In fact, the month of Elul precedes the Feast of Trumpets, also known as Yom Teruah, or the Day of Alarm. As Christians, we cannot sleep through this alarm, or turn it off. We must wake up, jump out of bed and respond with intercession and prayer.
Here are some of the issues and events that have raised an alarm in the past biblical year:
It's clear that the alarm has sounded. Now it's time to respond with prayer and repentance during the month of Elul.
For background, Elul is the sixth month on the biblical religious calendar and the twelfth (last) month on the civil calendar. It derives from an ancient Akkadian word meaning harvest and is similar to the Aramaic root verb which means to search. Known as the month of repentance, it has special significance because it precedes the High Holy Days that fall in the month of Tishrei. The Bible refers to these Holy Days as feasts, which is translated as moed in Hebrew. This word means an appointed time or meeting. The implication is that the feasts are an important time to meet with God.
Holy Days which Follow Elul
The Feast of Trumpets, also known as Rosh Hashanah, or the Day of Alarm–arrives after the last day of Elul on Tishrei 1, ushering in a new year on the biblical civil calendar. This year it begins at sundown on September 25 and ends at sundown on September 27.
The Day of Atonement, also known as Yom Kippur, falls on the tenth of Tishrei (sundown on October 4 to sundown on October 5, 2022) and is considered the holiest day of the year. Fasting and prayer are key components of this feast (appointment).
The Feast of Tabernacles, also known as Sukkot, begins on the fifteenth of Tishrei, lasting for 7 days (sundown on October 9 to sundown on October 16, 2022). Known as "The Season of our Joy," this feast includes singing, dancing, eating and celebrating.
Because Elul arrives before these important appointments with God, it's also called the month of preparation. This time of preparation can be used to pray for issues/sins affecting one's own personal life, but also for national sins or concerns.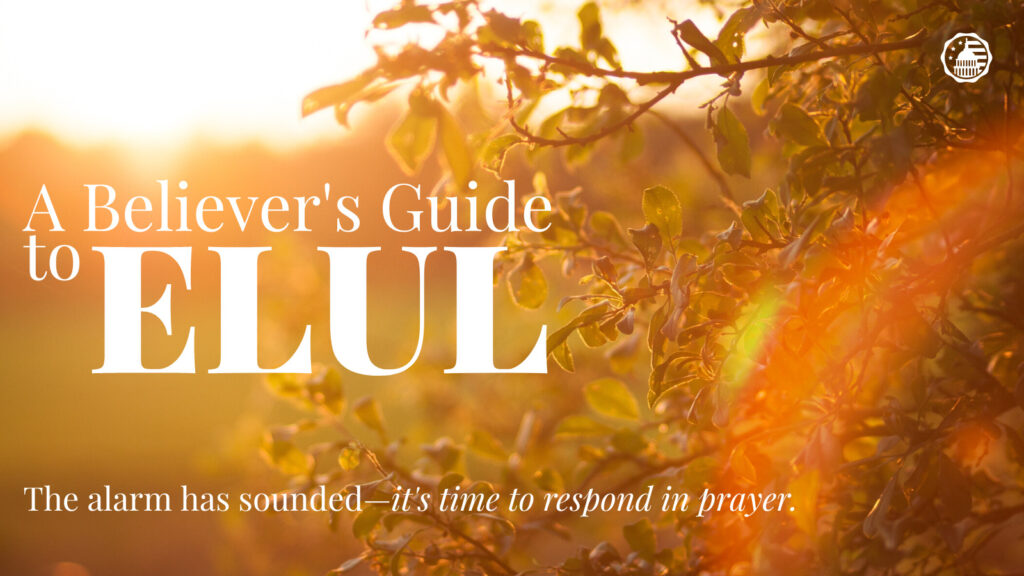 The Shofar is the Key to Understanding Elul
The shofar (ram's horn) is blown every morning except Shabbat from Elul 1 through Elul 28 in both Orthodox and Messianic synagogues. It is not blown on the last day of the month–Elul 29, which is the day before the Feast of Trumpets (Rosh Hashanah).
The curved shape of the shofar symbolizes the act of being bent or submissive to God.
The piercing blast serves as a wake-up call for all believers.
It's stirring sound opens blinded eyes.
The Hebrew root of the word shofar is the word shaper, which means to beautify or improve.
The sound of the shofar serves as a call to repentance.
The Sounds of the Shofar
Tekiah–a long unbroken single blast–symbolizes the strength and hope of God and the sound of the King's coronation.
Shevarim–Three short, broken sounds–signifies wailing, weeping and sorrow for sin.
Teru'ah–Nine short staccato blasts of alarm that are played very quickly–symbolizes awakening the soul.
Tekiah ha Gadol–A very long blast played for as long as possible. Some biblical scholars call this the Last Trump or the Great Trump–signifies the glorious presence of God and the hope of redemption.
Teshuvah
The Hebrew word for repentance.
To turn toward God and away from the world.
To turn away from evil and turn towards what is good.
Maimonides writes: "There is a hidden message we are supposed to infer by listening to the shofar. It suggests to say, 'Sleeping ones! Awaken from your sleep! Slumbering ones! Awaken from your slumber! Examine your deeds. Remember your Creator and do teshuvah."
In the Bible, the shofar is associated with:
The shofar's piercing blast can only be heard if air (wind) is blown through it. The flowing air can be likened to the Holy Spirit, which is the "wind" provided by Jesus to his followers (John 3:8). As we listen to the Holy Spirit, we are heeding the shofar's call. Also, as the Holy Spirit (wind) moves through us, we can trumpet the truth to others.
The days of Elul precede a new year that arrives on Tishrei 1 (Rosh Hashanah). Therefore, it's the time of year to look back on one's life and evaluate your deeds, as well as any fruit that was produced.
For Jewish people who do not know Jesus as the Messiah, the focus is on achieving right standing with God, so he will assign them a favorable judgment.
According to Jewish tradition, God will make his judgment each year on the Feast of Trumpets (Rosh Hashanah) and he will seal this judgment on the Day of Atonement (Yom Kippur).
This is why Jewish people will greet each other during Elul by saying, "May you be inscribed and sealed for a good year."
For Christians, as well as Messianic Jews (believers in Messiah Jesus), the month of Elul is also a time of introspection, but we recognize that Jesus fulfilled eternal atonement when he became the Lamb of God and died for the sins of those who put faith in him.
Elul is a time to repent and turn back to the commandments of God, but it's understood that no one is saved by their deeds–only the blood of Jesus brings salvation.
Because Jesus finished it at the cross, believers don't have to wonder each year whether God will forgive them and have mercy on their souls at Yom Kippur (Day of Atonement).
In Hebrew, Elul is used as an acronym for the phrase in Song of Songs 6:3 which says, "I am my beloved's, and my beloved is mine."
Jewish tradition teaches that God is in the field waiting for us during the month of Elul.
Observing Elul provides a special opportunity to spend extra time with the King of Kings, but it's not a biblical requirement.
The National Time of Repentance
The month of Elul is a time to address sins individually, but also nationally. Praying for a nation's leaders, as well as sins related to idolatry can be focal points. Considering the list of events that have happened in the past year shared earlier in this guide, it would also be wise to pray about these issues and ask for discernment about how to respond.
According to Jewish tradition, Moses returned to Mt. Sinai during the month of Elul and stayed there for 40 days after the incident of the Golden Calf (Exodus 32;34:27-28).
The Day of Atonement (Yom Kippur) arrives 40 days after the first day of Elul. In ancient Israel, this is when the High Priest entered the Holy of Holies to plead for the sins of the nation.
Elul is an opportune time to appeal to our High Priest (Jesus) and plead for the sins of our nation.
How can we pray for ourselves and our Nation during Elul?
It is customary to sing the Psalms during the month of Elul. Therefore, we should pray through each one, using them as tools of intercession for ourselves and the nation.
Psalm 27 is considered one of the most important ones to recite, particularly verses 5 and 6.
For in the day of trouble he will hide me in His shelter; in the secret place of His tabernacle will He hide me; He will set me high upon a rock. And now shall my head be lifted up above my enemies round about me; in His tabernacle I will offer sacrifices and shouting of joy; I will sing, yes, I will sing praises to the Lord.
Another tradition involves reciting prayers of repentance, known as Selichot, at least once a day during the month.
After Elul concludes and the Feast of Trumpets (Rosh Hashanah) begins, it is customary to travel to a body of water to participate in Tashlich. This involves throwing bread crumbs or stones into the water to simulate a casting off of sins as stated in Micah 7:19–He will again have compassion on us. And will subdue our iniquities. You will cast all our sins into the depths of the sea. This can also be done during the month of Elul. Christians can see a picture of Jesus in this activity as we cast our burdens and sins upon the "Living Water," as well as the "Rock."
Some believers make a list of the key issues their nation is facing and ask for God's discernment/wisdom about each one. This list is prayed over each day during the month.
National Issues to Pray about during Elul
Romans 13:11-12 says, "And that, knowing the time, that now it is high time to awake out of sleep: for now is our salvation nearer than when we believed. The night is far spent, the day is at hand: let us therefore cast off the works of darkness, and let us put on the armor of light." 
This Elul, hear the piercing blast of the shofar and hearken others to heed its warning. The alarm has been raised so let's respond to it.
How are you praying this Elul? Share your thoughts and prayers below.
Angela Rodriguez is an author, blogger and homeschooling Mom who studies the historical and biblical connections between Israel and the United States. You can visit her blogs at 67owls.com and 100trumpets.com. Her latest book, Psalm 91: Under the Wings of Jesus, was released in June 2021. Photo Credit: Patrick Fore on Unsplash.
Partner with Us
Intercessors for America is the trusted resource for millions of people across the United States committed to praying for our nation. If you have benefited from IFA's resources and community, please consider joining us as a monthly support partner. As a 501(c)3 organization, it's through your support that all this possible.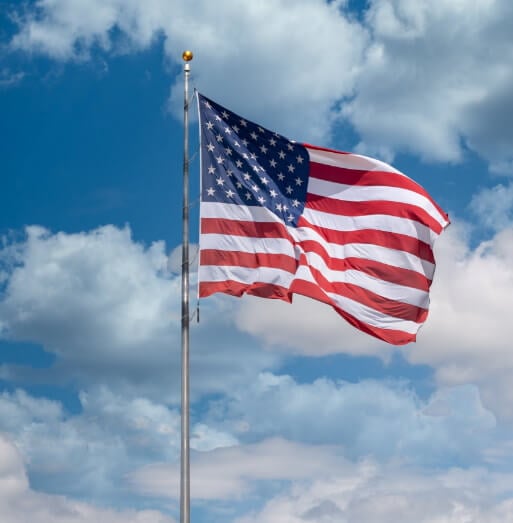 Become a Monthly Partner