THEY SAY "SHUTDOWN," WE SAY "OPEN HEAVENS!"
Kim Potter, IFA Contributing Writer
|
November 3, 2020
THEY SAY "SHUTDOWN," WE SAY "OPEN HEAVENS!"
Kim Potter, IFA Contributing Writer
|
November 3, 2020
I Prayed
have prayed
Father, do not let us live in fear. Help us to make no provision for the enemy to attack and give our nation wisdom and discernment.
They say, "D.C. shutdown."  We say, "Open Heavens!"
View Comments (39)
I was perusing through one of the latest articles from IFApray.org.   It was about the threat of the shutdown of Washington, D.C. on Election Day.  An article that may have once brought fear, didn't.
It described that the organizers of Shutdown D.C. declared that their aim "to exercise noncompliance and direct action" (which was shut down at Lafayette Park and which barely made a blip on the national seen) was "fairly irrelevant in light of new demonstration plans."
I agree their actions so far have been irrelevant. It is because the prayers of the intercessors have prevailed!
The Lord spoke to me and asked, "This is what they say, what do you say?"
The first thing that came to mind was, "Open Heavens!"
Fear, confusion, and pandemic has been in our nation for over seven months now.  While there have been times when fear could have arisen, we have fought to keep our eyes on God.  At least for the most part.
We have prayed and watched while the enemy made threats against our nation and its people.  We have witnessed anger, evil, and rioting.  However, we have continued to pray and have seen God turn things around or stop the enemy in his tracks, time after time.
This new threat can and should have the same outcome. A divine turnaround.
The enemy is threatening to shut down Washington, D.C.  He has attempted to bring a new level of fear to our land.  This should come as no surprise.  The Bible tells us clearly he comes to steal, kill, and destroy.  That is always his agenda.
However, Jesus came that we might have life and life more abundantly.  It's time for us to stand together and cry out against this threat, asking God to open the heavens and invade our nation.
Isaiah 64:1 (TPT) says, "God, if only you would tear open the heavenly realm and come down! How the mountains would tremble in your awesome presence!"
The footnotes in this translation read: "Mountains can also symbolize governments and kingdoms. There is one King and one kingdom that rises above every other mountain." (Isa. 2:1-5)
Nahum 1:5 tells us that "mountains tremble at His presence."  This current mountain looming before us, threatening our nation, is no different.
We may not see it, but the mountains standing before our God are indeed trembling.  I pray God opens our eyes that we may see this truth.  And that we may know, there is more with us than with them.
Therefore, we stand.
While the enemy may continue to make threats – we shall not be moved.  It is time for us to stand firm, stand strong and courageous on the word of God and what God has spoken through many of His prophets.
The devil may shout fear and intimidation, but we declare the heavens are open and God has arisen.  Every mountain, every kingdom opposing our God will fall.  Therefore, we stand and rejoice.  We know that God declared the end from the beginning.  We will see His plan fulfilled in this season if we hold our confidence steadfast to the very end.
"This is the word revealed to Isaiah, son of Amoz, concerning Judah and Jerusalem: In the last days, the mountain of Yahweh's temple will be raised up as the head of the mountains, towering over all the hills. A sparkling stream of every nation will flow into it. Many peoples will come and say, "Everyone, come! Let's go up higher to Yahweh's mountain, to the house of Jacob's God; then he can teach us his ways and we can walk in his paths!" Zion will be the center of instruction, and the word of Yahweh will go out from Jerusalem. He will judge fairly between the nations and settle disputes among many peoples. They will beat the swords they used against each other into plowshares and their spears into pruning hooks. No nation will take up weapons against another, nor will they prepare for war anymore. O house of Jacob, come let us walk in the wonderful light of Yahweh!" (Is 1:2-5 TPT)
God tells us, "Come up higher, to the mountain, the Kingdom of the Lord, and walk in His ways."  It is time for us to arise and walk in His ways – of faith, trust and confidence in Him.
His Word promises "No nation will take up weapons against another, nor will they prepare for war anymore."  We have seen this truth play out as President Trump continues to broker peace between the nations.  God continues to fulfill His Word. He will not stop until it is complete.
What's our part?
First of all, refuse fear.
Don't listen to the media.  Press into God and His Word.  He will keep us in perfect peace, as our mind is stayed on Him.
Secondly, pray.
Pray and declare that God has arisen over the USA.  Declare the heavens are open and the whole earth is filled with His glorious presence.
An open heaven is where there is a nearness of heaven to earth.  A sense of His awesome presence.  Let's pray this is what blankets our nation on November 3.
Finally, pray every mountain standing before God, falls in His presence, as His glory fills this earth.
Together we declare, "There will be no D.C. shutdown, but the heavens will open and declare His glory."
May it be so.
Bio:
Kim Potter is a writer and the founder of A New Thing Ministries, which sends a daily teaching to thousands of people all around the world. Her articles have appeared on The Elijah List, Charisma, Spirit Fuel and iBelieve.com. Kim's message is one of hope. She speaks to the heart of those who have grown discouraged or disappointed by the circumstances of life, imparting hope. For additional information, or to receive her daily writings, go to www.anewthingministries.com
(Photo Credit: Unsplash.)
Comment your prayers for God to arise over the USA in the comments below!
Partner with Us
Intercessors for America is the trusted resource for millions of people across the United States committed to praying for our nation. If you have benefited from IFA's resources and community, please consider joining us as a monthly support partner. As a 501(c)3 organization, it's through your support that all this possible.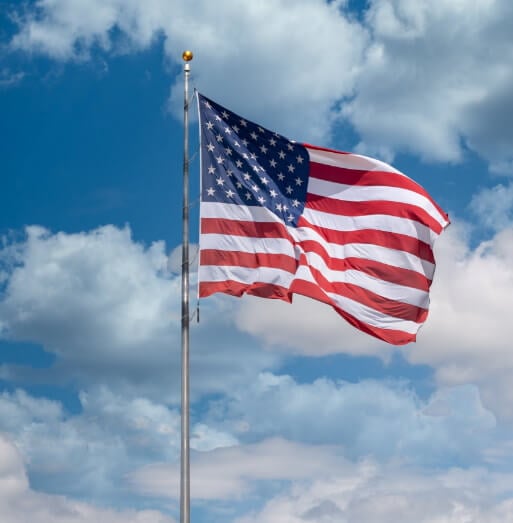 Become a Monthly Partner