LOVING OUR ENEMIES
Kurt Nauck, Meet You at the Polls
|
November 3, 2020
LOVING OUR ENEMIES
Kurt Nauck, Meet You at the Polls
|
November 3, 2020
I Prayed
have prayed
Father, help us to maintain justice and to do what is right in Your eyes. Isaiah 56:1
And forgive us our sins, as we forgive those who sin against us.
View Comments (8)
Forgiveness. It's one of those things we love to receive, but find it so difficult to grant. And yet Jesus' words are uncomfortably clear. Especially the ones right there in the middle, "as we."
It reminds us of what Jesus commanded in Matthew 7:12, widely known as The Golden Rule: "Do unto others as you would have them do unto you." But it appears that in the Lord's Prayer, Jesus is digging a little deeper than that. Could there be a rule, a spiritual principle, even more profound? Perhaps a rule that says, "Do unto others as you would have God do unto you"? Let's examine some of the possible implications in light of forgiveness.
If we say, "But God, this person really hurt me deeply," God might answer, "That is true, but shall I tell you how deeply you hurt Me?"
If we say, "But God, why should I forgive her? She never repented!"; God might answer, "There are many things you never repented of either. Shall I forgive you?"
If we say, "He says he's sorry, but then the very next day he does it again!"; God might say, "How many times have you done [fill in the blank] and still expect me to forgive you?"
Or putting all those things together, what do you think the Lord's response would be if we were to say, "But God, he hurts me deeply over and over and over and has never shown the slightest degree of remorse?"
If we truly understood the spiritual principle at work here what would the logical conclusion be? Might we possibly be led to go so overboard in our repentance that we not only forgive the violation, but even invite another? Of course not, that's ridiculous. Then again, might it look something like this?
"But I say to you who hear, love your enemies, do good to those who hate you, bless those who curse you, pray for those who mistreat you. Whoever hits you on the cheek, offer him the other also; and whoever takes away your coat, do not withhold your shirt from him either. Give to everyone who asks of you, and whoever takes away what is yours, do not demand it back." – Luke 6:27-30
The whole concept is summed up a couple of sentences later in verse 38:
"For by your standard of measure it will be measured to you in return."
Whoa, that's heavy. I never really saw it in that light. I'm no prophet, but I think I'm hearing the Spirit say that the problem in the real Church (not the apostate Church) isn't a lack of repentance, but a lack of forgiveness.
No doubt this revelation has immediate personal application in the lives of some who are reading this. (I know it does in mine.) Might it also have application in light of our present intercession on behalf of America? I throw the out following for your consideration.
We have been fighting political battles for ages. Did Jesus do that? What about the apostles? What if we regarded Paul's words in Ephesians 6:12 literally, and focused our hatred and attacks on the forces of darkness in the heavenly realm instead of on their earthly human puppets? What if we let God fight our earthly battles while we waged war in the heavenly places? What if we sanctified ourselves and lived our lives as spiritual warriors?
I'm not suggesting that we don't vote, don't run for office or don't involve ourselves in the political process. Nor am I suggesting that those who commit crimes be absolved, for Romans 13 clearly tells us that the proper function of government is to promote the good and hold the wicked accountable. But I am asking if our personal prayer focus may be pointed in the wrong direction. What if we really loved our enemies?
What if . . . ?
Father, forgive us for not heeding your clear call to truly love our enemies. Truth be told, we honestly do not even know what that would look like, the concept is so foreign to most of us. We long for your righteous judgement, and have earnestly prayed that justice might be served. But in our heart of hearts, we know that we too deserve judgement. And if we don't, it's only because we have been forgiven through the grace, mercy and lovingkindness poured out upon us through the blood of our Savior.
Lord Jesus, fill our hearts with Your love, understanding and compassion for others. Help us to see the lost through eyes of the Good Shepherd. May we truly understand that you died for all men, and that there is no heart that You cannot touch. Teach us to pray for our enemies and against the forces of darkness that control them. May this fundamental understanding change the way we pray and the manner in which we interact with our fellow man.
So let it be.
Kurt Nauck, Meet You at the Polls (Photo Credit: Unsplash.)
How will you practically love your enemies this week?
Partner with Us
Intercessors for America is the trusted resource for millions of people across the United States committed to praying for our nation. If you have benefited from IFA's resources and community, please consider joining us as a monthly support partner. As a 501(c)3 organization, it's through your support that all this possible.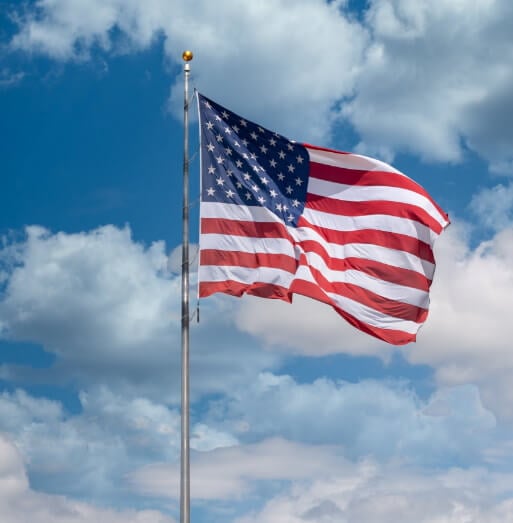 Become a Monthly Partner