HAITIAN CHRISTIANS SHARE HOW THIS DISASTER IS DIFFERENT THAN 2010
From Christianity Today
|
August 22, 2021
HAITIAN CHRISTIANS SHARE HOW THIS DISASTER IS DIFFERENT THAN 2010
From Christianity Today
|
August 22, 2021
I Prayed
have prayed
Father, thank You for the faith and resilience of our brothers and sisters in Haiti. We ask You to strengthen and encourage them. We ask You to heal their nation, bringing peace and stability.
Last month, Haitian president Jovenel Moïse was assassinated. On Saturday, a 7.2-magnitude earthquake struck the Caribbean country, leaving more than 1,900 people dead and thousands more injured and displaced from their homes…
The earthquake drew comparisons to the 7.0-magnitude tremor that hit the island in 2010, killing more than 300,000 people according to the Haitian government and injuring nearly as many. In its wake, Haitian theologian Dieumeme Noelliste told CT in 2010 he didn't expect that crisis would lead his people to forsake their faith:
View Comments (2)
This is not the first time that disaster has come to us. This may be the most brutal, but two years ago we had four devastating hurricanes and even then the people didn't turn against God. They've suffered many things at the hands of fellow Haitians and remained fast to God. Even during slavery, Haitians were treated brutally but open to the version of Christianity that the slave owners were preaching. The slaves were even asking for more! I see the church continuing to grow. In these situations people tend to turn to God. This is their only hope…
CT asked Haitian church leaders and missionaries to share what they're seeing on the ground…
Jeanty: In terms of response to the crisis, the church is better prepared today in that it has the living memories of previous experiences. I had called a meeting among various groups doing interventions during the relief effort for Hurricane Matthew and we identified some best practices and errors to avoid. This document is being shared to various groups as we consider interventions for this new crisis.

On theodicy, probably less people are saying that this is a divine judgement because of a so-called pact with Satan that our forefathers would have taken. This is either from pressure from society or because we are no longer convinced of a simplistic explanation for evil in our society. Fortunately, people are still calling on the Lord and they believe that, despite the natural disasters, He is still the good God…

Jules: Unfortunately, since the past earthquake, the construction codes has not been enforced by the Haitian government. Churches have not emphasized the need to use wisdom when it comes to building. The literal understanding of the parable of the fool who built his house on the sand was not perceived in relation to an earthquake…

Noelliste: Speaking broadly, the Haitian church should be more conscious of its responsibility this time than 11 years ago. Following the 2010 earthquake, several prominent church leaders came together and formed an organization that was tasked to mobilize and prepare the Haitian church for the exercise of its prophetic role in Haitian society. The movement produced a series of theological reflections on key values that are deemed essential for a quality life in any society: integrity, justice, good governance, and environmental care. Seminars and symposia were held throughout the country to propagate the findings of these studies. Even preaching materials were developed on these themes to supply the Haitian pulpit in an effort to make the preaching more pertinent to the Haitian context…

Perkins: After the 2010 earthquake, our seminary saw an uptick in new applicants. People came to the seminary saying "God was gracious to spare me, so I want to be prepared to better serve him."

Victor: Both earthquakes―the last one that hit Haiti in 2010 and the one only three days old―took everybody by surprise but for different reasons. The January 12 earthquake in 2010 surprised us because Haitians had become unaccustomed to the idea of earthquakes. Before 2010, the last major earthquake that hit Haiti dated back to 1842. People had forgotten what an earthquake looked like. That alone caused many to perish in the 2010 earthquake…

But we Haitians are very resilient. Despite everything that happens to us, the average Haitian remains steadfast in his belief that "Bondye bon" ("God is good")…

But the church is aware of the truth of this saying: "People don't care how much you know until they know how much you care." Hence the emphasis the church puts on ministering to the Haitian people in the midst of the direst disasters that hit the country. Even people who are most hostile to the church acknowledge her positive impact on Haitian society, especially during times of national catastrophe.

How are responses different for the church and society when a disaster is natural vs. manmade?

Jeanty: In a natural disaster:

No one is to blame
There is no discrimination among victims
The solution is relief and rebuilding
There are calls for compassion
There is global human interest in helping
Politics is not the primary concern

In a manmade disaster:

Blame is passed to various groups
Usually victims are targeted
The solution includes social intervention (negotiation, etc.)
There are calls for justice
There is limited foreign interest in helping
Political interests are at stake…

Noelliste: Both moral and natural disasters cause pain and suffering to people. Both cause us to lament. In the case of Haiti, both cause us to exclaim, "How long, oh Lord! How long!" But beside lament, when disaster strikes, our minds turn to the question: "Why?" Our tendency is to locate the cause of moral disaster in humans, and to resort to mystery when it comes to an explanation of natural disaster. Some time we call them "acts of God."…

Victor: Natural disasters are sudden. The extent of devastation they bring about is overwhelming and shocking. However, they tend to bring people together and bring out the best in us. Video footage that came to us from the places hit by the earthquake made us cry and brought comfort to us when we saw the efforts made by the population to rescue people that are trapped under the rubble with their bare hands…

How should the global church be praying for you all in Haiti during this time?

Jeanty: Please pray for:

Safe transportation of humanitarian relief and equitable distribution of help to all the victims.
Powerful witness of Christian compassion during the crisis.
Generous contributions to arrive in a timely fashion for rebuilding, including for damaged churches.
Limited greed and misuse of funds and relief materials.
Vision and political will for local authorities so they seek primarily the welfare of the people.
Political breakthrough and stability through meaningful negotiations among political groups and civil society so that the nation can go forward after the assassination of the president.
That credible and experienced citizens in-country and in the diaspora are raised and find visibility as potential political leaders for the nation.
Protection from rain and tropical storm that are expected this week…

Perkins: There are real concerns about getting aid to the affected area. The only road that connects the area to the rest of the country requires you to pass through Martissant, a small area just west of the capital, Port-au-Prince, that has remained under gang control for months. [Editor's note: In light of this violence, the UN and Haitian government have called for the establishment of a "humanitarian coorridor."] As recently as a few days ago, these gangs have opened fire on vehicles trying to pass through. This same gang, by the way, took control of our seminary campus late last year…

Victor: Our nation is in dire need of prayer at this critical time of its existence. We need justice, peace, and national unity without which nothing can be achieved: "A house divided against itself cannot stand" (Matt. 12:25). Please pray for these things to materialize in the life of our nation.

Pray also for our nation to repent in order for God to fulfill his promise in 2 Chronicles 7:14 to "heal our land" from all its ills. Pray for the victims of the earthquake. The Haitian authorities put the death toll above 1,400; the injured at 1,800; many are unaccounted for, and many more have become homeless. Pray that God continue to show his mercy and compassion to us. For without the Lord's great love, we would have already been consumed. Despite all the calamities that have befallen our nation, we can say, "So far the Lord has helped us. His compassions have not failed us" (1 Sam. 7:12; Lam. 3:22).

Have you been encouraged by the faith of our Haitian brothers and sisters from what you read in this article? Please share below!
(Excerpted from Christianity Today. Article by Morgan Lee. Photo Credit: Zach Vessels).
Partner with Us
Intercessors for America is the trusted resource for millions of people across the United States committed to praying for our nation. If you have benefited from IFA's resources and community, please consider joining us as a monthly support partner. As a 501(c)3 organization, it's through your support that all this possible.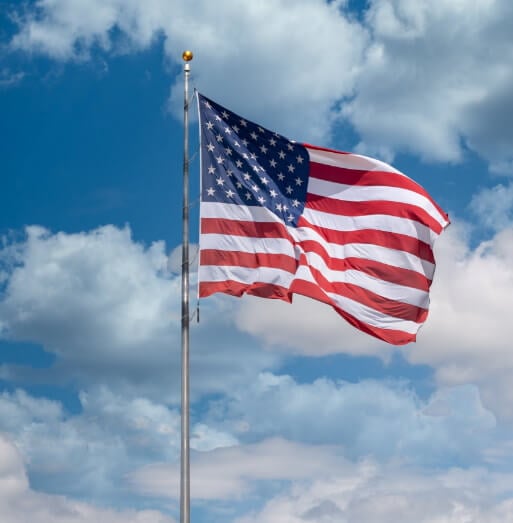 Become a Monthly Partner