Fake News and Now, Fake Newscasters
Angela Rodriguez, IFA Contributing Writer
|
January 25, 2022
Fake News and Now, Fake Newscasters
Angela Rodriguez, IFA Contributing Writer
|
January 25, 2022
I Prayed
have prayed
Lord Jesus, we know that you created human beings in your image. Though man tries to counterfeit your original design, we will not be fooled. We choose the workings of your hands and not the digital creations of those who would seek to re-invent what it means to be human.
How good is your sense of perception? Can you tell the difference between a real human and a digital one? Recently, the Epoch Times featured an article that describes an artificial intelligence news anchor in China who is almost indistinguishable from a real human. As I read the article and then gazed upon this computerized news anchor, I had to ask myself a serious question–are we living in the age of technology or the Twilight Zone?
As early as 2018, the Chinese media industry announced its intention to use virtual broadcasters to report across multiple platforms that range from social media to state-run news feeds. The rationale touted for using these virtual reporters is that they can be available all day and night for continuous reporting. In addition, they can read non-stop texts easily and naturally, without growing weary or tired.
View Comments (21)
The new technology was introduced at the World Internet Conference in November 2018.  The AI news anchor debuted by saying, "I will work tirelessly to keep you informed as texts will be typed into my system uninterrupted. I look forward to bringing you the brand-new news experiences."
As of 2022, artificial intelligence broadcasts have come full circle. China has officially launched their newscasts with the help of the artificial intelligence company Xiaoice. Currently, they are using news anchors who are virtual replicas of two real-life newscasters (a man and a woman). Known as N Xiaohei and N Xiaobai, these digital broadcasters are created by collecting data from their human counterparts so they can to learn how to speak, move, and behave.
Xiaoice announced the official launch of their live broadcasting program that will work in collaboration with China's state-controlled news outlet known as the National Business Daily. The show will be called "AI Business Daily" and it will broadcast financial and business news 24 hours a day, seven days a week. On December 20, 2021, AI news anchor N Xiaohei announced the program by saying: "Hello everyone, I am the artificial intelligence news anchor on National Business Daily. I am the virtual twin of the original host. I have been running—reporting the news—undetected for 70 days now."
Artificial intelligence news anchors are not just popular in China. In November 2020, South Korean TV channel MBN featured an AI powered virtual news anchor who resembled a real life anchorwoman named Kim Ju Ha. An article in Kyodo News explained, "The virtual anchor does not need any makeup, outfits or rehearsals. It takes just a minute to produce virtual anchor footage for a news piece up to 1,000 words long."
Digital newscasters are on the rise, but they aren't the only non-humans taking center stage in the media world. Japan introduced a robotic news anchor named Erica in 2018. Resembling a 23-year-old woman, this android is designed with one of the most advanced artificial speech systems in the world. Her creator, Hiroshi Ishiguro, says she is warm and caring, even claiming she could one day have an "independent consciousness." Erica is able to respond to questions, tell jokes and track people in a room. Ishiguro's goal is stated in his own words– "What we really want to do is have a robot which can think and act and do everything completely on its own." Commenting further he added, "Making androids is about exploring what it means to be human… examining the question of what is emotion, what is awareness, what is thinking."
In 2019, Russia debuted its own robotic news anchor named Alex who was able to read the latest news updates on a state-owned channel. Designed by Russian robotic company Promobot, this realistic android utilizes up to 29 motors, which enables Alex to move his eyes, eyebrows and lips. His artificial skin is designed to contain pores and wrinkles to give him the look of a real human. Not everyone was overjoyed at the debut of this silicone-faced humanoid. Some viewers commented that Alex's facial expressions were awkward and his appearance looked rough. One Twitter user declared, "Meet Rossiya 24's news anchor, robot Alex. Artificial intelligence, a talent for propaganda and an integrated fake news generator is available right in your box."
The news stations aren't the only places where robots and artificial intelligence are running amuck. Believe it or not, Saudi Arabia granted citizenship to a life-like robot named Sophia in 2017. Since then, several talk shows such as Good Morning Britain and the Tonight Show starring Jimmy Fallon, have featured Sophia. The robot's creator, David Hanson says he believes Sophia can be used to bring attention to women's rights in places like Saudi Arabia, where restrictions on women are found in every sector of life. He hopes this will also bring awareness to the rights of humanoid machines because he anticipates they will become more integrated into society with time. "I think that we should see the future with respect for all sentient beings and that will include machines," he stated.
And what about the United States? Are there just as many jobs for robots and digital personalities in the land of the red, white and blue? Look no further than the Metaverse and you will quickly find that this virtually designed world is not possible without computerized avatars and robots. Creators are going to great lengths to make the platform more realistic by using sensors and robots that have human-like skin which can interact with stimuli. It's described this way:
"When the skin touches a surface, the plastic deforms and alters the magnetic field created by the embedded particles. A nearby circuit board monitors these changes and feeds them to the AI, translating them into a force and thus a sense of touch."
Even car companies are getting in on the action of virtual avatars, robots and the Metaverse. South Korean company Hyundai foresees a metaverse that will allow physical robots to connect and interact with it. At a recent tech show in Las Vegas, the company explained its latest mission "to make space, time and distance irrelevant with the help of robots."  This means that you could physically be in one place while a robot can become your "digital twin" in another place. Your robot twin can help you interact with that location by being your eyes, ears and other senses. Tech specialists at Hyundai say this trend is called the Mobility of Things (MoT) and it's inevitable that it will become part of our daily environment.
The integration of artificial intelligence and robotics into everyday life may seem exciting to many people, especially transhumanists, who relish the idea of meshing humans with the digital world. Transhumanists and many tech enthusiasts see robots and virtual reality as the best way forward, and even envision a day where humans, computers and machines will become so intertwined that they are indistinguishable. Whether it's digital avatars, virtual newscasters or robotic counterparts, the end goal is to move into a new realm that is dominated by algorithms, microchips and altered reality.
One must wonder where God fits in with all these tech-centered worlds? Have these inventors considered the real architect of the universe? Likely, they have not because alternate realities seek to ignore and avoid the real human bodies that were created so intricately by God. They prefer fabricated environments over the diverse creation that was meticulously and miraculously brought into being by God's command.
The words of John 1:1-4,10 are very clear about who designed and created the Earth.  "In the beginning was the Word, and the Word was with God, and the Word was God. He was with God in the beginning. Through him all things were made; without him nothing was made that has been made. In him was life, and that life was the light of all mankind… He was in the world, and though the world was made through him, the world did not recognize him."
As Christians look upon an ever-changing world of microchips, cyborgs and alternate realities, they get the sense that something isn't right. A world governed by artificial intelligence is not what God designed and it's not his ultimate plan for our future. While technology can bring some benefit, certainly it's not our savior. Using it as a replacement for reality is nothing more than a dead end.
The opposite of death is life and we can only receive life from Jesus. John 10:10 declares the truth. "The thief does not come except to steal, and to kill, and to destroy. I have come that they may have life, and that they may have it more abundantly."
Even in this era of virtual illusion, we can be sure that there is something REAL. No, you won't find it on your phone, TV, computer, or in the digital cloud. But you will find it by seeking and following the One who died on the cross to save you. Jesus is the only way, the only truth and the only path to obtain life. And that, my friends, is REALITY.
What are your thoughts on virtual newscasters, robots and various kinds of artificial intelligence mingling in with everyday life?
Angela Rodriguez is an author, blogger and homeschooling Mom who studies the historical and biblical connections between Israel and the United States. You can visit her blogs at 67owls.com and 100trumpets.com. Her latest book, Psalm 91: Under the Wings of Jesus, was released in June 2021. Photo by Possessed Photography on Unsplash.
Partner with Us
Intercessors for America is the trusted resource for millions of people across the United States committed to praying for our nation. If you have benefited from IFA's resources and community, please consider joining us as a monthly support partner. As a 501(c)3 organization, it's through your support that all this possible.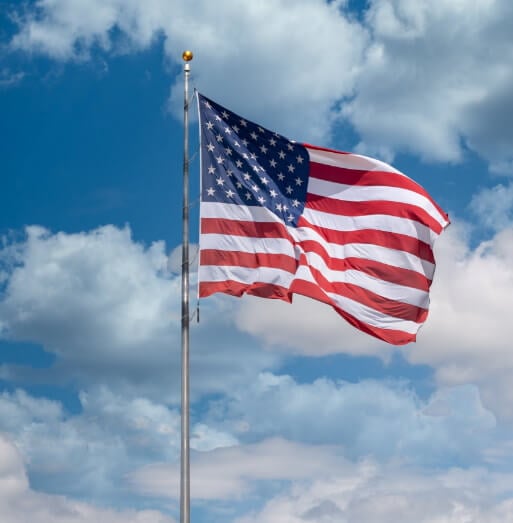 Become a Monthly Partner
You can post a prayer to share with others.
Christine S
January 25, 2022, 9:49 pm
Magnificent Heavenly Father and Powerful Lord Jesus Christ! I ask You to protect Intercessors for America from all evil, seen and unseen, in the flesh and in the spirit, north south east and west, above and below, in front and behind, from within to without, and please do not let satan or his people have any victory or inroads into Intercessors for America's work, or any intercessors around the world on behalf of America!
Alan V
January 25, 2022, 1:39 pm
Lord Jesus, we know that you created human beings in your image. Though man tries to counterfeit your original design, we will not be fooled. We choose the workings of your hands and not the digital creations of those who would seek to re-invent what it means to be human. Your image in righteousness is vastly superior to man's image in sin. Give us discernment, O Lord.