TRANSHUMANISM?! HOW SHOULD CHRISTIANS RESPOND?
Angela Rodriguez, IFA Contributing Writer
|
May 22, 2021
TRANSHUMANISM?! HOW SHOULD CHRISTIANS RESPOND?
Angela Rodriguez, IFA Contributing Writer
|
May 22, 2021
I Prayed
have prayed
Lord, we know the leaders of the world continue to plot and plan, but it is your will that prevails. We ask you to give us knowledge and discernment so we will know how to respond to the agenda which has emerged in the Covid era.
With the advent of the Covid-19 pandemic, a "new world order" of leaders have emerged to launch what they call The Great Reset. Klaus Schwab, the Founder and Executive Chairman of
the World Economic Forum, has insisted "the world must act jointly and swiftly to revamp all aspects of our societies and economies…Every country, from the United States to China, must
participate, and every industry, from oil and gas to tech, must be transformed. In short, we need a 'Great Reset' of capitalism."
Don't be censored! Sign up to make sure you aren't missing the news Christians need to pray about. Click HERE.
World leaders met to discuss this Great Reset in 2020 at their annual meetings in January and June. In 2021, these leaders also met virtually from January 25-29 under the theme "A Crucial Year to Rebuild Trust." At the meeting, many topics were discussed, but one that stands out were the emergence and importance of resetting digital currencies. Bitcoin and Central Bank digital currencies were touted as the keys to "shifting the monetary landscape." Other topics included responding to the continuing Covid pandemic, the use of Artificial Intelligence technologies and sustainable development. A topic discussed on the fourth day of the meeting, titled "Harnessing technologies of the Fourth Industrial Revolution," seems to have set off some alarm bells among Christians. This topic is so important that self-proclaimed global leader Klaus Schwab wrote an entire book about it. In his mind, this is perhaps the most essential part of the Great Reset.
View Comments (47)
As Christians, who hold a biblical worldview, it's important to understand what these leaders are envisioning. So, what is the Fourth Industrial Revolution? Since 2016, Klaus Schwab has been saying the Fourth Industrial Revolution is coming, where we must merge our physical, digital and biological identities. He describes this revolution in an article published on the World Economic Forum's website. Here's a quote from the article:
"The Fourth Industrial Revolution, finally, will change not only what we do but also who we are. It will affect our identity and all the issues associated with it: our sense of privacy, our notions of ownership, our consumption patterns, the time we devote to work and leisure, and how we develop our careers, cultivate our skills, meet people, and nurture relationships. It is already changing our health and leading to a 'quantified' self, and sooner than we think it may lead to human augmentation. The list is endless because it is bound only by our imagination." A couple of things stand out in this quote as alarming. First of all, what does he mean when he says, "it will affect our identity…our sense of privacy… and our notions of ownership?" Even more concerning, what does he mean when he says the Fourth Industrial Revolution is already changing our health and leading to a "quantified self?" Then he says, "sooner than we think it may lead to human augmentation."
When thinking about the quote and what it says about identity, one can't help but flash forward to 2021 and examine the new initiative launched by the World Economic Forum known as CommonPass. Its purpose is to allow travelers to document their Covid-19 status electronically. Travelers can take a covid-19 test at an approved lab and then send those results to their CommonPass. Eventually, it could also hold vaccination records. A QR code can be viewed on a mobile phone, or printed. Airline staff can then scan the code. CommonPass is
adaptable because it will allow governments around the world to update entry requirements. Therefore, passengers will have the most up to date information on compliance. In essence, this could become an essential part of our ID, or identity.
During the World Economic Forum's annual meeting in Davos, the idea of vaccine passports was discussed. An article posted stated: "The expectation is that with a vaccine, some aspects of life
will return to normal – especially when it comes to travel – which has been particularly hard-hit. This is where a 'vaccine passport' or 'e-vaccination' certification of compliance for border crossing regulations might become a required travel document, to enable seamless border- crossing and the harmonization of varying national laws." The article goes on to explain that the European Commission has announced its intention to open its borders to foreign tourists this summer through the use of a digital certificate known as the Green Pass. This would allow entry for anyone vaccinated against Covid-19, those who have a negative test result, or anyone who has proof of recovering from the virus. As of April 14, 2021, EU member states have formally agreed to launch the pass.
Hmm, is this what Klaus Schwab meant by saying the Fourth Industrial Revolution will affect our identity and our sense of privacy?
Let's see what else he has to say about this revolution.
"One of the greatest individual challenges posed by new information technologies is privacy. We instinctively understand why it is so essential, yet the tracking and sharing of information about us is a crucial part of the new connectivity. Debates about fundamental issues such as the impact on our inner lives of the loss of control over our data will only intensify in the years ahead. Similarly, the revolutions occurring in biotechnology and AI, which are redefining what it means to be human by pushing back the current thresholds of life span, health, cognition, and capabilities, will compel us to redefine our moral and ethical boundaries."
There's so much in this quote to dissect, but what sticks out like a sore thumb is the part about the "tracking and sharing" of information and how it is a crucial part of the new connectivity. Next, it says biotechnology and AI are redefining what it means to be human. Correct me if I'm wrong, but the last time I checked it is God who determines what makes us human. Looking at the last line, we must ask ourselves what does it mean when it says biotechnology and AI will "redefine our moral and ethical boundaries"? God is the one who determines our moral and ethical boundaries, not the World Economic Forum.
This idea of determining what makes us human and the merging of biotechnology and AI has its roots in what the World Economic Forum calls transhumanism. This is described in a quote from an article posted on the website:
"It is rooted in the belief that humans can and will be enhanced by the genetic engineering and information technology of today, as well as anticipated advances, such as bioengineering, artificial intelligence, and molecular nanotechnology. The result is an iteration of Homo sapiens enhanced or augmented, but still fundamentally human."
The article goes on to explain that "biological evolution will eventually be overtaken by advances in genetic, wearable and implantable technologies that artificially expedite the evolutionary process."
It's easy to see that transhumanism does not fit in with God's design for our bodies or our lives. After all, God owns the blueprint to life, not man. While many may think this is science fiction, we must understand that there are new technologies that have taken center stage in the midst of the Covid-19 pandemic such as contact tracing, vaccine bio/nanotechnology (mRNA and vector vaccines), virtual schooling and work environments, digital shopping, as well as genetic sequencing/editing platforms such as CRISPR-Cas 9.
An article in the Wall Street Journal had this to say about the new emerging technologies:
"Eternal life through advanced technology seems like a pipe dream for a society that, until recently, had trouble manufacturing enough masks to save doctors' and nurses' lives. Yet Covid- 19 may turn out to be just the kind of crisis needed to turbocharge efforts to create what its advocates call a 'transhuman' future. With our biological fragility more obvious than ever, many people will be ready to embrace the message of the Transhumanist Declaration, an eight-point program first issued in 1998: 'We envision the possibility of broadening human potential by overcoming aging, cognitive shortcomings, involuntary suffering and our confinement to planet Earth.'"
In 2012 Ray Kurzweil became the Director of Engineering at Google. His job required teaching machines to learn. Kurzweil has predicted that by the year 2030, technology will have advanced to the point that tiny nano-bots will be able to be injected into our bodies via the bloodstream. Then they can pass through the blood-brain barrier and integrate into our brains. He calls this phenomenon 'the cloud.' He has written a book called The Singularity is Near: When Humans Transcend Biology. The World Economic Forum highlighted Kurzweil in an article titled, "What Will Life be Like in 2064?" It discusses the possibility of uploading our minds to the web, having virtual bodies and reaching digital immortality by 2045.
Certainly, this is a lot to digest. Where is the world going from here? Proverbs 19:21 says, "Many are the plans in the mind of a man, but it is the purpose of the Lord that will stand." Even though world leaders and scientists push their plans forward, God's sovereign hand is always at play. As Christians, we must declare the truth that God is the Creator and Designer of Life and that no human holds this power. Genesis 2:7 reminds us that "the Lord God formed man of dust from the ground and breathed into his nostrils the breath of life, and the man became a living creature."
The World Economic Forum was scheduled to meet August 17-20, 2021 in Singapore to address what they call "the steps for a global recovery," as well as key ideas of the Fourth Industrial Revolution. But it was just announced on May 17 that the meeting has been cancelled due to "an uncertain travel outlook, differing speeds of vaccination rollout and the uncertainty around new variants." A sudden rise in Covid cases in Singapore has brought this annual event to a halt. Perhaps this gives us some extra time to diligently pray about the emerging transhuman agenda. As Psalm 83 says, "With cunning they conspire against your people; they plot against those you cherish," but Lord "Let them know that you, whose name is the Lord–that you alone are the Most High over all the earth." It's time to pray for the schemes of the wicked to be overthrown.
As Christians, how do we respond to the Fourth Industrial Revolution and the idea of transhumanism?
Angela Rodriguez is an author, blogger and homeschooling Mom who studies the historical and biblical connections between Israel and the United States. You can visit her blogs at 67owls.com
and 100trumpets.com. (Photo Credit: Canva.)
Partner with Us
Intercessors for America is the trusted resource for millions of people across the United States committed to praying for our nation. If you have benefited from IFA's resources and community, please consider joining us as a monthly support partner. As a 501(c)3 organization, it's through your support that all this possible.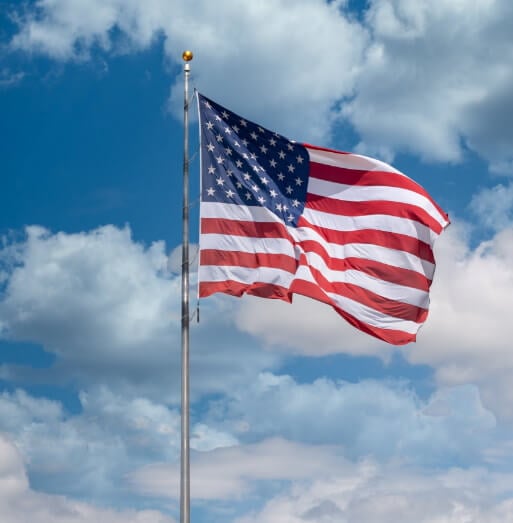 Become a Monthly Partner