SCIENTISTS PLAYING GOD: TRANSHUMANISM
Angela Rodriguez, IFA Contributing Writer
|
October 26, 2021
I Prayed
have prayed
Lord Jesus, you alone have the authority over life and death. As transhumanists seek to usurp this role, help us remember you are in complete control.
Victor Frankenstein's lab is alive and fully operational in 2021. From chimeras to cyborgs, today's scientists are treading on dangerous ground. It's like we are living in the Age of Frankenstein as scientists play God.
The first time I read the gothic tale, Frankenstein, by Mary Shelley, I was in 10th or 11th grade. Prior to this, I was familiar with two depictions of the creature–the Hollywood "movie version," which portrayed a murderous creature with a violent temper, as well as the Munster's version, which showcased a funny, even loveable character. But when I read the original story, published in 1818, I found out that there was more to this tale than a raging, awkward diabolical "monster." I realized that the real monster wasn't the creature–it was the scientist who wanted to play God. In fact, many people mistakenly call the creature by the name of Frankenstein, when that's actually the name of the man who created it–Dr. Victor Frankenstein.
View Comments (28)
JOIN IFA AND AUTHOR ANGELA RODRIGUEZ TO PRAY ABOUT SCIENTISTS PLAYING GOD
Watch the webcast at 12:15 pm ET at IFApray.org/live/Facebook live, or any time after on Rumble. Or call (712) 775-7431, access code 2452#. Stay on the phone line at 1 pm ET for 50 Days of Prayer for Life. Now that the Supreme Court has agreed to a hearing on the new Texas abortion law next week, the need for prayer is even more urgent.
In the past year, I've done a lot of research about transhumanism and its goals. The more I dug into the specifics and mechanisms embedded in this movement, the more I began thinking of the book I'd read so long ago. After all, Victor Frankenstein's goal was to step into God's role by creating life. The goal of the transhumanist movement is to use science and technology such as nanotechnology, biotechnology and neurotechnology to improve and prolong life. Using these technologies can help overcome human limitations, even giving man the ability to create "new life."
The transhumanist's ultimate goal is to achieve eternal life by becoming one with artificial intelligence. The development and use of CRISPR-Cas9 gene editing technology is one way they hope to overcome aging, health disorders and even deficits in human thinking.  Like Victor Frankenstein, do transhumanists go to graveyards and dig up "parts" in order to reach their dreams of becoming immortal? No, but they do support the mixing and matching of "parts" that are not supposed to go together, such as animal and human DNA (chimeras). In addition, scientists like Craig Venter have actually created synthetic life. In 2010 Venter announced that he had designed and created a bacterium from chemicals in a laboratory. He named this new bacterium "Synthia" and declared it "alive." Well, that definitely sounds like the movies I've watched where Victor Frankenstein is pictured shouting, "It's Alive….It's Alive," as he beholds his man-made creature.
An article published in the Guardian described the bacterium Venter synthesized in this way: "Although it is very similar to a natural bacterium from which it is largely copied, the creators put distinctive strings of DNA into its genome to prove that it is not a natural object. These strings spell out, in code, a website address, the names of the researchers, and apt quotations such as one from theoretical physicist Richard Feynman: 'What I cannot build, I cannot understand.'"
Venter's accomplishment was hailed as ground-breaking and a game-changer for science, medicine and genetics. University of Pennsylvania bioethicist Art Caplan said it was a "discovery of historic significance" because it "would seem to extinguish the argument that life requires a special force or power to exist."
As Christians, we know that God alone holds the power to create life. As humans, we are made in His image, not man's image. Like the transhumanists, Victor Frankenstein did not understand or respect God's divine authority over creation, as is evident in this quote from Frankenstein.
"No one can conceive the variety of feelings which bore me onwards, like a hurricane, in the first enthusiasm of success. Life and death appeared to me ideal bounds, which I should first break through, and pour a torrent of light into our dark world. A new species would bless me as its creator and source; many happy and excellent natures would owe their being to me. No father could claim the gratitude of his child so completely as I should deserve theirs."
Keep in mind that Craig Venter's synthetic creation was revealed over ten years ago. This begs the question–where are we now when it comes to transhumanism goals regarding human life? Well, from my research I can say we are dodging forward like a hurricane, inching closer and closer to the point of no return. Never fear, however, because God is in control–not the transhumanists.
Perhaps the biggest areas of innovation in the transhumanist world are in the fields of neurotechnology, artificial intelligence and genetics. The ultimate goal is to create what's been dubbed Human 2.0. The main idea is that you can upgrade yourself so you can move beyond human abilities, expectations and parameters.
Proponents of this agenda have grand visions. They even believe that a global superbrain can be created through the use of nanobots.  An article in the Silicon Republic says: "This new concept proposes using neural nanobots to connect the human brain's neocortex–the newest, smartest, 'conscious' part of the brain– to the 'synthetic neocortex' in the cloud. The nanobots would then provide direct, real-time monitoring and control of signals to and from brain cells."
Ray Kurzweil, director of engineering at Google, says "Our thinking will be a ….biological and non-biological hybrid." He also believes we are just a few scientific breakthroughs away from achieving eternal life. Transhumanists have different ideas about how to achieve this, but one project called the 2045 Initiative, aims to help humanity meet all the challenges of global civilization. They will do this through "the creation of optimal conditions promoting the spiritual enlightenment of humanity; the realization of futuristic reality based on five principles: high spirituality, high culture, high ethics, high science and high technologies."
"The 2045 Initiative aims to create technologies enabling the transfer of an individual's personality to a more advanced non-biological carrier, and extending life, including to the point of immortality. We devote particular attention to enabling the fullest possible dialogue between the world's major spiritual traditions, science and society."
The 2045 Initiative lists their prospects for 2020-2025 on their website, which state: "Creation of an autonomous life-support system for the human brain linked to a robot, 'avatar' (hologram), will save people whose body is completely worn-out or irreversible damaged. Any patient with an intact brain will be able to return to a fully functioning bodily life."
Other scientists have similar ideas. Josh Bocanegra, CEO of Humai, which stands for Human Resurrection through Artificial Intelligence, says he hopes to use AI technology "to create its own human being."
Victor Frankenstein did not consult God when he set about creating another human being and giving it life. After gathering "parts and pieces" he haphazardly put a human body together. Most movies show him using a spark or bolt of lightning to "bring life" to the creature. Mary Shelley's book never says exactly what it was that brought the creature to life, but based on clues, many literary experts suggest it was a mixture of alchemy ("magical" chemical science) and galvanism (the therapeutic use of electric currents). The transhumanists go beyond these methods because instead of using human bodies, they project using robots or avatars to bypass what they consider an outdated existence.
It's not just people like Ray Kurzweil who share this vision. DARPA (Defense Advanced Research Projects Agency) has elicited the help of Battelle, a U.S. science and technology development firm, to create an injectable, bidirectional brain computer interface. This "minimally invasive neural interface system called Brainstorms (Brain System to Transmit or Receive Magnetoelectric Signals) involves the development of a novel nanotransducer that could be temporarily introduced into the body via injection and then directed to a specific area of the brain to help complete a task through communication with a helmet-based transceiver."
Using brain interfaces and nanobots are just one way that transhumanists hope to achieve their goals. Another method is through mRNA technologies that can be used to change how the body responds to diseases, as well as turn our bodies into "drug making factories." Stephen Hoge, President of Moderna has stated, "It starts with the question of life…And in fact, all life that we know flows through messenger RNA…In our language, mRNA is the software of life."
Elon Musk has a lot to say about mRNA. In an interview he states, "I think there is going to be a lot of breakthroughs on the medical front, particularly around synthetic mRNA…You can basically do anything with synthetic RNA, DNA. It's like a computer program…with effort that's not too crazy you could probably stop aging–reverse it if you want…you can turn someone into a butterfly with the right DNA sequence…I mean caterpillars do it."
The question is, what will mRNA technology be used for when it lies in the hands of godless scientists and transhumanists?
Victor Frankenstein never reveals all the details of how he gave life to the creature for fear that someone would repeat the experiment. In his quest to create life, he actually ends up hating and fearing his own creation, even abandoning his work. "I beheld the wretch–the miserable monster whom I had created."
In the end, when Dr. Frankenstein realized what he had done, he became severely depressed, physically sick and suicidal. Looking upon his creation, he cried, "How can I describe my emotions at this catastrophe, or how delineate the wretch whom with such infinite pains and care I had endeavored to form."  He knew he'd made a grave mistake as he uttered these regretful words–"Man…how ignorant art thou in thy pride of wisdom!"
There were no transhumanists during Mary Shelley's time–or were there? Whether she knew it or not, this author wrote a tale that can speak to us all right here and now. No human holds the power to create life, or to change the Code of Life. When we cross that boundary, we too can face the same curses that Victor Frankenstein brought upon himself.
American astrophysicist Neil de Grasse Tyson says. "in the beginning there was physics." Sorry Neil, but I disagree! In the beginning there was God- who created physics. The Bible says,
"In the beginning was the Word, and the Word was with God, and the Word was God. He was with God in the beginning. Through him all things were made; without him nothing was made that has been made. In him was life, and that life was the light of all mankind. The light shines in the darkness, and the darkness has not overcome it." John 1:1-5
In researching all these concepts, perhaps the thing that saddens me the most is that transhumanists want to connect to the cloud, instead of to the One who is coming back on the clouds. Instead of receiving the Holy Spirit and eternal life through Jesus, they want an artificial connection to nothing more than wires and bolts.
Prayer: Lord Jesus, we know there are people in this world who think they hold sway over life and death. They make big plans to create and change life. But you are the only Creator and we know that one day we will have eternal life through you alone. We don't need new DNA. We don't need nanobots. And certainly, we don't need lightning or alchemy. We just need YOU! Remind us of your promises and help us follow you wholeheartedly.
Oh, and by the way Elon, we don't need mRNA technology to turn into butterflies. We become new creations when we receive Jesus as our Lord and Savior. 2 Corinthians 5:17 declares: "Therefore, if anyone is in Christ, the new creation has come: The old has gone, the new is here!"
Read the other articles in this series:
TRANSHUMANISM, PART 2: WHO ARE THEY AND WHAT DO THEY BELIEVE?
TRANSHUMANISM?! HOW SHOULD CHRISTIANS RESPOND?
What are your thoughts on transhumanism and the advent of Frankenstein science?
Angela Rodriguez is an author, blogger and homeschooling Mom who studies the historical and biblical connections between Israel and the United States. You can visit her blogs at 67owls.com and 100trumpets.com. Her latest book, Psalm 91: Under the Wings of Jesus, was released in June.
Partner with Us
Intercessors for America is the trusted resource for millions of people across the United States committed to praying for our nation. If you have benefited from IFA's resources and community, please consider joining us as a monthly support partner. As a 501(c)3 organization, it's through your support that all this possible.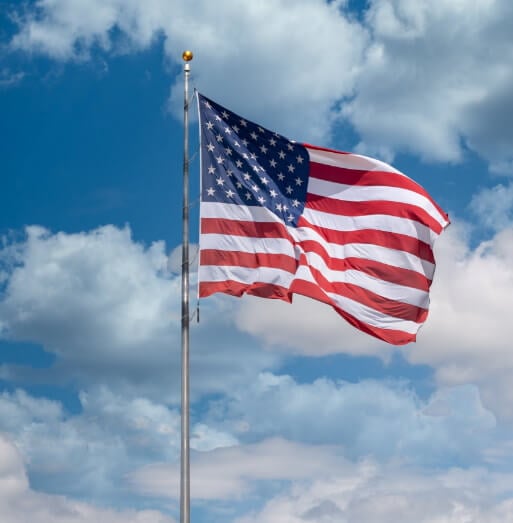 Become a Monthly Partner