Your Role in the Asbury Outpouring
Remco Brommet, IFA Contributing Writer
|
February 21, 2023
Your Role in the Asbury Outpouring
Remco Brommet, IFA Contributing Writer
|
February 21, 2023
I Prayed
have prayed
Father of life, may the spiritual renewal the Holy Spirit has ignited at Asbury continue to spread. Protect it from every attempt to misinterpret, to disrupt, or to quench. In Jesus' name. Amen.
Intercessors often have a God-given dual role as "special ops" and watchmen. In our special-ops role, we pray for open doors (Colossians 4:3), open hearts (Acts 16:14), and the empowerment of missionary endeavors (Ephesians 6:19). In our watchman role, we pray for protection over the moves of God as they are taking place.
Such was the nature of the prayer meeting in Acts 4:23–31. The revival that started in Jerusalem on Pentecost, with thousands turning to Christ in repentance, was under attack for the first time. The Jewish rulers summoned Peter and John and threatened them, demanding they stop preaching in Jesus' name, or face punishment. Something similar had occurred about 550 years earlier, when Nehemiah and Ezra rebuilt the walls and the temple of Jerusalem. That was a revival of sorts, as God's people returned, repented, consecrated themselves, and restored their life of worship. However, their efforts were under attack by surrounding governors and enemy warlords, and they had to post watchmen to ensure that no foe would be able to infringe on their labor.
View Comments (50)
The lesson from Scripture is simple. Whenever the Holy Spirit is on the move to ignite, restore, or expand worship, expect Satan to attack. And wherever Satan is apt to strike, vigilant intercessors must stand watch. Their call is the one proclaimed by the prophet Isaiah: On your walls, O Jerusalem, I have set watchmen; all the day and all the night they shall never be silent. You who put the Lord in remembrance, take no rest, and give him no rest until he establishes Jerusalem (Isaiah 62:6–7).
A new move of the Holy Spirit has broken out at Asbury University, in Wilmore, Kentucky, and is spreading quickly to numerous other, predominantly Christian, colleges and universities around the country. It has even appeared to spread to several other parts of the world. In an interview with Glenn Beck, Asbury's student body president described it as a "quiet revival, intensely personal, deep, and private." She went on to say that because of its deeply personal nature, student leadership tries to be protective and to refrain from posting about it on social media. Revival observer Peter Oswalt, pastor of Arise:Life and himself an Asbury graduate, confirms those comments.
I heard in their statements an undertone of concern about things possibly getting out of hand and going awry. Revivals (and there are many kinds of revivals) can start well and be genuine but then descend into chaos and peter out when human flesh gets in the way.
That is why God's intercessors must take their posts and pray that the move of the Holy Spirit will both spread and be protected.
I feel a sense of urgency about this. The move we are witnessing is beautiful and powerful and has the potential to spill over into a great awakening over America and beyond. But we have been there before. College revivals have come and gone, all beautiful and significant for those touched by them, but without any lasting impact beyond campus life.
Therefore, I would like to share a few points for strategic prayer over the Asbury revival — prayer to widen its reach and to protect it from everything Satan would lob to quench it.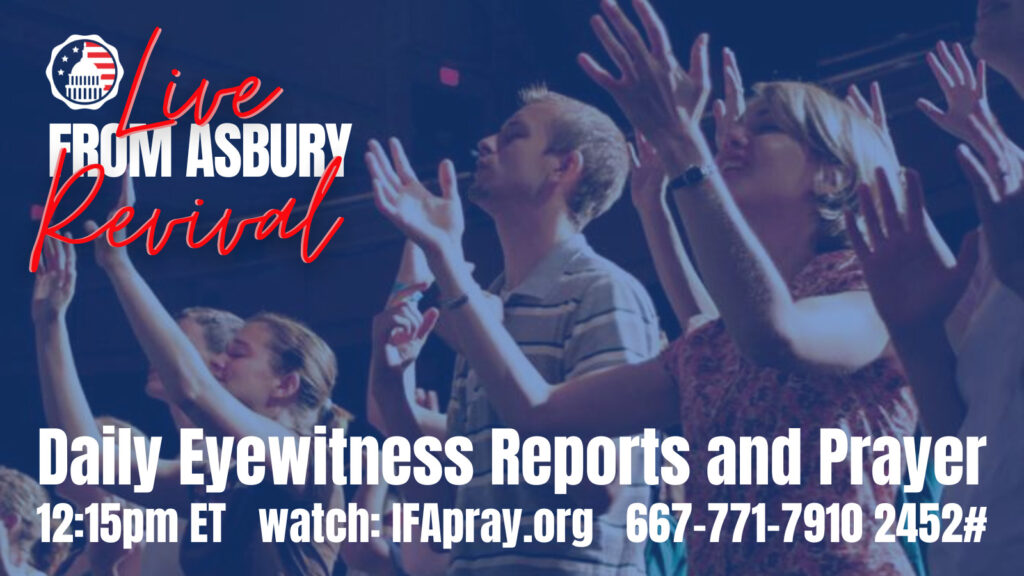 Prayer Points
The Holy Spirit has pressed on me to pray over six things: conflagration, lasting impact, revival tourism, mimicry, confusion, and thrill-seeking.
Conflagration. We used to live in Southern California, where we became very familiar with this word. Conflagration occurs when numerous small brush fires ignited by lightning strikes from rainless thunderstorms spread until they become one giant wildfire.
Pray that the reports from Asbury will ignite a thirst for God in the hearts of Gen X and Gen Z students worldwide so that they will cry out to God. Revival is not bound to any location. It happens when God responds to humble, thirsty hearts wherever they are.
Lasting Impact. Renewal in the Christian community must go deep and not be limited to emotions.
Pray that the deep, personal work of the Holy Spirit that has been experienced and witnessed will translate into an ongoing life of prayer, passionate engagement in missions and church ministry, evangelism, and generosity.
Revival Tourism. Whenever revival occurs and word gets out, it draws both the thirsty and the curious. Asbury is no exception. It has drawn revival observers from all over the world as well as those thirsting for revival. As a result, the small town of Wilmore, Kentucky, and the campus of Asbury have been overrun by thousands of people. The crowds have severely disrupted campus life to the point that the college leaders have decided to close services there and move them off-site.
Pray that the massive influx of observers and participants from outside the campuses where the Holy Spirit is at work will not quench the depth of His ministry and distract from the quiet.
Pray that the Lord give wisdom to the stewards of these revival outbreaks for preserving the privacy and sensitivity of what is taking place.
Pray that no one will enter and try to influence the meetings negatively or use them for selfish gain or profit. There are reports that several well-known Christian speakers and musicians have called to offer their services — and all the offers were politely declined.
Pray that the Holy Spirit would profoundly impact the people coming in from the outside, and that they would then return to their communities carrying this newfound love to spread to others.
Mimicry. No move of the Holy Spirit can be forced or manufactured. However, it can be counterfeited. It is tempting to desire what is taking place at Asbury for one's own area and to try to make that happen when hearts are not ready — and thus revival tarries.
Pray against the temptation to try and reproduce the Asbury revival elsewhere by means of shallow emotionalism and a "repentance" that is not genuine.
Pray that God would prevent Satan from raising up false revivalists who will want to imitate the work of the Holy Spirit for profit or fame, and who will try to seduce the vulnerable and undiscerning.
Confusion. Everybody and their uncle is posting opinions on social media about what they think the revival at Asbury is. This can easily lead to confusion and a lack of understanding of what the Holy Spirit is doing there. We need clarity to pray with insight, and others need to receive true accounts so that they can ask the Holy Spirit to move in their midst as well.
Pray for clarity of reporting by observers and participants, so that confusion will not lead to false reports or deception.
Pray for any false rumors to be brought to light quickly and put down just as quickly.
Thrill-seeking. In the past, local revivals have included certain phenomena. Some examples: "being slain in the Spirit," whereby people are overcome by His presence and fall backward; and laughing in the Spirit, whereby people burst into uncontrollable laughter because "joy" has overcome them. Emotionalism, where people seek an emotional experience that makes them feel good rather than the real presence of God, is a potential problem too. Even though these may indeed be genuine manifestations that accompany a move of the Holy Spirit, they can sometimes become more important than repentance and consecration. People hungry for a tangible touch of God fly and bus in from all over the world to experience these phenomena. Some leave deeply touched because they have experienced them, while others leave distressed because they have not. By all accounts, no such phenomena have happened at the Asbury revival, but the more it spreads, the greater the possibility that they may.
Pray that revival stewards and leaders will have the wisdom and discernment to recognize any false thrills and to take appropriate action.
Pray that Satan will not get a foot in the door through any superficial emotions or counterfeit revival phenomena that would distract from genuine repentance and consecration.
Intercessors, our ministry to this current revival as watchmen on the wall is essential. Therefore, let us heed what the Holy Spirit wants us to pray. After all, this is His work. Even though God does not need our help, He has chosen to fight spiritual battles, overcome obstacles, open doors, and direct hearts toward Him through the prayers of His people.
Father of life, thank You for igniting a quiet movement of profound renewal at Asbury and spreading it all over. We pray that it would go as deep as it goes wide, and that it would bring lasting change to those You touch through it. We pray for its protection, too — from any mere tourism, mimicry, and thrill-seeking. And we ask You to command the hosts of heaven to stand guard against any attempt by Satan to disrupt, distract, quench, or falsify and thus lead people astray. Ignite thousands of fires of repentance and consecration all over this country and worldwide. May they spread into an all-out revival in which many thousands of thirsty and lost souls return to You. In Jesus' name. Amen."
 Please share these prayer points!
Remco Brommet is a pastor, spiritual-growth teacher, and prayer leader with over 40 years of experience in Europe, Southeast Asia, Africa, and the U.S. He was born and raised in the Netherlands and pastored his first church in Amsterdam. He moved to the U.S. in 1986. He and his wife, Jennifer, live north of Atlanta. When not writing books, he blogs at www.deeperlifeblog.com and assists his wife as a content developer and prayer coordinator for True Identity Ministries. Jennifer and Remco are passionate about bringing people into a deeper relationship with Christ.
Partner with Us
Intercessors for America is the trusted resource for millions of people across the United States committed to praying for our nation. If you have benefited from IFA's resources and community, please consider joining us as a monthly support partner. As a 501(c)3 organization, it's through your support that all this possible.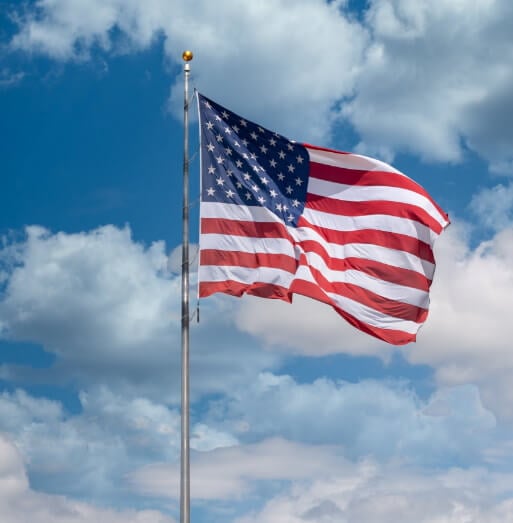 Become a Monthly Partner
You can post a prayer to share with others.
Nita K
February 21, 2023, 1:48 pm
Father of life, may the spiritual renewal the Holy Spirit has ignited at Asbury continue to spread. Protect it from every attempt to misinterpret, to disrupt, or to quench. In Jesus' name. Amen.
Gretchen C
February 21, 2023, 9:02 am
Father of life, may the spiritual renewal the Holy Spirit has ignited at Asbury continue to spread. Protect it from every attempt to misinterpret, to disrupt, or to quench. In Jesus' name. Keep it pure and holy unto Jesus, the author and finisher of our faith. Amen.
Lorraine T
February 21, 2023, 8:56 am
Father of life, may the spiritual renewal the Holy Spirit has ignited at Asbury continue to spread. Protect it from every attempt to misinterpret, to disrupt, or to quench. In Jesus' name. Amen. Father let the Spirit of the Lord roam the earth and touch hearts to share His love and goodness. I pray that I am touched by the Holy Spirit to be a witness and all the other people who have given their hearts to the Lord. Lord I praise You and give You all the glory for all that is being done over the earth.
Dianna P
February 21, 2023, 5:42 am
Father of life, may the spiritual renewal the Holy Spirit has ignited at Asbury continue to spread. Protect it from every attempt to misinterpret, to disrupt, or to quench. In Jesus' name. Amen.