WHY IT IS NOT RIGHT TO USE ABORTED FETAL TISSUE TO "IMPROVE" HEALTH–100 DAYS OF BIBLICAL AGENDA
Shelley Hendrix McLaughlin, IFA Contributing Writer
|
February 6, 2021
WHY IT IS NOT RIGHT TO USE ABORTED FETAL TISSUE TO "IMPROVE" HEALTH–100 DAYS OF BIBLICAL AGENDA
Shelley Hendrix McLaughlin, IFA Contributing Writer
|
February 6, 2021
I Prayed
have prayed
Father, help us to hold fast to You and your Word. Guide us with Your Spirit and truth.
In the Book of Revelation, Yeshua teaches on the condition of the Church with messages that are delivered to seven churches primarily throughout the region of what is Turkey today.  However, the issues that those churches grapple with are issues the Church as a whole still grapples with today.
View Comments (65)
Have you ever asked Yahweh which Church represented in Revelation you are a part of?
Everyone likes to think they are part of the Church of Philadelphia and exempt from the hour of judgment coming upon the world – worthy of being whisked away without having to experience judgment. We are not appointed to wrath. Yet, God's Word doesn't say we won't be judged–it clarifies that His judgment starts with His people.
This means we are up first and the whole world will see us being judged – first. 
Yeshua dictated letters to John in Revelation 1-3 that very clearly state in red letters that the Churches of Ephesus, Smyrna, Pergamum, Thyatira, Sardis, and Laodecia are all called to wake up, repent, and be faithful overcomers or face serious consequences.  His work was done on the cross. We are called to pick up our own cross and follow Him.
His work was finished. Ours is not yet complete.
The Church of Pergamum was home to the largest healing center at that time in the ancient world.  The center sedated patients then placed them in a room full of slithery snakes who would whisper "wisdom" over the illness. If the person survived, treatments would follow.
The medical facility was also a religious institution to revere Asclepius who was the god of medicine and healing. His daughters are Hygieia (goddess of cleanliness), Iaso (goddess of recuperation from illness), Aceso (goddess of the healing process), Aglea (the goddess of splendor and adornment), and Panacea (goddess of universal remedy). We have talked about Pan before so that should make some alarm bells go off and if not, consider reading this blog.
The Rod of Asclepius is a stick with a snake wrapped around it. The Caduceus has a double portion of snakes wrapped around it. These symbols are used all throughout the medical world today on logos for hospitals, physician offices, insurance, and pharmaceutical companies. The Rod of Asclepius is the logo for the World Health Organization and the American Medical Association.
Why does it matter to know these things? We need to understand the roots of this if we are to discern if it is something to dabble in or not and that the origins are rooted in Ancient Egyptian medical practices.
What would first century Jews have understood about the false prophet Balaam?  Balaam suggested that Pharoah solve his problems with the Egyptians by throwing the male Hebrew children in the Nile. In Revelation, God's Word tells us that the waters of the world run red with blood. Are they already running red today? Is it possible for us to use our spiritual sight to see things as He does?
So ok Balaam wasn't so nice, but didn't he really bless Israel in Numbers 22-24? He did!
Balak, king of Moab, paid Balaam to curse the Israelites. But even this false prophet Balaam had enough sense not to speak a word that Yahweh had not spoken. In taking this job, God required Balaam to bless the Israelites instead.  After blessing them four times, including a prophecy about God's end times people, Balaam teaches Balak the secret of cursing God's people: Trick them into sinning and the God they serve will take care of them Himself.
Balaam's good advice to Balak works. The Israelites fall into idolatry, God sends a plague, people die.
So the false prophet Balaam, known for advising royalty all over the known world, is a big fan of outright killing God's children or leading them astray into destruction that leads to death. Check.
This week John Henry-Westen with LifeSite News tackles the issue of using aborted children in medical research and development.  His recording of a legal deposition of Dr. Stanley Plotkin should be upsetting for those who consider themselves pro-life, but nonetheless it is real. You can see parts of the original deposition here: https://youtu.be/rGDNsqk0KR0. Plotkin bolsters his assertions that it seems fine to use aborted babies for the sake of health by pointing back to a Catholic Church document stating that it is okay to end someone's life without their consent to save the physical lives of others. This sentiment is echoed in sects of Judaism and other religious organizations. This doesn't mean that all people practicing these faiths agree with what their leaders are putting forth. What this does mean though is that the WHO is counting on faith-based leaders to address vaccine hesitancy for them because people trust their faith-based leaders. They have recruited them and groomed them for this moment.
In WHOm do you ultimately put your faith? Does the Bible say it is wise to put your faith in men or in Him?
Can you find anything that supports using the blood/dna/cellular tissues of aborted children to improve our health in the Bible?

What I have found is that Yeshua healed with words, commands, touch, the fringe of his garment or mud. Paul healed with handkerchiefs and aprons over which he had prayed. James calls us to anoint people with oil and lay hands on them to heal them. In the Old Testament, the Lord healed with fig poultice, asking a gentile leper to dip into the Jordan river seven times and throwing flour in a pot of poisonous gourds.
None of these things have any detrimental side effects up and including death. However, the products discussed in John Henry-Westen's podcast can, as you can see on this FDA document, scroll to page 80.
After years of searching, I have not found one instance where human sacrifice was ever used by Yahweh or Yeshua to stop a plague or heal one person. Further, human sacrifice was strictly prohibited.
I left my church of 18 years due this very topic in 2018 because they would not warn the flock. I attend a home church, where we can work through and discuss this topic freely, share wisdom and knowledge and reason together. We started discussing it 2 years ago and are amazed at how God continues to encourage humanity to wrestle with this same topic 24 months later.
It doesn't matter to me what a rabbi or a Pope says or what some religious committee said. It has no more bearing on me than what a Hindu or Muslim or Reiki worker or Satanist says to endorse it. They are all entitled to their beliefs and opinions, just as I am entitled to mine.
It matters to me that I have the choice to hear and obey the Word of Yahweh and my personal savior, Yeshua, rather than man or his traditions rooted in fallible knowledge.
Yahweh can heal us without taking the life of even one human child to accomplish it.
We are warned to take care calling good evil and evil good. We need to discern if this "miracle of modern science" is from Yahweh, the God of Abraham, Isaac and Jacob, or a foreign god that we have not known, or should not know intimately. Here we are in 2021 watching Balaams around the world echo for the same old principalities of Phoenicia, Egypt, and Babylon that still require the blood of humans in order to cheat death.
If we consider putting the remains of aborted children willfully into our temple, then we need to decide if we believe what Paul said is true: Do you not know that your body is the temple of God? If we do believe his words are true because we believe that all Scripture is given by the inspiration of God, can we use other Scripture to discern His will on tolerating our knowing and willful participation in this practice?
If we choose to participate now that we know, do we risk turning His temple into the Temple of Baal?
That's a heavy question.
It's something worth a lot of thought and prayer still. IFA published a prayer guide to help you pray through this complicated topic.
In Deuteronomy 30, Moses puts before God's children life and death.
Then he advises them to choose life.
(Photo Credit: Unsplash.)
Share your prayers for this in the comments below!
Partner with Us
Intercessors for America is the trusted resource for millions of people across the United States committed to praying for our nation. If you have benefited from IFA's resources and community, please consider joining us as a monthly support partner. As a 501(c)3 organization, it's through your support that all this possible.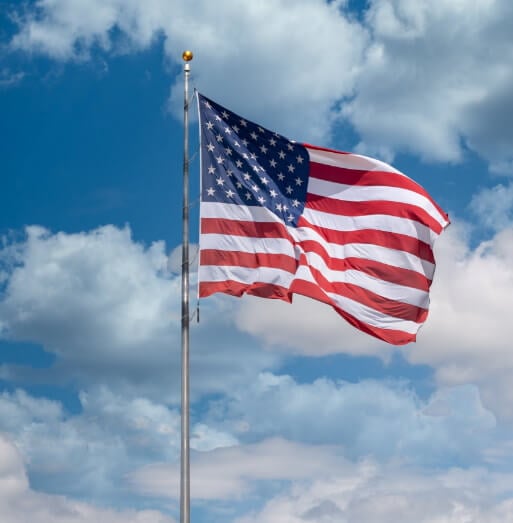 Become a Monthly Partner