FROM BROKEN TO UNBROKEN- A PASSOVER MESSAGE
Angela Rodriguez, IFA Contributing Writer
|
March 27, 2021
FROM BROKEN TO UNBROKEN- A PASSOVER MESSAGE
Angela Rodriguez, IFA Contributing Writer
|
March 27, 2021
I Prayed
have prayed
Lord, we ask you to take our broken pieces and mold them into something wonderful that can be used to glorify you.
When was the last time you've felt beaten down or broken? With swollen eyes and an aching heart, you can barely put one foot in front of the other. We've all been there once, twice, perhaps dozens of times.
View Comments (32)
No one likes to suffer. But, it's part of the territory when you live alongside Christ. There's no short-cut or detour through this vast wilderness. Nevertheless, when we walk with Christ, even though our body may break, our spirit is unbroken.
As the Passover season arrives each year, we are reminded of the sacrifice Jesus made on the cross for a broken world. It is only through receiving him by faith as our savior that we can be made whole and unbroken.
Passover will begin at sundown on March 27, 2021, ending April 4th as the sun sets. At this time last year, the United States was on lockdown due to the COVID-19 pandemic. We observed the Passover behind our doors and awaited what seemed like an uncertain future. This year many of us are no longer enduring lockdown, but we are a nation that needs to be reminded of the truths that Passover exemplifies. Many Americans have lost hope as they face what many are calling a broken election system. As executive orders are signed that clearly violate God's laws and standards, it becomes evident that our government is moving in the wrong direction. In shock and awe, we witness censorship threatening to break our rights to free speech as conservatives are silenced for their views on abortion, marriage and gender. Now, more than ever, we need Jesus to put us back together again.
As the Passover season approached this year, I was reminded of a book I'd read several years ago about World War II hero and evangelist Louie Zamperini. I learned of his story through my oldest son, who was attending the United States Air Force Academy. Zamperini had been chosen as his class exemplar–someone who exemplifies the type of person the class wishes to emulate. I decided to read Unbroken by Laura Hillenbrand, which chronicles the life of Louie Zamperini and his struggles before, during, and after the war. It gave me a renewed perspective of forgiveness and hope. The story of the cross shouted from the pages of the book and reminded me that even when we are broken, Jesus can use those pieces to create a masterpiece.
Louie Zamperini's story begins with his dream of becoming an Olympic runner, but it ends in a race he could have never predicted. He excelled on his high school running team, even setting the national record for the mile in 1934. He was awarded a scholarship to the University of Southern California, where he began training for the 1936 Olympics. He finished eighth in the 5000-meter race, but ran the last lap faster than any of the other competitors. Afterward, this celebrated athlete went on to set a record for the national collegiate mile in 1938, earning him the nickname "Torrance Tornado." A few years later, Louie's life would take a swift turn when the U.S. declared war on Germany in 1941.
Enlisting in the U.S. Air Force, Louie became a second lieutenant. After a bombing mission in 1943, he and his crew were sent to search for a lost aircraft. During this time, the plane suffered mechanical difficulties, causing it to crash in the Pacific Ocean, 850 miles south of Oahu, Hawaii. Eight of the eleven men on board were killed. Louie and two others survived, but ended up on a life raft (salvaged from the plane) in the middle of the ocean. To avoid starvation, the men were forced to eat raw fish and albatross. They were terrorized by hungry sharks, and raging storms brought massive waves that threatened to capsize their raft. To make matters worse, they were fired upon by passing planes. After 47 grueling days on the open ocean, the Japanese spotted their raft and took them as prisoners. Two of the three men had survived the ordeal.
Once captured, the real Hell began. Louie faced the wrath of the Japanese guards, which included regular beatings. While in captivity, he endured starvation, exposure to severe cold and heat, as well as unsanitary living conditions. At one point, he stayed in what could only be described as "a hole in the ground," where he had to use the bathroom in the same place where he slept. Relentlessly taunted by Japanese guards, his humiliation transcended what most humans could endure. There was one particular guard, nicknamed "the Bird" who tormented and beat Louie on a constant basis. On one occasion, he forced him to hold a six-foot, heavy beam of wood above his head for 37 minutes. Despite all this, he maintained the will to survive.
After years of suffering and torture, Louie's camp was eventually liberated. He was able to return to his family, but he carried the scars of his experience. While the Japanese guards didn't break him, the wounds of war inflicted severe damage that penetrated his broken soul.
In an effort to put the past behind him, Louie got married and did his best to live a normal life. As a military hero, he traveled around the country participating in speaking tours. On the outside, he appeared as if he had it all together, while inside he was falling apart. Memories of the war led to anger, bitterness, womanizing, and alcoholism.
Watching her broken husband's life unravel, Louie's wife urged him to attend a Billy Graham crusade, where he could hear the gospel of Jesus Christ. Seeing it as hopeless, he adamantly resisted. Nonetheless, his wife persisted, knowing this was the only answer. Eventually Louie relented and found himself at the crusade, giving his life to Christ. This is where Jesus met his brokenness. The one who knew what it was like to be mocked, despised and afflicted came to save this man who was broken by the scars of war.
Once Louie met Jesus, there was no stopping him. His mission in life completely changed. He became an evangelist, traveling the world and sharing Jesus' love with others. His biggest message was the power of forgiveness. Louie lived what he preached by going to Japan to forgive his captors. He forgave the men who broke his body–the very men who had given him the scars on his back and face. Jesus taught him that forgiving those who hurt you the most is what gives us an unbreakable spirit. This unbreakable spirit can only be achieved through the power of the holy spirit, which is Jesus dwelling within us. It keeps speaking, loving and fighting, even when we have given up.
The Bible is full of broken people and these are the very people God uses! From Joseph to King David, God uses the scarred, imperfect lives of others to showcase his mighty strength and power.
Isaiah 53 is one of the most amazing prophecies in the Old Testament because it gives a clear, detailed picture of Jesus' death on the cross. Scarred and marred more than any other man, Jesus took our pain and shame upon himself.
"Surely he took up our pain and bore our suffering, yet we considered him punished by God, stricken by him, and afflicted. But he was pierced for our transgressions, he was crushed for our iniquities, the punishment that brought us peace was on him, and by his wounds we are healed," Isaiah 53:4-5.
Let's focus on one verse in particular which says, "the punishment that brought us peace was on him." If we were to read the verse with the word peace written in Hebrew it would say, "the punishment that brought us shalom was on him." This brings new life and understanding to what Jesus did for us on the cross. Why? Because shalom doesn't just mean peace. It means wholeness, fullness, completeness, healing, well-being, prosperity and restoration. Jesus died for you and I so we could have all these things and more!
When a glass is broken, the shattered pieces fly in all directions. The large and small shards often become impossible puzzle pieces that could never fit together again. The only solution is to sweep up the pieces and throw them away. As sinful humans living in an imperfect world we are like a broken glass. There's not much we can do to put ourselves together. Without Jesus we remain in pieces, with no hope of restoration. But when Jesus becomes our savior, he brings this special glue called shalom. Bit by bit, he takes our broken pieces and puts them together. Before we know it, we become a new kind of glass- a vessel of the Holy Spirit. As Jesus works in our lives, we become whole, complete and restored.
After the war, Louie Zamperini knew what it was like to be a shattered glass. But when he received Christ, the pieces came together as he describes below:
"I felt this perfect calm, a peace. The Bible calls it the peace that passeth all understanding. I knew then that I was through getting drunk, smoking and chasing around. I also knew I'd forgive all my prison guards, including the Bird. Boy, that's something. So I got up, went home, and that was the first night in four years I didn't have a nightmare. And I haven't had one since."
Four days before his 81st birthday, Louie ran a leg in the Olympic Torch relay for the Winter Olympics in Nagarro, Japan. The location of the POW camp where he suffered during the war wasn't far from this area. While there, Louie attempted to meet with his former captor–Mutsuhiro Watanabe–also known as the Bird. He wanted to extend complete and total forgiveness to the guard who tortured him the most. Though Watanabe refused to see him, Louie sent a letter, which explained he had forgiven him. It is not known whether he read the letter, but the greater point is made by Zamperini in this quote where he says, "forgiveness has to be complete. If you hate somebody, it's like a boomerang that misses its target and comes back and hits you in the head. The one who hates is the one who hurts." 
Speaking further about forgiveness, Louie reminds us that "the one who forgives never brings up the past to that person's face. When you forgive, it's like it never happened. True forgiveness is complete and total."
Sounds a lot like shalom doesn't it?
As the season of Passover passes over our nation this year, let us be reminded that Jesus has given us shalom through his mercy, forgiveness and grace. This can be hard to extend to others, especially as we live in such uncertain, broken times. But without this forgiveness we extend to broken people, we cannot receive the peace, wholeness and healing that Jesus offers. After all, the Passover lamb was considered a peace offering. This means Jesus died for our sins so we can be completely and totally restored. Like Olympic runner Louie Zamperini, our race will not be easy, but it's important that we keep going so Jesus can put every single broken piece in place.
For more information about Louie Zamperini, you can watch the movies Unbroken and  Unbroken: Path to Redemption.  Books about his life include Unbroken by Laura Hillenbrand, as well as Devil at my Heels by Louie Zamperini and David Resnin.
How has Jesus brought shalom (peace) into your life? Share in the commentS below. . .
Angela Rodriguez is an author, blogger and homeschooling mom who studies the historical and biblical connections between Israel and the United States. You can visit her blogs at 67owls.com and 100trumpets.com. (Photo by Mohamed Nohassi on Unsplash.)
Partner with Us
Intercessors for America is the trusted resource for millions of people across the United States committed to praying for our nation. If you have benefited from IFA's resources and community, please consider joining us as a monthly support partner. As a 501(c)3 organization, it's through your support that all this possible.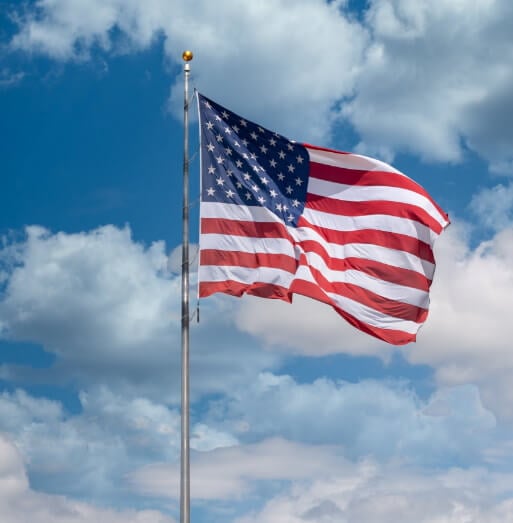 Become a Monthly Partner