January 16, 2021 | Shelley McLaughlin, IFA Contributing Writer
ather help us bear Your image well. Help us to sing praises to You in the midst of the storm. Help us to pray in Your will and to help those who cannot see to see You in us and know us by our love which comes only from You.
This Sunday I traveled through London on my way home from visiting my husband who lives in Scotland. Because he is in the process of immigration to the United States, he is unable to travel to see me so I travel to Scotland. We were grateful for this opportunity to visit each other in spite of the things happening in the world. We are grateful that the Lord continues to make a way for us to be together even though there are times when we have to be apart.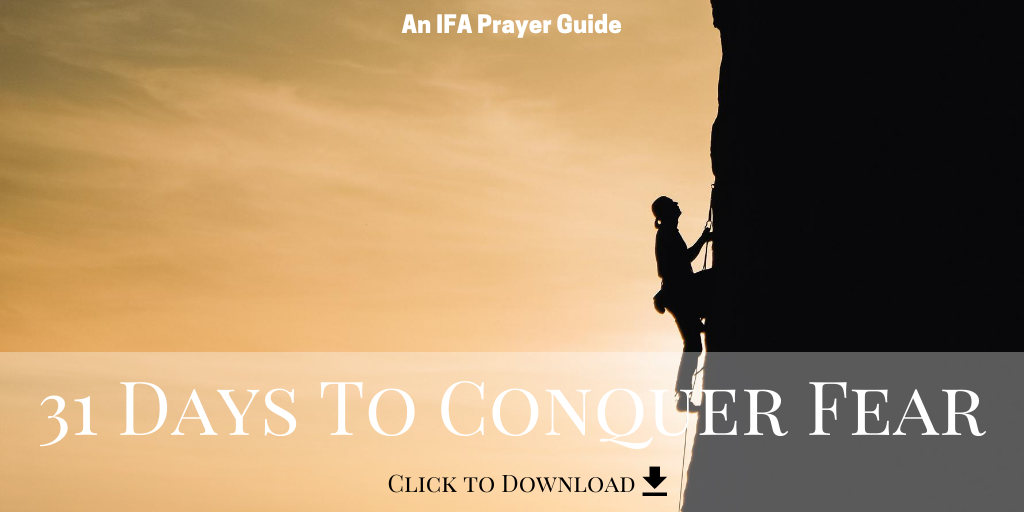 The trip over was smooth. The trip home was another story. Our world changed a lot in two weeks with Brexit and the incident at the Capitol. Traveling through Heathrow was difficult because of new travel restrictions imposed as a result of the UK strain of the virus. My ability to board my flight home was temporarily blocked due to the airline's interpretation of those travel orders.
I was angry, tired, and sad leaving my sweet husband to head back home. Their refusal to give me a boarding ticket was extremely frustrating and there seemed to be no quick resolution. Having been in positions like this before, although I was rattled, and furious, I stopped and apologized and left the decision to the Lord. I prayed, confessing that I didn't know what He wanted: "If I am supposed to go back to Glasgow then please help me get to Glasgow. If I am supposed to go back to the U.S., then would You please figure that out for me."
Leaving big and small decisions up to the Lord can be hard to do sometimes but only He can see what the future holds. When we start to feel these adversarial issues come against us, we need to pause, ask what is happening, and allow it be a training opportunity.
A few minutes later after turning it over, the way opened back up and I had my boarding pass in hand.
I was still angry though at the injustice of the whole thing – even though I kept apologizing to Him for it. The Israelites repeatedly got into trouble when they were being tested and then complained. I know this. But it just kept going through my mind like a missile.
As I travel, I pray and ask Him what He would like me to pray or sing over areas where I am. I always prefer to pray God's Word, which will go forth and accomplish things we cannot imagine. We are to clean up the world. No better way to do that than to read His Word over it.
So, still mad once I got to the gate, I told the Lord that if He wanted me to go "scorched earth" on London after the injustices I had witnessed, I was His girl for the job.
With sweet discipline, He said look up the word "scorch" in Hebrew, which is kavah. It appears in Isaiah 43. I was so flustered I didn't even remember what Isaiah 43 was about but flipped to it and started reading it aloud in Hebrew. As I moved through it, I was broken. I was sobbing even as my blood pressure returned to normal.
As I prayed it aloud, I was reminded that Yeshua is not only our Savior–He is the Savior of the whole world – even people who don't want a Savior, even people who are mean and ugly to others, even people who have succumbed to the quickly moving, unjust changes being implemented in our world under the guise of peace and safety.
I encourage you to pray Isaiah 43 today yourself. I encourage you to pray this with me over our own country. Our job is to help set people free, especially those who don't realize they are entangled in a web of lies. Our job is to tread on snakes, scorpions, and overcome all the power of the enemy.
But as we do it, we can't act like the enemy or use his playbook. We aren't to call down asteroids and scorch the earth. We are to operate in mercy like our Father. We aren't to set people ablaze with our eyeballs or be curt with them when we are frustrated. Love is not rude. Our Father is love. We are to represent Him and bear His image well.
We are called to clothe the naked—those who aren't covered in righteousness. We are to feed the hungry—those who are spiritually malnourished. We are to give a drink of living water to those who thirst—those who are spiritually thirsty.
We are to help heal the spiritually blind and lame so that they can see the beauty of God at work in this world and walk unobstructed in righteous paths.
Yeshua told us to love our enemies, pray for those who persecute us. Yet with increasing incidence I see and hear people praying without love—a love that has grown cold due to fear of what is coming or because they don't believe they are worthy of experiencing judgments that will come regardless of who is sitting in the Presidential office.
Declaring and decreeing God's Word is powerful and good. But declaring and decreeing things that are outside the will of God is practicing witchcraft. We are to follow Yeshua's example and work where we see the Father working. We pray the will of the Holy Spirit.
This means that especially in the heat of battle we must pause to ask what is His will. On Sunday in London,  His will was to bless the people who had done everything in their power to push all my buttons. My reaction to it was inappropriate. I'm sharing it today so we can all learn together.
Back to praying Isaiah 43.
Yahweh you have told us to fear not because you have redeemed us and we are yours. You have called us out by name and we are Yours. You promise that when, not if, but when we pass through the waters, go through rivers, or walk through fire we will not be drowned or scorched because you will be with us in our trials. You tell us this because you are Yahweh our Elohim, the Holy One of Israel, our only Savior. You give Egypt as a ransom for us and Cush and Seba in our place. We are precious and honored in Your sight because You love us.
You will bring us all back from afar – all those called by Your name and created for Your glory. You will bring out people who have eyes but are blind and ears but are deaf. You will assemble us together in Your timing. You will vindicate us and we will be Your witnesses here on the earth. You alone decree, save and proclaim. Foreign gods can do nothing.
None can be delivered out of Your hand. When You act, no one can reverse it. You make a way through the sea. You tell us not to remember the former things and to pay no attention to the things of old because you are doing a new thing. You ask if we can even perceive what You're doing and promise to make a way for us again in the wilderness. You declare that even the beasts of the fields will honor You and the people you have formed for Yourself will declare Your praise.
So Father help us bear Your image well. Help us to sing praises to You in the midst of the storm. Help us to pray in Your will and to help those who cannot see to see You in us and know us by our love which comes only from You. Thank you for the infilling and outpouring of Your Holy Spirit to help us be angry and not sin when we experience injustice as we operate in this world. We know you understand because we know You experienced this yourself.
Help Your people to repent. Help us to use this time to really inspect our souls. Help us to identify that what we see in others only reflects the logs in our own eyes that must be removed and set on fire, burned up in Your refinement of our character.
I encourage you to learn this song by my friend Solomon Lopez which is founded on Isaiah 43. When we sing Yahweh's Word is more indelibly written on our hearts so that we can recall it when we need it.
Al tirah li attah. Fear not. You are mine.
You are His. Act like it. Act like Him.
(Photo Credit: Unsplash.)