January 16, 2021 | Suni Piper, IFA Contributing Writer
Lord we pray for a holy passion to burn in us for You alone! You are our refuge and our strength in times of trouble. Great are You Lord!
While we cannot dismiss what is going on politically, I am stepping in to pray for the Church today.  Because of this political climate – the angst, the despair, the confusion, the fighting and name-calling in this world and even amongst Christians, the fear of what is to come with this nation – the Church is ripe for an unprecedented awakening!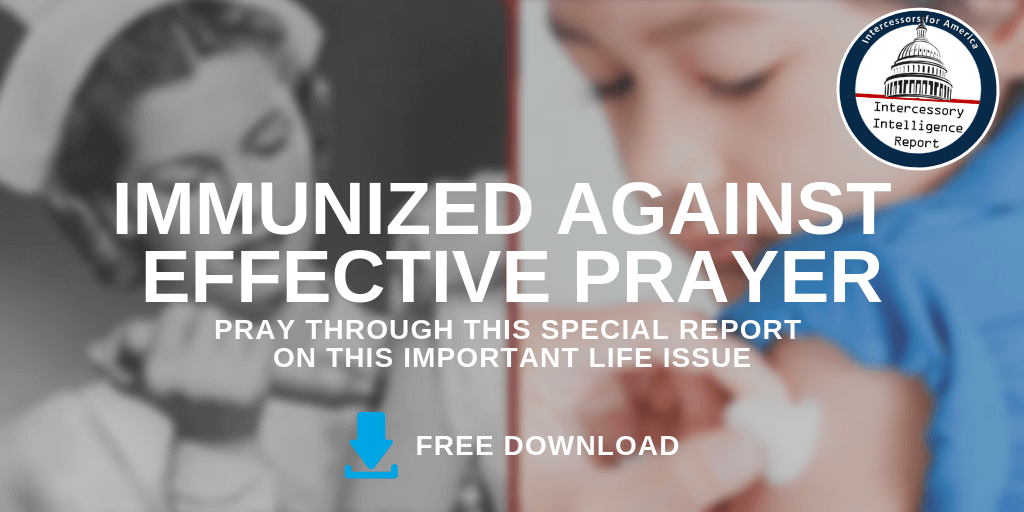 I think back to the beginning of this whole pandemic before things ever escalated politically. Many of us saw this as an opportunity for the Church to redefine itself and to slough off anything that didn't belong in order to truly realign with HIM and His purposes.
Now we sit here awaiting the next few days to play out, wondering what is going to happen. Many are consumed by fear and despair while others are holding fast to the God of miracles – believing He will do what only He can do – a miracle of landslide proportions, a true parting of the sea. We are sitting squarely in the midst of "impossible" and "inevitable" and yet…we serve the God who conquered death!  Death could not hold Him down; He defeated the grave!
I don't dream very often, but I do wake up almost every morning with some worship song running through my head. The songs are almost always different, but this week I have woken up each morning with the same song running through my mind.
The weapon may be formed
But it won't prosper
When the darkness falls it won't prevail
'Cause the God I serve knows only how to triumph
My God will never fail
Oh, My God will never fail
I'm gonna see a victory
I'm gonna see a victory
For the battle belongs to you Lord
I'm gonna see a victory
I'm gonna see a victory
For the battle belongs to you Lord
There's power in the mighty name of Jesus
Every war he wages He will win
I'm not backing down from any giant
'Cause, I know how this story ends
Yes, I know how this story ends
I'm gonna see a victory
I'm gonna see a victory
See a Victory Elevation Worship
I don't know about you, but this has brought me great encouragement and peace each morning. I don't know how these next days will play out – none of us truly do. Many of us anticipated great victory on January 6, only to find their hopes all dashed. But our God is still on the throne and He is in the miracle making business!
The Emmaus Road
I imagine many of our responses were like those disciples walking on the Emmaus Road with Jesus on the day of His resurrection.
Two of the disciples were walking and talking about the recent events when Jesus came alongside of them inviting Himself into the conversation. They were so blinded by their own pain and perception of what had happened that they didn't recognize Him. Jesus asked about what current events they were speaking of:
"The things about Jesus, the Man from Nazareth," they replied. "He was a mighty prophet of God who performed miracles and wonders. His words were powerful and he had great favor with God and the people. But three days ago the high priest and the rulers of the people sentenced him to death and had him crucified. We all hoped that he was the one who would redeem and rescue Israel. Early this morning, some of the women informed us of something amazing. They said they went to the tomb and found it empty. They claimed two angels appeared and told them that Jesus is now alive. Some of us went to see for ourselves and found the tomb exactly like the women said. But no one has seen him."
Jesus said to them, "Why are you so thick-headed? Why do you find it so hard to believe every word the prophets have spoken? Wasn't it necessary for Christ, the Messiah, to experience all these sufferings and then afterward to enter into his glory?"
Then he carefully unveiled to them the revelation of himself throughout the Scripture. He started from the beginning and explained the writings of Moses and all the prophets, showing how they wrote of him and revealed the truth about himself. (Lk 24:19-27 TPT)
Even with all of this, it wasn't until later that their eyes were opened.
Joining them at the table for supper, he took bread and blessed it and broke it, then gave it to them. All at once their eyes were opened and they realized it was Jesus! Then suddenly, in a flash, Jesus vanished from before their eyes!
Stunned, they looked at each other and said, "Why didn't we recognize it was him? Didn't our hearts burn with the flames of holy passion while we walked beside him? He unveiled for us such profound revelation from the Scriptures!"
They left at once and hurried back to Jerusalem to tell the other disciples. When they found the Eleven and the other disciples all together, they overheard them saying, "It's really true! The Lord has risen from the dead. He even appeared to Peter!" Then the two disciples told the others what had happened to them on the road to Emmaus and how Jesus had unveiled himself as he broke bread with them. (Lk 24:30-35 TPT)
There are many prophets still left standing; many still holding fast to the dreams and visions the Lord has revealed to them regarding this time. But many in the Church are floundering today – anxious and fearful of the days ahead. This day and time is not for the faint of heart. No matter how these last days play out, the days ahead are still going to be hard. I believe there will be a season of transition, of deep soul-searching, and a wrestling for all we believe to be true (I believe this no matter what side of the aisle you stand on).
"We all hoped that he was the one…"  Many of us have wanted to turn this election onto one man/woman or entity – and yet that is not at all how it has played out. The entire life of Jesus is a reminder that God doesn't play by "our rules". He is not confined by our understanding or our set of beliefs or even our idea of how things should play out. As always, He is the God who exists outside of time and sees the big picture – He knows what is BEST for His Church, for His people, and for this nation.  He works all things for the good of those who love Him. And I believe He has in mind for His Bride to be awakened. For a time, it may not be an increase of numbers and souls saved – but a time for a strengthening, equipping, solidifying, and emboldening that we might truly become a Church on fire!
"Why do you find it so hard to believe every word the prophets have spoken?  Wasn't it necessary for…?"   God has equipped some to be prophets…in order to fully equip and perfect His people…so that the body of Christ may be built up (Eph 4:11-12).  I am taking this out of context I know, as Jesus was referring to the prophecies that were written in reference to Him. But keeping in mind that He has allowed for modern day prophets, there is truth in much of the many prophetic voices out there. In the months preceding the election, many of those voices were multiplying, as well as going back to prophecies written and spoken about many years prior.
Some of those voices have since offered apologies for getting it wrong. And some of those same prophets have been maligned by fellow believers for giving up hope or not having enough faith. (See Gloria Ruble's A Timely Word About … Words for an excellent response to this.)
[Side note, because I have to say it – we are BETTER than that in the body of Christ! We have been saved by the blood of Jesus, set free from the bondage of darkness and delivered into His glorious light! And yet NONE of us is perfect this side of heaven! And while we have been angry that we have lost the right "to speak" during this time in our nation, many being censored and "cancelled" – we CANNOT turn against our brothers and sisters in Christ! We lose our credibility when we act just like the world – hateful, vengeful and full of judgement. Grace, humility and love – love covers a multitude of sins. Let's be those people!]
The gift of the prophet is to help build up the body. With the last voices that are holding on – let's choose to be bolstered by their courage to stand steadfast – lone rangers going against the current of many. Let it strengthen our faith in the God of miracles, the God of angel armies, the God whose words never return void!
Pray for the prophets. Pray for your own ears to hear the voice of your shepherd! His voice is the ONE that matters above all the rest! And as HE leads you, only from there proceed.
"Why didn't we recognize it was him?  Didn't our hearts burn with the flames of holy passion while we walked beside him?  He unveiled for us such profound revelation from the Scriptures!"  I feel like we are living in a time where the scripture is coming alive more than ever before. Almost any story or passage that I read seems to speak life and hope to our current situation. This makes sense when you consider that the Word is living and active!
A Great Awakening
Do you recognize Him in the midst of this storm? He is walking in our midst. He is speaking into our ears.  He is prompting us and leading us. He is reinvigorating His bride, even in the now! Boldness in our witness, passion in our walk and in our sharing, truth communicated unapologetically…He is equipping us for a Great Awakening!
Behold, I am doing a new thing! Now it springs forth; do you not perceive and know it and will you not give heed to it? I will even make a way in the wilderness and rivers in the desert. (Is 43:19 AMPC)
Nate Johnston gave a powerful word for 2021. The whole of it is worth reading, but to close this I want to leave you with his closing word:
I PROPHESY THAT THIS YEAR YOU WOULD BE BOLD, UNCOMPROMISED, UNDIGNIFIED, & UNAPOLOGETIC OF YOUR PURSUIT OF JESUS, HIS RIGHTEOUSNESS, HIS WILL, & HIS WAYS SO THAT THE LUKEWARM GET HOT, THE FIRELESS GET BACK THEIR FIRE, & THE NATIONS ENCOUNTER HIM! 
(Nate Johnston, 2021 – The Rise of the Counter-Culture Army, the Bared-Teeth Bride & The Fiery Hot Remnant)
I believe the Lord is up to something we cannot even begin to imagine. For sure, this storm needs a direct word from our Savior. Do you perceive His presence? Do you recognize His hand? I speak peace to your weary hearts. Stand firm. HE is with us!
God is our refuge and strength, an ever-present help in trouble. Therefore we will not fear, though the earth give way and the mountains fall into the heart of the sea, though its waters roar and foam and the mountains quake with their surging. (Ps 46:1-3)
Be sober [well balanced and self-disciplined], be alert and cautious at all times. That enemy of yours, the devil, prowls around like a roaring lion [fiercely hungry], seeking someone to devour. But resist him, be firm in your faith [against his attack—rooted, established, immovable], knowing that the same experiences of suffering are being experienced by your brothers and sisters throughout the world. [You do not suffer alone.] After you have suffered for a little while, the God of all grace [who imparts His blessing and favor], who called you to His own eternal glory in Christ, will Himself complete, confirm, strengthen, and establish you [making you what you ought to be]. To Him be dominion (power, authority, sovereignty) forever and ever. Amen. (1 Pt 4:8-11 AMP)
We are standing on the edge, ready to behold His Glory!
Author Suni Piper is a prophetic intercessor who blogs at A Surrendered Life. (Photo Credit: Unsplash.)
Share your prayers for our nation in the comments below!