BE CAREFUL LITTLE MOUTH
Kim Potter, IFA Contributing Writer
|
January 14, 2021
BE CAREFUL LITTLE MOUTH
Kim Potter, IFA Contributing Writer
|
January 14, 2021
I Prayed
have prayed
Lord, may the words of our mouths and the meditations of our hearts be pleasing to You, God.
"Be careful little mouth what you say, be careful little mouth what you say, for the Father up above is looking down with love, so be careful little mouth what you say."
View Comments (13)
This song, one I learned as a small child, came to mind today as I thought of a friend who had just been hurt by the words of someone she loved.
Words are powerful things.  The book of Proverbs says, "life and death are in the power of the tongue." You can bring life with your words or you can pull the life out of someone with your words.  Let us not, as Christians, fail to keep a daily watch over our words.
I had a friend who told her children to watch their words to their friends. She would often say to them, "you can't unscramble eggs, once the words are out there, they are forever out there, you can apologize, but the words are still there."
This is so true.  I don't know of anything more difficult to get past than unkind words spoken by someone you love.  They go deep, they hurt, and they can have long-term, devastating effects.  Thank God for the blood of Jesus that cleanses us from all things!
Matthew 15:10-11 says; And He called the people to Him and said to them, "Hear and understand: it is not what goes into the mouth that defiles a person, but what comes out of the mouth; this defiles a person."
The Bible says by our words we are justified and by our words we are condemned.  It is what comes out of our mouth that will defile us.  The word defile means unclean.  It is what comes out of our mouth that can make us unclean in the eyes of God.
Proverbs 12:18 says; There is one whose rash words are like sword thrusts, but the tongue of the wise brings healing.
James 1:26 says; If anyone thinks he is religious and does not bridle his tongue but deceives his heart, this person's religion is worthless.
I could go on and on with scriptures about the words of our mouth, for the Bible has much to say on this subject, but I think you get the picture.
Today I want to encourage you to watch your words.  I realize we all have opportunity to speak harsh words, especially when we feel we are being mistreated or attacked, however, words spoken out of our mouth, cannot be erased.  Remember what my friend says, you can't unscramble eggs.
Furthermore, our words affect all we do – including our prayers.  The Bible says bitter and sweet waters should not come from the same fountain.  It also says there is life and death in our words – that is a powerful statement.  May we remember this truth with every word we speak.
Here are some ways to make sure the words of our mouth are, always, pleasing to God.
Think before you speak. 
So then, my beloved brethren, let every man be swift to hear, slow to speak, slow to wrath  (James 1:9).
If we would do this one thing, it would make an incredible difference, think before you speak and be slow to answer.  Weigh your answer by the word of God, before you speak.
The key to victory in this area is to refuse to be in a rush to respond when someone says something you do not agree with.  STOP!  Take a moment and think about your response.  This is especially true with the environment we find ourselves in today.  It is also more relevant than ever on social media.  Many people are lashing out with angry words, may we not be one of those.
Ask Yourself, is what I am about to say the truth?
Whoever would love life and see good days, let him refrain his tongue from evil and his lips from speaking deceit (1 Pet 3:10).
There are six things that the Lord hates, seven that are an abomination to him: haughty eyes, a lying tongue, and hands that shed innocent blood, a heart that devises wicked plans, feet that make haste to run to evil, a false witness who breathes out lies, and one who sows discord among brothers (Pr 6:16-20).
Do not say things you don't know to be true.  Check your facts before you speak or before you share your thoughts with the entire world.  You cannot take them back, once they are spoken, they can't be unsaid.
Are Your Words Kind and Spoken in Love?
Pleasant words are like a honeycomb, sweetness to the soul and health to the bones (Prv 16:24).
A soft answer turns away wrath, but a harsh word stirs up anger   (Prv 15:1).
She opens her mouth with wisdom, and on her tongue is the law of kindness (Prv 31:26).
A wholesome tongue is a tree of life, but perverseness in it breaks the spirit (Prv 15:4).
Oh my!  This is one we need to work on daily, especially with our loved ones and friends.  It's easy to speak sharply when we are having a bad day.  The Bible says our words bring healing.  May it be so.
Will Your Words Bear Good Fruit?
But the fruit of the Spirit is love, joy, peace, longsuffering, kindness, goodness, faithfulness, gentleness, self-control (Gal 5:22-23).
I will never forget the time I interviewed a well-known minister.  She shared something with me, and then she stopped and said, "Can you delete that please, although it is true, it will not bear good fruit."
Those words have stuck with me for years and are often the ruler by which I measure true words, before I repeat them.  You may indeed know the truth about a person or a situation, however, that's not reason enough to repeat what you know.  You must ask yourself, "What kind of fruit will it bear if I repeat this?"  If it is not a fruit of love, joy, peace, longsuffering, kindness, goodness, faithfulness, gentleness and self-control, then it is probably not worth repeating.
Words hurt, and God never meant for us to use words to hurt others.   There is great power in our words and He expects us to use that power for good, not for evil.
I believe this is especially true with those involved in intercession and prayer.  Often times we learn things by others asking us to pray in confidence.  This does not give us a right to repeat them.  Over and over again the Bible goes back to one theme; Love.  We are directed to love not only in deed, but with our words.  Words carry great weight – may we love well with our words.
In the Amplified Bible, James 3:10 says; Out of the same mouth come both blessing and cursing. These things, my brothers, should not be this way, for we have a moral obligation to speak in a manner that reflects our fear of God and profound respect for His precepts.
We have a moral obligation to speak in a way that reflects our fear of God and our respect for His word.  If we can remember this one scripture, we will do well.
Today, my prayer for all of us is this; may the words of my mouth and the meditation of my heart, be pleasing to you my Lord.
Kim Potter is a writer and the founder of A New Thing Ministries, which sends a daily teaching to thousands of people all around the world. Her articles have appeared on The Elijah List, Charisma, Spirit Fuel and iBelieve.com. Kim's message is one of hope. She speaks to the heart of those who have grown discouraged or disappointed by the circumstances of life, imparting hope. For additional information, or to receive her daily writings, go to www.anewthingministries.com. (Photo Credit: Unsplash.)
Share your prayers for the words of our mouths and the meditations of our hearts to be pleasing to God in the comments below!
Partner with Us
Intercessors for America is the trusted resource for millions of people across the United States committed to praying for our nation. If you have benefited from IFA's resources and community, please consider joining us as a monthly support partner. As a 501(c)3 organization, it's through your support that all this possible.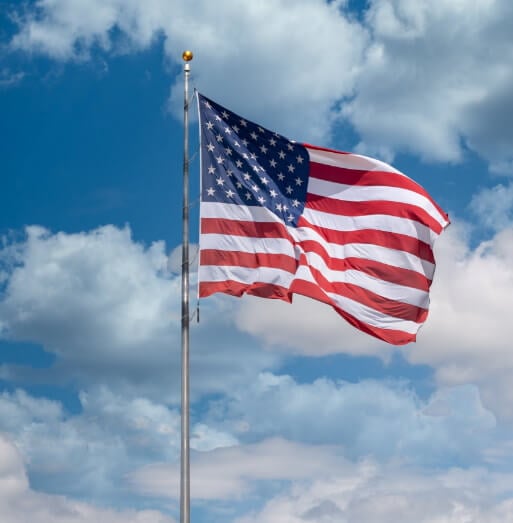 Become a Monthly Partner