THE HYPOCRISY OF BIG TECH
From Twitter Public Policy
|
January 14, 2021
THE HYPOCRISY OF BIG TECH
From Twitter Public Policy
|
January 14, 2021
I Prayed
have prayed
Father, we pray that free speech would be protected in America and that freedom would reign in our nation.
After censoring conservative speech throughout the U.S. election cycle, we were surprised to find out about Twitter's official policy on censorship in the Uganda elections.
Ahead of the Ugandan election, we're hearing reports that Internet service providers are being ordered to block social media and messaging apps.

View Comments (15)

We strongly condemn internet shutdowns – they are hugely harmful, violate basic human rights and the principles of the #OpenInternet.

— Twitter Public Policy (@Policy) January 12, 2021
Access to information and freedom of expression, including the public conversation on Twitter, is never more important than during democratic processes, particularly elections.#UgandaDecides2021 #KeepItOn https://t.co/Q2SJfsFUiD

— Twitter Public Policy (@Policy) January 12, 2021
(Photo Credit: Unsplash.)
Here is Eric Metaxas had to say about Twitter censorship and we found it compelling:
We are living through strange days! One thing I have been talking about for years now is the idea of LIBERTY and how if we do not VIGILANTLY strive to stay free — to "keep the Republic" as Benjamin Franklin said — we will lose it. We are on the verge of losing it right now, so I encourage you to pray for our nation. Whether on your own, or in the prayer call tonight (here is a link), please pray earnestly for this country.
The evidence for what I say is everywhere — but it is now also right under my own nose.
Just yesterday, for "breaking the Twitter rules" I was "locked out" of Twitter for seven days. The folks who make these decisions may genuinely believe anyone saying this election was fraudulent might lead to "violence." That's what the official Twitter notice says on the "offensive" tweet I posted, which was a joke they deemed "inappropriate." But I believe the claim they make is infinitely more offensive and dangerous to America — and freedom and our citizens — than my own claim that the election was fatally tainted and needs open investigation.
When we are being told we CANNOT SPEAK and we go along with it, we become part of the problem. It happened in Germany, and it can happen here. Indeed it IS happening here. So it is up to all of us to do whatever we can.
So FIRST we must pray, and must trust that God has a bigger picture and can do ANYTHING he chooses to do. Pray and believe that and see what He does.
SECOND, we must speak the truth. We must never allow anyone to silence us.  Bonhoeffer is supposed to have said: "Silence in the face of evil is itself evil. Not to speak is to speak. Not to act is to act. God will not hold us guiltless." Those words do not appear in my book, because I could not find where he actually said them, and I now believe it's impossible to trace them to him. But that does NOT change their power and truth. So I am happy to take credit for saying them myself, if anyone needs an "attribution" for them. Who said them is not the point. Truth is truth. And no truer words have been spoken. Silence in the face of evil IS evil. Not speaking or acting is speaking and acting in ANOTHER way, one that makes us a party to the evil being perpetrated.
So to stay silent now would be wrong.
I have INDEED seen tremendous evidence of voter fraud and election malfeasance and I have spoken to many people who have as well. Why should I pretend that's not true when it is true? The forces trying to silence the Americans speaking up tell me everything I need to know about who is guilty. If you are being honest and transparent you are not afraid of looking into things rigorously, to protect the sanctity of our voting system. As you know, many judges and courts refused to look at the evidence. They did NOT look at the evidence and dismiss it. They refused to LOOK at the evidence. That includes the Supreme Court, as you know. They were afraid to wade into these turbulent waters and thought it safer just to turn a blind eye and let things proceed. This was nothing less than a dereliction of duty.
(Here is the tweet that resulted in the Twitter ban)
You can find Eric Metaxas at YouTube and ericmetaxas.com.
What do you think about Twitter's hypocrisy? What do you think is the answer to big tech censorship in the U.S.?
Partner with Us
Intercessors for America is the trusted resource for millions of people across the United States committed to praying for our nation. If you have benefited from IFA's resources and community, please consider joining us as a monthly support partner. As a 501(c)3 organization, it's through your support that all this possible.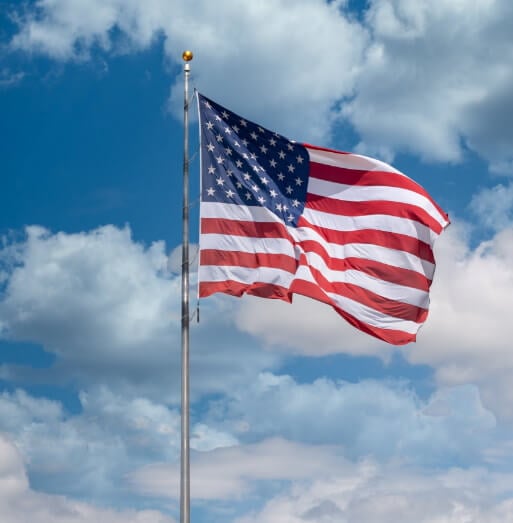 Become a Monthly Partner