SPEAK THIS BLESSING OVER WASHINGTON, D.C.
Jamie Rohrbaugh, IFA Contributing Writer
|
January 14, 2021
SPEAK THIS BLESSING OVER WASHINGTON, D.C.
Jamie Rohrbaugh, IFA Contributing Writer
|
January 14, 2021
I Prayed
have prayed
Father, hear our words of blessing as we speak Your Word over Washington DC and our American government. Exalt this city in righteousness—and do not allow evil to reign there—in Jesus' name.
Friends, in these dire times, we have to use every spiritual weapon of prayer at our disposal. We must pray, speak God's Word, fast, and intercede for our nation:
View Comments (49)
For peace to reign here again;
For righteousness and justice, which are the foundations of God's throne, to be established;
For righteous rulers and governments to come forth;
For God's people to have and operate in extreme wisdom;
For our freedoms to be protected; and
For our ability to freely preach the Gospel around the world to be preserved.
In every arena, our freedoms are being removed by ungodly and wicked leaders—leaders of the nation, states, cities, counties, and even by the leaders of corporations. Nevertheless, GOD is on our side and He will fight for us as we pray.
Proverbs 11:11 tells us this:
"By the blessing of the upright the city is exalted, but it is overthrown by the mouth of the wicked."
Today, I felt led to craft a blessing we can speak over Washington, D.C.—a blessing proclaiming peace and righteousness to the capital city of our nation.
I believe that as we speak this blessing, declaring God's Word over our land and over her governmental branches, the Word of God will take root. Remember that Hebrews 4:12 tells us the following:
"For the word of God is living and powerful, and sharper than any two-edged sword, piercing even to the division of soul and spirit, and of joints and marrow, and is a discerner of the thoughts and intents of the heart."
The Word of God is one of the biggest weapons of our warfare. Therefore, as we speak it out, trust God to move in response to our pronouncements of blessing over this city!
Are you ready? If so, speak this blessing over Washington, D.C. with me today:
In the name of Jesus Christ the Righteous, I speak blessings over Washington, D.C. today. I declare first that Washington, D.C. shall be exalted in righteousness; it shall not be overthrown by the mouth of the wicked.
I also decree and declare in the name of Jesus that righteousness and justice must be established in Washington, D.C. now. In the name of Jesus, I decree that true justice must be established; that mercy can also reign where God wants mercy, but that justice must be enforced where our God deems justice is needed.
I speak over Washington, D.C. that there is nothing hidden which shall not be revealed. There are no secrets which shall not be made known.
Therefore, in the name of Jesus, I command corruption to be exposed and dealt with according to justice NOW, in Jesus' name:
I declare and decree that good and holy whistleblowers must come forward to expose the crimes of others.
Criminals in D.C. must confess and repent of their crimes publicly.
I decree that there will be no adverse consequences to true whistleblowers for the revealing of others' crimes; they shall only experience the consequences of their own crimes, if any; but they shall be safe and protected from the retribution from the wicked.
I bind any false whistleblowers who speak lies against the righteous. I declare that they may not speak and their lies shall not be heard nor listened to. Their lies fall to the ground right now, useless and of no effect.
I speak to Washington, D.C., and I bless you, O city, with the righteousness that exalts a nation.
I declare that righteous government is formed within you right now, and no unrighteous governments may be formed whatsoever. If any unholy shadow governments exist, I command them to be revealed, exposed, prosecuted, crumble to nothing, and be brought to justice.
In the name of Jesus, I loose angels to watch over our capital city—Washington, D.C.
I speak that every good and righteous politician and their families, staff, and loved ones are protected and hidden in the secret place of the Most High. No evil can befall them, nor shall any plague come near their dwellings. A thousand may fall at their side, and ten thousand at their right hand, but it shall not come near them.
I also decree and declare that every unrighteous politician in Washington, D.C. must fall.
We speak to every wicked politician, staffer, and government official, and we say: "Be saved, or be removed, in Jesus' name." We declare and release both the justice, mercy, and judgment of God into Washington, D.C. wherever GOD deems it necessary in order to accomplish His highest and best purposes.
I speak that good, holy, righteous, and God-fearing politicians must arise and arrive in D.C.:
I speak that good and holy politicians must be elected in every election going forward.
Even right now, God is preparing them.
Even right now, God is funding their campaigns.
Even right now, God is personally going before His servants in politics and defeating every hindrance that comes against them.
Even right now, the voters who will vote for good and righteous politicians are registering to vote and voting the Bible at the polls.
America is turning toward righteousness right now, and I declare and decree that every politician that arrives in Washington, D.C. from this moment forward must be a servant of the Most High God, and Him only shall they serve.
I declare that righteous laws, and only righteous laws, may come forth from Washington, D.C.:
I bind and forbid the formation of any unrighteous laws.
If wicked politicians even try to pass wicked laws, I decree that they shall be hindered and stopped at every opportunity.
Confusion shall enter the camp of the wicked and they shall not be able to pass any unrighteous legislation at any level.
I decree that order and wisdom enter the camp of the righteous in Washington, D.C., and godly politicians will bring good and holy laws to table that shall be passed and passed quickly.
I declare and decree that no one can stand against the righteous in this whole city.
The enemy may come against the righteous politicians one way, but that enemy will flee before them seven ways.
Every wicked person shall tremble in fear of the righteous AND OUR GOD in Washington, D.C.
I declare and decree that our government passionately and aggressively defends our freedoms:
I bless our nation with cherishing and protecting free speech, the free exercise of religion, free press, freedom to assemble and gather, the freedom to move and travel, the freedom to do business and not be discriminated against, and the right to bear arms.
I decree and declare that our right to free and fair elections is preserved, and any and all election fraud is exposed, punished, and prevented from happening again.
I bless our nation with the protection of all our freedoms.
I declare and decree that any attack or infringement upon these freedoms shall be soundly defeated and our freedoms preserved.
I bless Washington, D.C. with peace. I bless her with safety. I release the highest and best purposes of God into this city that we love. I command the people of God in and around Washington, D.C. to rise up and bless the Lord with all that is within them. I release the testimony of Jesus and the Spirit of prophecy into our capital city, and I decree revival comes.
Washington, D.C. shall be saved. America shall be saved.
I decree that the blood of Jesus washes away the color line, the economic line, and every other line that divides our people. I decree that Americans dwell together in the unity of God's Holy Spirit and the bond of peace. And I bless our nation, these United States of America, with peace, prosperity, and times of refreshing in the presence of the Lord.
In Jesus' holy and precious name, as it is written, so let it be done. Amen and amen!"
Beloved, God hears our prayers. He hears our cries of faith, and He sees everything that is hidden.
The weapons of our warfare are mighty through God, and as we release His Word over our nation and over her capital city, God will hear and move.
Jamie Rohrbaugh is an author and speaker who equips people to walk in the manifest presence and power of God. Jamie blogs for a global readership at FromHisPresence.com, where she writes about radical prayer, the prophetic word, the supernatural lifestyle, inner healing, and Kingdom wealth. She is a frequent contributor to Charisma Magazine, The Elijah List, Spirit Fuel, and various other ministry outlets. You can contact her here or download her free ebook containing 555 names of God for prayer and worship here. (Photo Credit: Getty Images.)
Share your prayers of God's word over our nation and capital city. . .
Partner with Us
Intercessors for America is the trusted resource for millions of people across the United States committed to praying for our nation. If you have benefited from IFA's resources and community, please consider joining us as a monthly support partner. As a 501(c)3 organization, it's through your support that all this possible.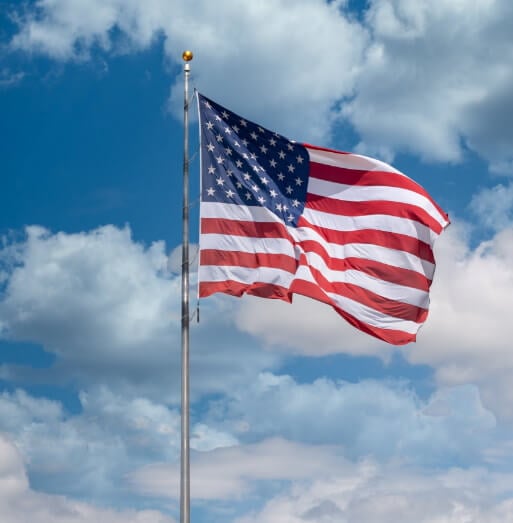 Become a Monthly Partner