A TIMELY WORD ABOUT . . . WORDS
Gloria Robles, IFA Contributing Writer
|
January 14, 2021
A TIMELY WORD ABOUT . . . WORDS
Gloria Robles, IFA Contributing Writer
|
January 14, 2021
I Prayed
have prayed
Father, help our words to be honoring to You. Give us strength to hold our tongue and to only speak words that would be edifying to those around us. Give us discernment and wisdom.
After the results of the November election, I wrote an article about the prophets who came under attack for predicting President Trump's second term. Many of these who prophesied were men of God with character and a proven track record of accuracy. With the recent results following January 6, a well-known prophet by the name of Jeremiah Johnson, as well as others, publicly apologized for getting it wrong.
View Comments (168)
Because of recent online chaos and misinformation, I made a choice to pull back from my social media time and focus on the Lord. It had been a while, when yesterday I logged into my Facebook to see a post from Jeremiah. What I read shocked me. He wrote a lengthy post about the aftermath of his apology. He said, "I expected to be called a false prophet, but I never expected to receive death threats."  He mentioned receiving more that 500 hate emails calling him a traitor.
I was horrified reading this. The absolute worst of it is a majority of these emails came from Christians. I couldn't wrap my mind around it. In November, a Christian group demanded he apologize. In January, he apologized and was threatened by other Christians.  It was at this point, my heart was so grieved, that I logged back out. I'm not even sure that I can find the right words while writing this, and I may take some heat for this article, but I feel it must be said.
Men have trained, or can train, every kind of animal or bird that lives and every kind of reptile and fish, but no human being can tame the tongue. It is always ready to pour out its deadly poison. Sometimes it praises our heavenly Father, and sometimes it breaks out into curses against men who are made like God. And so blessing and cursing come pouring out of the same mouth. Dear brothers, surely this is not right! Does a spring of water bubble out first with fresh water and then with bitter water? Can you pick olives from a fig tree, or figs from a grape vine? No, and you can't draw fresh water from a salty pool. (Jas 4:7-12)
After reading his post, I sat quietly before God and considered how He must feel seeing his church/children so divided. I thought about how Jeremiah's apology required the utmost humility and integrity. We need prophetic integrity. The prophetic has been lacking such character and this is why people do not take it seriously. I've found people turn to prophecy for three reasons.
To know the heart of God and obey.

To hear only what they want to hear.

To hear so they can prove themselves right or prove someone wrong.
Only number 1 is the correct response.
There is not only a spiritual battle in the nation right now, but the response to Jeremiah sadly reveals a problem we Christians face, and that is the war for our words. Maybe you haven't written hate messages, but maybe you've spoken harsh words over your family, neighbors, or people with different politics. I have family members with political and religious differences who like to debate Every time they see me. I confess it's been difficult for me at times.  I believe we all have struggles in our walk and with our words. God's Word admonishes us to control our tongues. In fact, it says if we can control our tongues, self control in other areas will be easier: Indeed, we all make many mistakes. For if we could control our tongues, we would be perfect and could also control ourselves in every other way. (Jas 3:2)
There is not only a spiritual battle in the nation right now, but also, sadly, even in the Church. We are called first and foremost to be sons and daughters of God: So we are Christ's ambassadors; God is making his appeal through us. We speak for Christ when we plead, "Come back to God!" (2 Cor 5:20)
The word "ambassador" means that we are His representatives. We represent Jesus Christ here on earth. We speak for him. How does it look to the lost when they see us ripping each other apart with our words? How are we representing Jesus when we are typing up hate emails, engaging in Twitter/Facebook wars and debates?
People without Jesus should look to us and say, "I want what you have." What we have is  Jesus, reflected in our lives. Instead, they're seeing bitterness, hatred, and division. Why would they want Jesus, if we are not representing him correctly? If we aren't careful, our words can damage our testimony of Jesus: Respond gently when you are confronted and you'll defuse the rage of another. Responding with sharp, cutting words will only make it worse. Don't you know that being angry can ruin the testimony of even the wisest of men? (Prv 15:1,2 TPT)
For the whole Law [concerning human relationships] is complied with in the one precept, You shall love your neighbor as [you do] yourself.  But if you bite and devour one another [in partisan strife], be careful that you [and your whole fellowship] are not consumed by one another. (Gal 5:14,15 AMP-C)
Church, when we attack each other in this manner, we are putting ourselves in danger. Later in this chapter Paul lists the works of the flesh: Now the doings (practices) of the flesh are clear (obvious): they are immorality, impurity, indecency,  Idolatry, sorcery, enmity, strife, jealousy, anger (ill temper), selfishness, divisions (dissensions), party spirit (factions, sects with peculiar opinions, heresies). (Gal 5:19,20)
What we are seeing in these attacks and division is not of God. This is the work of the flesh. The work of the Spirit is this: But the fruit of the [Holy] Spirit [the work which His presence within accomplishes] is love, joy (gladness), peace, patience (an even temper, forbearance), kindness, goodness (benevolence), faithfulness, Gentleness (meekness, humility), self-control (self-restraint, continence). Against such things there is no law [that can bring a charge]. (Gal. 5:22,23)
Did you notice that the fruit of the Spirit brings change? I invite you to examine yourself before God. What fruit are your words producing? Are they producing hope, faithfulness, goodness, and courage? These are things that produce life and change. Or are they producing division, bitterness, rage, strife, and heresies? These things produce death. What we speak will produce life or death, the choice is ours: Sharp words cut like a sword, but words of wisdom heal. (Prv 12:18)
Did you know there is a connection between what you speak and your heart condition? Jesus had a lot to say about the words we speak.
A good person produces good things from the treasury of a good heart, and an evil person produces evil things from the treasury of an evil heart. What you say flows from what is in your heart. (Lk 6:45)
Don't you understand yet?" Jesus asked. "Anything you eat passes through the stomach and then goes into the sewer.  But the words you speak come from the heart—that's what defiles you. For from the heart come evil thoughts, murder, adultery, all sexual immorality, theft, lying, and slander. These are what defile you. (Mt 15:16-19)
Let's ask the Lord to show us where we can make improvements in our words or to help us in areas where you feel we struggle to control your tongue. 
I know this article will not apply to every Christian and that's okay. After the fallout with the election and President Trump, one thing has become clear and that is idolatry. I'm not calling him an idolater. We all agree he has done very well for Christian liberty, pro-life, and much more. The problem lies within us believers. Many made an idol out of a man whom God used to accomplish much good. Many likened him to a savior, expecting him to save America. I've seen the memes with my own eyes. This is where we have committed idolatry. This is a heart issue. There is only one Savior and his name is Jesus Christ. If we put our hope in someone in office to save America, or a political party, we are wrong. Jesus Christ is our living Hope: For the testimony of Jesus is the spirit of prophecy. (Rev 19:10)
I leave you with these final thoughts. 
It's all about Jesus. The articles we write, our lives, why we do what we do. It's all about Jesus. Prophecy is to testify of the only one found worthy, Jesus Christ. Our life, who we are, what we do, is for his glory and not ours. Let me make myself clear, I do not believe God is done with America. I still believe awakening will come to this nation. I still pray for this nation and leaders and will continue. I am still praying for President Trump and will continue. I still believe in prophets and prophetic people. I still believe we will see corruption exposed, because God is a God of justice. However, God is a jealous God. We can and should never give glory to a political party, person, or movement. When we see justice and awakening, all glory belongs to the Lord. 
I am the LORD; that is my name! I will not give my glory to anyone else, nor share my praise with carved idols. (Is 42:8)
My plea in writing this is if we want change, we must show we are changed as well. If we act just as the world does, there's no difference. No one will come to salvation that way. Church, let's represent Jesus not just with our lips, but with our lives. 
Author Gloria Robles is a passionate intercessor with a prophetic voice for today. For more from Gloria, go to Spotify or Anchor to listen to her podcast Something To Share. (Photo Credit: Unsplash.)
Intercessor, if we are serious about being right with God, we have to get serious about our words. It will take effort. Download our newest prayer guide and pray the Word of God about your words. Not once, but over and over until you see a victory.
We want to hear from you! What do you think about this teaching from Gloria? Leave a comment . . .
Partner with Us
Intercessors for America is the trusted resource for millions of people across the United States committed to praying for our nation. If you have benefited from IFA's resources and community, please consider joining us as a monthly support partner. As a 501(c)3 organization, it's through your support that all this possible.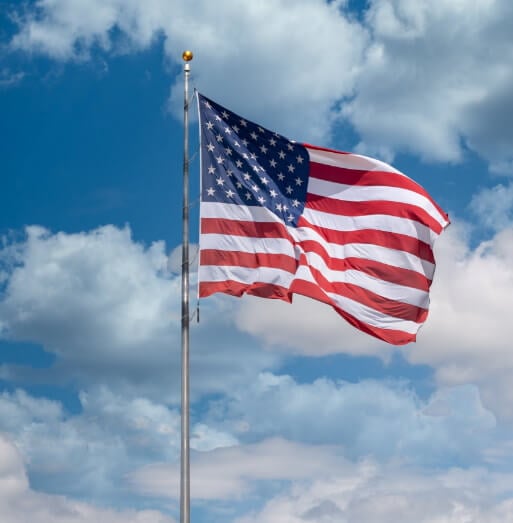 Become a Monthly Partner