WARRING AGAINST WITCHCRAFT: CUTTING THE DEMONIC CORDS
Joyce Swingle, IFA Intercessor
|
July 13, 2021
WARRING AGAINST WITCHCRAFT: CUTTING THE DEMONIC CORDS
Joyce Swingle, IFA Intercessor
|
July 13, 2021
I Prayed
have prayed
Lord, make us aware of the unseen forces that act against Your People and Purposes in the world. Equip us to engage in your authority to defeat witchcraft spirits in order that Your Will is done and Your Kingdom comes on earth as in heaven.
Some Christians consider witchcraft a spiritual metaphor for evil, but it has a real satanic power, and the Lord warns clearly and definitively against the craft and those who practice the craft (Lev. 19:26b, Lev. 20:27, Deut. 18:10, 1 Sam. 28, among a few passages). Strategies to overcome witchcraft prayers include repenting of malice and manipulation in our prayers and hearts and warring in Jesus' Name directly against spirits of Jezebel, Athaliah and Delilah, among general witchcraft prayers.
Facing Your Fears
The thought of doing battle in the spiritual realm can be intimidating and the idea of contending directly with witchcraft spirits can be terrifying. My introduction to warfare came early in my salvation. During those honeymoon days, I went to a weeknight worship service at Times Square Church (founded by the late Rev. David Wilkerson), just blocks away from my office at Rockefeller Center in New York City. At this service, a woman sitting behind me punched my arm hard and when I turned around, she hissed at me, "I'm going to get you after this!"  I whipped around to look at the front, shaking in my office heels and praying frantically for protection. During that service, the preacher encouraged us all to greet other congregants; I felt a strong press to turn to the woman behind me. I resisted as long as I could. When I finally obeyed the Holy Spirit, I found my threatening neighbor was gone. The Lord had protected.
View Comments (43)
I continued in my on-the-job training, having many strange experiences along the way as the Lord opened the spiritual realm up to me. Some moments were heavenly encouragements, but most were decidedly not. I confess most of these experiences were so frightening that I didn't want to continue in the warfare call and even wondered about this whole Christian life. Many times I literally felt the oppression of enemy spirits. But the Lord continued to show me how those evil spirits were quelled and dispelled by the Name of the Lord Jesus Christ. One time, I felt so pinned down in my bed by the evil one that I couldn't speak.  I just thought, "Jesus, save me." And the oppression lifted with His Name.
I believe these times of training were designed to show me how little power (zero, actually) I have against the enemy of our souls, but also how absolute Jesus' power is in that same battle. Once that was settled, I was ready for the real battle. These experiences were teaching me how to rely on Jesus and the Spirit and how to forfeit my own power in this same fray. Being as I came to Christ as an adult, I especially needed this training because I was very comfortable relying on my own understanding, wisdom, and skills.
Additionally, the Lord was using these experiences to expose and help me repent of allowing fear to inhibit His Work through me. As a trained counselor, I recognize that one of the Lord's most useful strategies against fear is "exposure therapy!" (Witness the Israelite journeys through the desert and into the promised land!) The Lord walks through the frightful circumstances with us so we can watch Him overcome. The more such experiences, the more we learn He is able to overcome where we cannot. This new learning — confidence in the Lord — eventually replaces the fear learning. In this way, we learn deep in our beings that He is able and willing to overcome the fear of today and the fear of tomorrow, provided we face it with Him.
Over time, my fear subsided as I learned (a lesson regularly renewed by life circumstances) to trust the Lord in the spiritual warfare battles. Recall Jesus' words to His disciples — you and I — in Matthew 28:18-20:  And Jesus came and said to them, "All authority in heaven and on earth has been given to me. Go therefore and make disciples of all nations, baptizing them in the name of the Father and of the Son and of the Holy Spirit, teaching them to observe all that I have commanded you. And behold, I am with you always, to the end of the age."
 Understanding the Battle against Witchcraft
As an intercessor, I did warfare regularly against witchcraft, as the Lord had taught Me, by binding and casting the spirit of witchcraft away from me in the Name of the Lord Jesus Christ and asking Him to fill the vacated space with His Holy Spirit instead (Matthew 12: 45; Luke 11:26).
I didn't realize that my understanding of witchcraft was elementary though until the Lord called me to study it — and specifically the spirit of Jezebel — more thoroughly. I had been reading the work of other intercessors; I had learned, for example, about the link between the spirit of Jezebel, the spirit of religion, and the spirit of witchcraft from writings by Jennifer LaClaire. I began therefore to bind these spirits as an evil triad thereafter.
To this point, I had not necessarily looked into witchcraft as depicted in the Bible. Nor did I have any plans to do so. But the Lord called me into a deeper study in many ways. One notable way was through a dream I received in 2019 featuring a popular older actress dressed as a witch and appearing on a fifties-style, black-and-white television set.  I knew this actress had been in a long-running popular murder mystery show.  When I prayed about this dream, the Lord gave me a formal call, saying:
The long inculcation of witchcraft. This is a problem of long duration. Yet — can a country be made in a day?  Yes, I can tear down all idols with one sweep of My Arm. You are to repent, dreamer, for the millions exposed to witchcraft in overt & other ways. This is a mighty cleansing & will be a prayer of some duration. Yes, your thoughts [that Bible studies are warranted] are correct. My Word will lead.  Do not be concerned of the time — It is time well-spent. I shall advise as we go. Amen & Amen" 
I tested this word, as Scripture commands (1 John 4: 1-3), confirming it and then embarking on the study of witchcraft as discussed in the Bible. I repented for myself and the millions exposed to witchcraft at each reference to divination I found in the Bible. Beyond the mentions of witchcraft, sorcery, and magic arts, I began to see how witchcraft worked through individuals in the Bible. I began to focus on the spirit of Jezebel.
The Spirit of Jezebel
Jezebel, queen of Israel by way of her marriage to King Ahab, was very religious, following the demonic entity Baal, who was the spiritual entity worshipped by the Canaanites (I King 16: 29ff). As queen of Israel, she influenced the king and the entire nation to worship Baal. The worship was often done via and at places known as Asherah poles, tower, altars, or trees. Asherah — also a Canaanite goddess — was associated with Baal — his wife or mother, depending upon the source material.
Jezebel was more than a worshipper of false gods, however; she was an all-out promoter. She funded the temples of Baal and Asherah, providing for hundreds of priests and practitioners. Baal and Asherah worship included incantations, sexual immorality, child sacrifice and various witchcraft practices. Many of these ancient rituals reminded me of current practices in the United States:  Chanting in various forms of religion, including yoga and Buddhism; the 'normalizing' of sexual behavior outside of Biblical marriage; and — most grievous — the killing of millions of babies in the womb.
In overt ways, during recent years, we've seen the rise and "coming out of the closet" of those who actually call themselves witches and warlocks and their ceaseless curses, hexes, and spells cast upon their political enemies (i.e., President Trump) and those who stand for Christ. This is also consistent with the practices and spirit of the biblical Jezebel. She began a systematic extermination of the prophets of the true God Yahweh (I Kings 18:1-4) while seating priests and prophets aligned with Baal in positions of influence.
The Evil Triad of Religion, Witchcraft, and Jezebel
This study confirmed for me the link between the spirits of religion, witchcraft, and Jezebel; I redoubled my efforts against this evil triad. But I had more to learn. I continued to read the Bible and learn from others in the Christian world, including many articles from IFA's Headline Prayer. As I studied and prayed, I began to discern that witchcraft was a webbing sort of spirit, with roots in several areas.
These witchcraft spirits seek to manipulate and control through demonic spiritual power to gain political, spiritual, economic, social, relational, and financial power on earth. This evil triad is not contained to a single realm in the United States; it has reached out with its spirit of control into boardrooms, staterooms, and marketplaces. It has burst forth from the internet with the shouting of Baal as seen in the "cancel culture," attempting to silence every voice raised against it and its agenda. Appealing to fear and death has been an effective strategy against its enemies for millennium and of course, is illustrated in Jezebel's systematic murder of true believers in Israel.
In fact, these witchcraft spirits seek to gain power to compete with the Lord God's ultimate power!  This seeking is an ancient temptation, stemming from Adam and Eve's desire to be like God, as they defined it. Horribly, the unholy triad is a perversion of the beautiful Trinity of Father, Son, and Spirit, and seeks to usurp God's Truth and Kingdom through its harnessing of demonic power.
One thing is clear:  Attempts to harness evil for human purposes always end badly for those engaged in such practices. Just as Adam and Eve's attempt at working with the snake ultimately brought death into the world, so too, modern day attempts to control evil also result in death. For example, among the "fruit" of America's love affair with sexual immorality: More than 60 million dead babies; fruitless, sterile "marriages," and relationships; obsessive use of pornography; the abuse of children for the expiation of perverted sexual urges.
The spirit of Jezebel — like the Biblical queen — works best with an enabling spirit. In the Bible, this is the King Ahab, who — through his marriage — brought the witchcraft spirit in and allowed it reign over his kingdom. And so, in conjunction with the unholy trinity of religion, witchcraft, and Jezebel, I also now bind all enabling spirits, including the spirit of Ahab.
In the war with witchcraft, the Lord's justice ultimately prevails. In her rage against Elijah following his victory at Mount Carmel against the prophets of Baal, Jezebel speaks a curse against herself (I Kgs 19:2), which was fulfilled when the all-powerful Word of the Lord (1 Kgs 21:17-24) came to pass (2 Kgs 9: 30-37). In the end, the Holy Trinity is mightier than this evil triad.
How Our Prayers May Be Like Witchcraft
The more I looked at the Trinity in comparison to the unholy triad, the more I was convicted in my prayer life. I also began to understand that some of my prayers and perhaps the prayers of other Christians have been attempts to "control," "manipulate," or "harness" the power of the Lord God to compel others into conforming to my desires.
Yes, my desires were often — I pray, mostly — holy, but my methods, my motives, and my heart posture were not always pure. Too often they sprang not from the Love of the Triune God, but from frustration and anger. I would seek to call down fire from heaven on the enemies of the Lord (Luke 9:54). Many times, I failed to distinguish between the humans deceived into and operating in witchcraft from the demonic powers behind them. For this, I deeply repent.
I have learned that those prayers springing from such heart position and motive to control were almost mirror images of the witchcraft prayers about which I was learning. Prayers from this heart position and motive were not in the spirit of Christ, but in the spirit of the world. In such way, witchcraft webs its way into the Church. And so the first call of the intercessor against witchcraft is to repent of malice and manipulation in his or her own prayers. This repentance not only unleashes us from the heart position that poisons our prayer but also places us back in right relationship with our Heavenly Intercessor.
The Spirit of Athaliah
The Lord had told me that my study and prayer against witchcraft would be of "some duration."  Indeed, I continue to learn. Recently, I was directed to study the daughter of Jezebel — Athaliah. She married the king of Judah and brought Baal worship into the southern kingdom and from there into the temple itself. Athaliah's ambitions were overtly political. After her husband died and the son who succeeded him was killed, Athaliah murdered all of her grandchildren, except for Joash who had been hidden away from her. In doing this, Athaliah attempted to exterminate the line of David — the line that would ultimately lead to the Messiah Jesus Christ — so that she could usurp the throne (2 Kgs 11: 1-3).
We can easily see where a usurping witchcraft spirit seeking to manipulate and control has been unleashed in many realms in the United States, including government and education. I began to bind away this spirit of Athaliah, as well, from America and its place in the Kingdom of Christ.
The Spirit of Delilah
I had not reckoned much with the spirit of Delilah, however, until I delved into some of the work of Dr. Sandie Freed who taught on the entwining nature of the spirits of Jezebel, Athaliah, and Delilah (www.FreedRevolution.com). Once aware of this triad, I learned through Dr. Freed's teaching and through direct biblical study that each of these spirits is a seducing spirit. Delilah, in particular, is a temptress who operates for a price (Judges 16). Operating together these spirits seek control and dominion over people.
The Lord began to instruct me directly in my prayer to "stand against the unholy triad [demonic 3-cord strand of spirits of Jezebel, Athaliah and Delilah]" and cut it by "the Spirit and the Blood." These spirits all call upon witchcraft, secret knowledge, manipulation, control, and deception to obtain their goal of dominion in all human realms, while relying on greed and a lust for power to motivate their human vessels.
The Vital Importance of Praying from a Right Relationship with God
Ultimate power rests in the One True Power, the Creator and Redeemer, the Mighty Father, Blessed Son, and Holy Spirit. We who are in relationship with the Triune God by virtue of receiving and living in the forgiveness of sin rendered through Jesus of Nazareth's life, death, and resurrection have access to the Lord's power, for greater is He [Holy Spirit] within us than he [satan] who is in the world (1 John 4:4).
Because of our access to the throne of God where Jesus Himself intercedes for and with us, we have the honor of victory over the forces of evil, specifically the spirits of witchcraft, by whatever name. In fact, only those who are in relationship with God through Jesus can have any real impact on evil. Human efforts to contain and redeem from evil are helpful, but hardly adequate. The real war is conducted from our war rooms as we move into the fight.
I — like most of us — am learning how to heed the instructions and battle plan of my Commander-in-Chief. While every prayer should be Spirit-blown, there are some basics I can share, with the admonition that each intercessor should be attentive to the Lord's personal instruction. Rituals and recitations are not the desired outcome of my sharing these basics, for as the Lord has said to me in the past, "Recall in the Sword that warnings are made against many words in prayer."   And one of the disciplines of any believer is to test the words he or she receives regardless of source — the prayer closets, other believers, even these very words you are reading now — to confirm they are from the Lord (1 John 4:1-3).
I usually begin by confessing my sins to the Lord, for it is important to allow Him to clean our feet from the sin of the day or the moment (John 13:10). Sometimes, I need to confess fear or weariness because, as we know, the unrelenting nature of spiritual warfare can erode one's strength. But those who wait (continue to do what the Lord has called them to do) upon the Lord will rise up on wings as eagles, run and not fall (Is. 40:31)!  This strength renews even before we get our armor on.  Often, I also need to confess any malice, manipulation, control, rebellion or resistance to His Will.
Next I don my battle garments — the Spiritual Armor (Eph 6:10-20) — and often the garb of the High Priest (Ex. 28) as I enter into the role of intercessor. For more information on the high priestly garments, see www.WestchesterChapel.org/HighPriestlyGarments.
Ready for battle, I will ask the Lord to guide my intercession through the revelation of particular enemy spirits. The battle is direct; just as Jesus instructed in Matt. 12:29, I will bind up the strongmen in order to steal back from the enemy what He has stolen from the Lord — namely the souls of the lost and the territory on earth that belongs to the true King. During His earthly ministry, Jesus also named evil spirits while He expelled them (i.e., Mark 5:1-20, Mark 9:25).
In my prayers these days, the Lord usually raises the spirits of which I have written above (Mark 5:1-20, Mark 9: 25, among others) and then I will — in the Name of the Lord Jesus Christ — bind, gag, cripple, blind, defang and declaw all spirits with the name or function of Jezebel, spirit of religion, witchcraft, control, Ahab, Athaliah and Delilah, anti-Christ, sexual immorality, manipulation, control, deception, temptation, prostitution, Baal, Asherah and the spirit and specter of death.
Furthermore, I cut — by the Blood of Jesus and the Power of the Holy Spirit — the webs of witchcraft and anything blinding the people of the Lord; the ungodly cord comprised of the spirits of Jezebel, Athaliah, and Delilah; and the ungodly cord comprised of the spirits of religion, witchcraft, and Jezebel. I will — in the Name of the Lord Jesus Christ — gather these cords up along with the spirits already bound, gagged, crippled, blinded, defanged, and declawed and I will cast them into the abyss or wherever the Lord chooses to send them.
I will ask the Lord to fill all spaces vacated by these evil spirits with His Holy Spirit and to replace the evil web of witchcraft and the cords of evil spirits with His Holy Presence — Father, Son, and Spirit — and His bond of Agape Love. All in the Name of the One who is the full expression of the Father, the Lord Jesus Christ. Amen and Amen.
Thank you, intercessors, for your faithful pursuit of the Kingdom through your relationship with the Father through Jesus and by the power of the Holy Spirit. May you gain His victory over the enemy of witchcraft in all its forms. For the glory of the Kingdom and the salvation of millions.
Did you find this helpful? Please share!
Partner with Us
Intercessors for America is the trusted resource for millions of people across the United States committed to praying for our nation. If you have benefited from IFA's resources and community, please consider joining us as a monthly support partner. As a 501(c)3 organization, it's through your support that all this possible.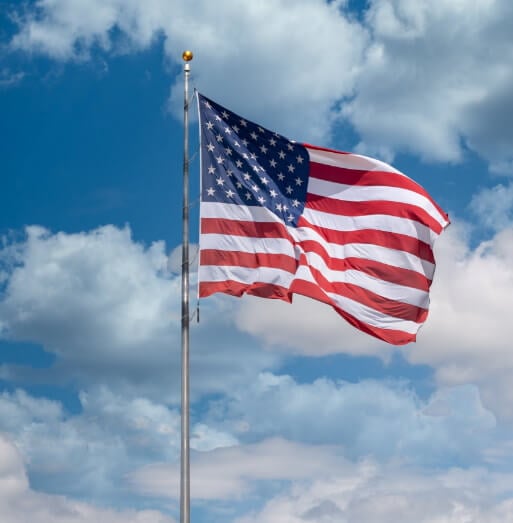 Become a Monthly Partner