THIS MAN IS HELPING START REVIVAL IN AMERICA
From The Wine Patch
|
July 13, 2021
THIS MAN IS HELPING START REVIVAL IN AMERICA
From The Wine Patch
|
July 13, 2021
I Prayed
have prayed
Lord, thank you for people who love you and who love spreading the gospel. Would you raise up bold and courageous leaders who are willing to go to the dark places to spread the light of Jesus. Protect Sean Feucht, and continue to guide his every move!
Sadly, you may have only heard of Sean Feucht (Foyt) as the super-spreader worship leader who exploits his privileged Christian nationalism by lugging his over-amped sound systems into crime-besieged cities to show off his gross insensitivity to the locals.  Having now attended his July 4th weekend event in the Bronx, NY,  I will offer a drastically disparate reportage.
After traveling around the world to the persecuted churches in Iran, Iraq, Afghanistan, North Korea, and others, Sean watched how those churches stood strong in the face of opposition.  So here at home, when the SARS-COV-2 lockdowns began and Antifa and BLM Inc. began ransacking cities, Sean resolved;
View Comments (50)
The persecuted church taught us what to do.
Already, I can hear the critics moan "Calm down, the church in America isn't being persecuted".  To which I can only say; you may not be paying close enough attention.  True, bodies are not piling up in the streets — but souls surely are.
So out he went.  Los Angeles, New York City, Kenosha, Portland, Seattle, Detroit, Philadelphia, D.C., and Minneapolis to name a few of the 107 cities they visited in the past year.  His team has been met with vicious protests and violent attacks including; stolen equipment, destroyed instruments, cut cables and his wife and kids threatened at knifepoint.
You're right; doesn't sound like persecution to me.
So while cities were burning, and rioters were looting, and innocent people were being assaulted, what was Sean's unforgivable offense?
Publicly worshiping God.
He preaches a message of hope and love while inviting the power of God to bring healing and freedom to those who hunger for it.  From the thousands of personal accounts recorded so far, it is obvious lives are being touched by more than just loud music.
Before I report on what I experienced, here are just a few of the dim, boring critiques — most having been made by ex-vangelicals, socialist media pundits, and even progressive Christians.
At the top of the pile, the woke watchdogs always harp on Sean's worst, most inherently obvious offense:  He is white.  Just a few years ago, his melanin would have been his least mentioned attribute, if mentionable at all.  But today, thanks to the hyper-racialization of everything and everyone, we are told to dismiss and disqualify him from serving across our cities because of his skin. Brazenly, our cultural watchdogs demand we call into question his colonizing motives and oppressive intentions.
What is most intriguing about these vigilant, virulent watchdogs is that they share a common pedigree;  they are also white.
His critics cry supremacy — white supremacy.  But what they really are railing against is Supremacy — God Supremacy, which seems to be a growing yet futile human endeavor.
Next, because Sean loves our country and dared to run for a Congressional seat in Northern California, he is besmirched as a Christian nationalist.  Having been called this myself several times, I remain quite confused by the substance of the charge.
Let me explain.  No, there is too much.  Let me sum up:  To pronounce a profound disdain for America and its formularies whilst demeaning and decrying Judeo-Christian principles — you prove yourself a valued, loyal ally worthy of being heard on any and all topics.
However, if you dare profess a love for our land and it's people as well as espouse a biblical worldview — you prove yourself not only deserving to be silenced but also an enemy of the worst kind.  You are a Christian nationalist.  Perhaps, dare I say, an extremist.
I have yet to hear a Christian believer or theologian equate love of country with the Kingdom of God, yet the charges prevail.  Consider this epic passage:
Darkness covers the earth, deep darkness covers the nations, but the Lord shines on you; his glory rises upon you.  And nations will come to your bright light
~Isaiah
America is not the bright light; we are far too deeply fractured for that.  Our goal is not to wait for a national light. The far more pressing reality is:  YOU have been designed to be that bright light.  I have been designed to be that bright light.
When each of us, who are cast in the image of the Immortal God, lift our eyes above this deep darkness and behold the greater light — we can then usher in the healing of the nation and the nations.
You are the light of the world
~Jesus
Here is my lived experience at this event in the Bronx.
Rain forced the event to move from a local park to a church hall.  Yes, the music was loud, but the people were louder.  As people sang and worshipped, I noticed a woman travailing in great distress at the foot of the platform.  As my friend Eric cared for her, I laid my hand on her red-hot, sweaty back and prayed.  As she shook and cried, I asked her;
Are you ok?  Are you experiencing the presence of God or is this something different?
She quickly told me it was something different.  She confessed she was tormented with negative thoughts and said she was afraid she may hurt someone.
This just got real.
As the music and worship ensued, Eric beckoned a trained minister who lovingly and powerfully cared for this dear woman in a back room for almost two hours.
This is a common occurrence at these events.  The Bible calls it deliverance.
Details aside, consider this:  If Jesus cast demons out from many people in his short, three-year ministry here on the earth, why do we think there is no longer a similar need?
If a CNN crew was there, they would have simply filmed her tormented, shaking body and reported she was a cuckoo disciple of Feucht.  But I contend, what manifested in this dear woman was not a product of the music but rather was exposed by the power of God in the room.
Lord, even the demons obey us in your name
~ Luke's Gospel
Next came what I can only describe as a good ol' fashion Altar Call.  The Altar Call is a mostly lost experience in our churches today and I vote we bring it back.  Now.
Drugs, cigarettes, pornography, alcoholism, suicidal thoughts, and other addictive torments were all called out from the platform.  Freedom was the promised answer.  I was shocked to watch such a large percentage of the room rush forward to seek this individual touch from God.  THIS is the powerful Christian faith I experienced in the late 1970s, so I felt excited and happily at home.
Then, a societal line was crossed.  Without any mention of sin, hell, or shame, there was an invitation for anyone who wrestled with same-sex attraction.
This just got really real.
I have dear friends who are gay and are very content and confident with their life.  I have friends who lived a gay lifestyle, walked away from it, and are now married with families.  I also have friends who have deeply wrestled with their sexuality to such an extent, they are deeply conflicted and confused.
What I am about to describe is more for this third group.
Statistical research reveals that many young people do not readily embrace their sexuality but instead, wrestle deeply with it.  There are far too many children who were abused, molested, or sexually traumatized at an early age and subsequently can not easily reconcile their sexuality. There are also those who, while having had no traumatic experience, feel debilitatingly confused.
Much of LGBTQIA+ ethos rushes to promote the non-hetero attraction to be their dominant identity.  But, is it really a one-size-fits-all proposition?  Why has it become verboten to also offer a different invitation to those who are not at peace over their sexuality?
All I can tell you is; when the invitation was offered from the platform, people in the room responded.  What happened next was nothing short of astounding.
Men gathered around the males who raised their hands as women gathered around the females.  Prayer ensued as the room was pregnant with compassion and a sense of awakening.  It felt like freedom was happening.
Nothing about what I witnessed could be appended with the term "phobic", which is tragically a common moniker given to Feucht and his team.
As the room emptied to walk down to the park, it felt like the most glorious parade ever.  Traffic stopped as onlookers cheered and some even began to follow.  As everyone gathered in the far end of the park, Sean and his team continued praising while calling down blessing upon the people, blessing over the Bronx, and a grateful blessing for the Police who were positioned for our protection — but were never needed.
Every walk of life was in that park and it felt like a holy celebration of humanity.
What's It All Mean?
As I watch a very loud portion of our citizenry endlessly berate and bemoan how terrible our country is and how dangerous white Christians are, I pose this question:  What does their end-game goal tangibly look like?
For those who subscribe to and promote a God-less, pagan pathway to a yet-to-be-defined, equitably utopian society somewhere off in the yonder, please carefully consider this — what does victory look like?
Because for us non-woke, progressive-less Christians, the endgame is very well defined and already en route:
I heard a loud voice from the throne saying, "Look! God's dwelling place is now among the people, and he will dwell with them. They will be his people, and God himself will be with them and be their God.  He will wipe every tear from their eyes. There will be no more death or mourning or crying or pain, for the old order of things has passed away.  He who was seated on the throne said, "I am making everything new!" Then he said, "Write this down, for these words are trustworthy and true.
~ The Apostle John
And herein lies the goal of this humble Wine Patch.  I am seeking that which is trustworthy and true.
If you recoil at the depiction of an eternal paradise like this, then ask yourself:  Does it exceed or fall short of the paradise you are contending for?
Your answer means everything.
What are your thoughts on the ministry Sean Feucht is doing? Let us know your thoughts and prayers for revival in America in the comments below!
(Used with Permission from The Wine Patch. Article written by Keith Guinta. Photo by by Samuel Corum/Getty Images)
Partner with Us
Intercessors for America is the trusted resource for millions of people across the United States committed to praying for our nation.
If you have benefited from IFA's resources and community, please consider joining us as a monthly support partner. As a 501(c)3 organization, it's through your support that all this possible.

Dave Kubal
IFA President
& CEO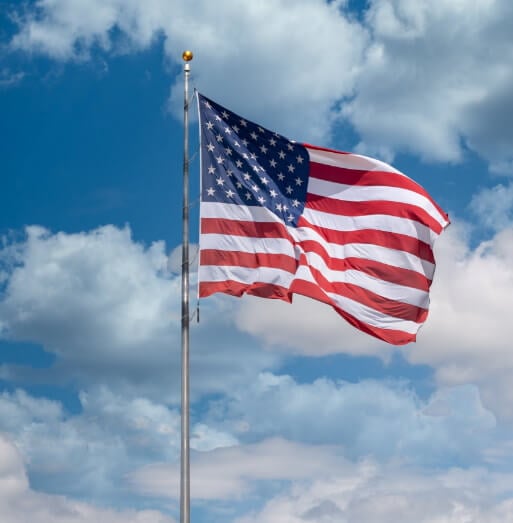 Become a Monthly Partner