Encouragement: The Power of the Sonflower
Angela Rodriguez, IFA Contributing Writer
|
April 19, 2022
Encouragement: The Power of the Sonflower
Angela Rodriguez, IFA Contributing Writer
|
April 19, 2022
I Prayed
have prayed
Lord Jesus, we are all broken in so many ways, yet made whole because of you. Until we see you face-to-face, please give us the grace to place our worship in you, day by day (Romans 8:22-23)
It is only on the darkest nights that the brightest stars fill the sky. Our skies have been filled with much darkness these days as we watch the media coverage surrounding the events in Ukraine and news reports of crises at home. Most of us long for a story filled with stars that remind us of God's providence and goodness. Like a vibrant sunflower on a refreshing spring day, we yearn for something admirable, praiseworthy and beautiful.  Well, this is that kind of story, and after you read it, you'll be reminded of Romans 8:28, which says, "And we know that in all things God works for the good of those who love him, who have been called according to his purpose."
22 years ago, some friends of mine embarked on a journey that would change their lives forever. As they traveled over 5,000 miles to Kyiv, Ukraine, their hearts were filled with hope and anticipation. Soon they would be adopting a child who would bring both joy and challenges for years to come.
View Comments (20)
The journey itself began with a step of heartfelt obedience. The still soft voice of the Holy Spirit spoke to the couple as they heard a missionary speak to their church congregation about three children from Ukraine that he was trying to bring to the U.S. for medical treatment. Although the goal was to raise money and prayer support for these kids, the Lord had more in mind as the missionary mentioned that one of the children was an orphan.
While many people adopt babies and younger children, my friends knew that the Lord had a different plan. Instead, they would be adopting a vivacious, spunky, pre-adolescent child who had already braved many obstacles in her young life. This type of adoption wouldn't be easy, but they knew it was God's will, and he would provide everything that was needed.
Most people were supportive of the young couple's decision to adopt and even contributed financially, but some were skeptical about taking on these unique circumstances. Nonetheless, they knew the Lord said, "This is your daughter," so there would be nothing to hold them back.
After close to a year of preparation and prayer, they hopped on a plane to Ukraine, where they would spend a month in Kyiv to complete the adoption process. The time finally came to pick up their daughter from the orphanage located in a small town two hours south of the capital. Traveling in a compact car along unkempt roads filled with potholes, my friend felt like the perpetual, jostling bumps were similar to labor pains. But in the midst of these rough, country roads, there was something beautiful that caught her eye. Fields of bright, tall sunflowers stretched for miles and miles, reminding her that God's hand was in this adoption from the very beginning, and it would bring many blessings to their new family.
It's been a long time since my friend gazed upon those gorgeous fields of sunflowers in Ukraine, but God brought them to mind many years later with an amazing message that she feels is relevant for today. At a women's retreat in 2018, she spent some time in reflection and prayer by the conference center's lakefront. Soft raindrops fell as she gazed upon the water. Suddenly, the image of a large sunflower came to mind. Great quantities of seeds burst out of the sunflower, resembling raindrops. It reminded her of the seeds of the gospel. Just like a sunflower that drops thousands of seeds, we are also made to bloom and then share "seeds" of Jesus' truth, while loving abundantly wherever we are located. This multiplication will produce a beautiful crop of believers for God's Kingdom and glory. Additionally, the sunflower turns toward the sun, just as we must turn to the SON for everything we need. Jesus is the light of the world so this made perfect sense. Yet, all this was just one part of the vision. The next piece connected it all together and brought profound revelation to my friend's heart.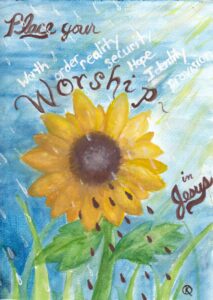 The Holy Spirit spoke these words: "Place your WORSHIP in Jesus." In other words, place your worship in the SON.  Additionally, each letter of worship had a specific meaning tied to it.
W–worth
O–order
R–reality
S–security
H–hope
I–identity
P–provision
Our WORTH and value must come from the SON. Our accomplishments, bank accounts, family, friends and social status cannot provide this.
Our sense of ORDER should never be dependent on our circumstances or surroundings, even when we face trials and the world around us appears to be in chaos. We can have peace knowing that Jesus has everything under his control. God will work everything together for the ultimate good of his people and his glory.
Our REALITY must be derived from Jesus' perspective. Hollywood, the media and/or the latest trends are not sufficient sources. Our reality must be based on what God's Word says is true, as well as Jesus' promises for our life on earth and in heaven.
Our SECURITY cannot be rooted in other people such as our parents, spouses, children and friends. Stable jobs, retirement accounts and even a state-of-the-art alarm system will not fill this need. Our security comes from dwelling in the shelter of the Most High as Psalm 91 declares.
Our HOPE cannot be anchored in family members, preachers, politicians, leaders, or anything of this world. Jesus is the only hope, no matter what we are facing.
Our IDENTITY must be tied to our architect and Creator, Jesus Christ. Good looks, prestigious jobs and accolades will only get us so far. Like all earthly treasures, they will fade away. Our identity in Christ is eternal.
Our PROVISION doesn't come from ourselves, other people, or our careers. All we have and receive comes from Jesus, and it's He who will sustain us both physically and spiritually.
If we place our WORSHIP in Jesus, we can weather rain, hail, lightning, floods, tornadoes, wars, sickness and anything life throws at us.
The call to worship the Lord through music, singing and dance (both individually and corporately) is scattered throughout the Psalms. As God's creation, we were made to worship. Not only does it magnify God, but it unites the Body. While music, singing, dance and giving can all be wonderful acts of worship, they should stem from an attitude and lifestyle of worship, based on our core identity in Christ, founded on who God is. If we truly believe our God is omniscient, omnipresent, omnipotent, perfectly loving, just and sovereign with perfect timing, then we will place our worth, order, reality, security, hope, identity and provision in him, regardless of what's happening in the world and our lives.  This is more than lip service to God– it is living out our worship. Our entire being will be an offering of worship with our mind, heart, soul and strength. Truthfully, we can never outgive God. As we surrender all to Jesus, his peace will fill us.
Isn't this what the world needs to understand right now? With war looming on every front, we should turn our heads toward the SON. The French word for sunflower is "tournesol" which means to turn with the sun. Sunflowers track the sun, which is known as heliotropism. When the sun rises each day, young sunflower buds and blossoms will face east and follow the sun. When it sets, the blooms will face west. As followers of the Son, we must track and follow our Lord in all times and seasons of life.
Another amazing and surprising fact about sunflowers is that they are fantastic when it comes to absorbing toxins. Millions were planted after the Fukushima nuclear power plant accident in Japan. They were also planted in fields near Chernobyl and Hiroshima. Known as hyperaccumulators, sunflowers have the ability to absorb high concentrations of toxic materials into their tissues. Their efficient root systems can pull radioactive elements right out of the soil!
We can apply this same truth to the here and now. Jesus absorbs our toxins by removing the accumulated sins, burdens and worries in our lives. This is only possible, however, when we place our WORSHIP and trust in him.
My friends placed their WORSHIP in Jesus when they took a leap of faith years ago to adopt their daughter. This act of obedience and worship brought countless blessings to their lives. Applying this idea to what's happening in Ukraine today, it becomes more important than ever that we focus not on what we can do, but what Jesus can do through our humble obedience and prayers. As a reminder of this amazing hope Jesus gives, my friend's son planted sunflowers with their home church group recently. The sunflower is the national flower of Ukraine, so each one planted symbolized the importance of interceding for the protection and provision of the people, but more importantly, their salvation.
Thinking back on the sunflowers she saw in Ukraine, my friend said, "They were mammoth- sized, but each individual flower was unique and beautiful. Together they really displayed God's glory! That's how it is with the Body of Christ. As we unite in prayer for our brothers and sisters around the corner, or around the globe, Jesus is glorified. They (Ukrainians) will know we are Christians by our love."
"By this everyone will know that you are my disciples, if you love one another," John 13:35.
Prayer Point: Lord Jesus, even your creation reminds us that you are the source of our trust, faith and hope. Help us place our WORSHIP (worth, order, reality, security, hope, identity and provision) in you! Let the seeds of the gospel be as numerous as those of the spectacular sunflower. Shower them everywhere we go, but especially in the dark corners of this world.
Are you encouraged by this article? Share with a friend!
Angela Rodriguez is an author, blogger and homeschooling Mom who studies the historical and biblical connections between Israel and the United States. You can visit her blogs at 67owls.com and 100trumpets.com. Her latest book, Psalm 91: Under the Wings of Jesus, was released in June 2021. Photo by Todd Trapani on Unsplash.
Partner with Us
Intercessors for America is the trusted resource for millions of people across the United States committed to praying for our nation. If you have benefited from IFA's resources and community, please consider joining us as a monthly support partner. As a 501(c)3 organization, it's through your support that all this possible.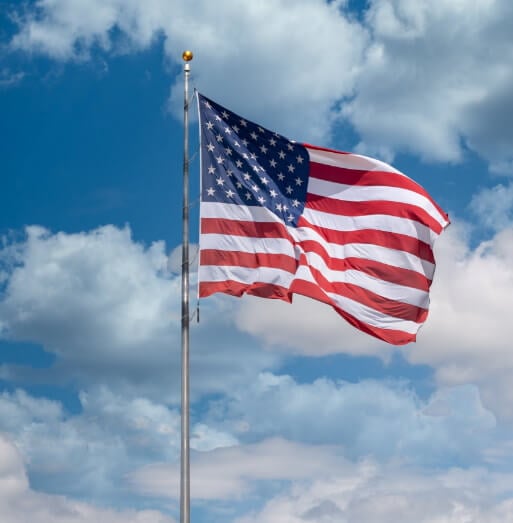 Become a Monthly Partner
You can post a prayer to share with others.
Christine S
April 20, 2022, 9:29 am
Lord Jesus, we are all broken in so many ways, yet made whole because of you. Until we see you face-to-face, please give us the grace to place our worship in you, day by day (Romans 8:22-23)
Alan V
April 19, 2022, 8:08 am
Lord Jesus, we are all broken in so many ways, yet made whole because of you. Until we see you face-to-face, please give us the grace to place our worship in you, day by day (Romans 8:22-23). May we praise Your holy name through all trials and tribulations.