Should Christians Be Armed?
Kim Potter, IFA Contributing Writer
|
August 20, 2022
I Prayed
have prayed
Father, we pray that You would arm us in our fight against the enemy. Help us to not rely on physical weapons, God, but on the spiritual armaments that come from You.
The recent Inflation Reduction Act of 2022 has caused quite a stir for many different reasons. One portion, in particular, raises a lot of red flags for people around the world. I am referring to the proposed increased funding to the IRS which will almost double the number of armed agents employed by the Internal Revenue Service. The new bill provides funds for an additional 87,000 armed IRS agents. Who wouldn't be concerned? It begs the question, "Is this the same government that is against the American people owning guns?"
View Comments (142)
As this latest news from the Biden administration makes its way around the nation, it is having a profound effect on gun shops in nearly every state. My daughter, who is a gunsmith, has witnessed an exponential increase of people scrambling to purchase guns and ammo due to this latest perceived threat. Men and women alike are attempting to arm themselves. How should  we as the body of Christ respond?
While praying about this situation, God dropped something in my spirit. As the enemy is attempting to become more weaponized, He reminded me that as the Body of Christ, we are already armed. He has given us access to every weapon we will ever need. These weapons are not carnal, but mighty through God for the pulling down of strongholds. These weapons are without fail and undefeatable. It is important that we are fully armed. We must take up the weapons in our God-given arsenal and begin to use them. Or perhaps, determine to use them more effectively and more consistently. For in this profound act, we will begin to see even more battles won by the power of Almighty God.
Here are the weapons He has provided for us:
The Word of God
For the word of God is living and powerful, and sharper than any two-edged sword, piercing even to the division of soul and spirit, and of joints and marrow, and is a discerner of the thoughts and intents of the heart (Heb 4:12).
The Word of God defeats the enemy every single time. The Bible is our offensive and defensive weapon that brings victory. It truly is our two-edged sword. When Satan himself came to tempt Jesus, Jesus used the Word of God to send him packing. We must do the same thing.
The Holy Spirit
But you shall receive power when the Holy Spirit has come upon you; and you shall be witnesses to Me in Jerusalem, and in all Judea and Samaria, and to the end of the earth (Acts 1:8).
Jesus said in Luke 24 that we would be endued with power from on high – that power was the infilling of the Holy Spirit. When we are baptized in the Holy Spirit, the power of God comes upon and within us. Satan has no weapon that can stand up to the power of the Holy Spirit.
Prayer
Now this is the confidence that we have in Him, that if we ask anything according to His will, He hears us.  And if we know that He hears us, whatever we ask, we know that we have the petitions that we have asked of Him (1 Jn 5:14-15).
The Bible teaches us that prayer is powerful. The fervent prayer of a righteous man makes great power available, dynamic in its working. When we pray, things happen. Change takes place. Mountains are moved. Strongholds are destroyed. Prayer is a vital weapon in the hand of every believer.
Name of Jesus
If you ask anything in My name, I will do it (Jn 14:14).
The name of Jesus is the name above every name. At this name, every enemy will bow. At this name, Satan must flee. When we pray in the name of Jesus, the Bible says we will have whatever we ask, why? Because there is great power in that name. That name, as we know, will never lose its power.
Blood of Jesus
And they overcame him by the blood of the Lamb and by the word of their testimony, and they did not love their lives to the death (Rev 12:11).
Oh! The Blood of Jesus! There is nothing more powerful than His precious blood. It cleanses. It sets free and it will defeat every enemy.
Prophecy
This charge I commit to you, son Timothy, according to the prophecies previously made concerning you, that by them you may wage the good warfare (1 Tim 1:18).
God has spoken many prophetic words over us, our family, and our nation. We can take these prophecies and proclaim them daily. These prophecies become a weapon of war in the hands of a believer.
Prayer of Agreement
Again, I say to you that if two of you agree on earth concerning anything that they ask, it will be done for them by My Father in heaven (Mt 18:19).
The Bible says two are better than one. In prayer this is a profound truth. When two agree, truly agree, on what they are touching in prayer – results will be seen. We are seeing this happen all across our land. We are seeing answers to prayer of agreement. Take heart – our prayers are being answered.
Angels
For He shall give His angels charge over you, to keep you in all your ways (Ps 91:11).
Angelic assistance is vital for the level of battles we are currently fighting. These angels of God are sent to minister to us as heirs of salvation. They assist us in battle. They keep us from harm. It is important to remember, when we are in war, God will assign His angels to guard and keep us. We see this throughout scripture, and it remains true today.
Praying in the Spirit
Likewise, the Spirit helps us in our weakness. For we do not know what to pray for as we ought, but the Spirit himself intercedes for us with groanings too deep for words (Rom 8:26).
There are times in battle when we simply don't know how to pray. Or perhaps we have prayed all we know to pray and do not know what else to do. In these times, praying in the spirit is vital. When we pray in the spirit we are praying the divine will of God. We are praying mysteries. We are praying the deep, deep things of God.
Praise
Out of the mouth of babes and nursing infants you have ordained strength, because of Your enemies, that You may silence the enemy and the avenger (Ps 8:2).
When we praise God in the midst of our battles, it shows the enemy that we trust in God implicitly. It denotes that we are fully persuaded that God will fight our battles for us and we will come forth victorious. Always remember, there is no better time to praise God than when things seem hopeless. Think of Paul and Silas in prison. They praised God and the prison doors opened! He will do the same for us today. Praise God with your whole heart and watch every closed door open to you, every bondage be loosed, and every battle won.
Armor of God
Finally, my brethren, be strong in the Lord and in the power of His might. Put on the whole armor of God, that you may be able to stand against the wiles of the devil. For we do not wrestle against flesh and blood, but against principalities, against powers, against the rulers of the darkness of this age, against spiritual hosts of wickedness in the heavenly places. Therefore, take up the whole armor of God, that you may be able to withstand in the evil day, and having done all, to stand. Stand therefore, having girded your waist with truth, having put on the breastplate of righteousness, and having shod your feet with the preparation of the gospel of peace; above all, taking the shield of faith with which, you will be able to quench all the fiery darts of the wicked one. And take the helmet of salvation, and the sword of the Spirit, which is the word of God; praying always with all prayer and supplication in the Spirit, being watchful to this end with all perseverance and supplication for all the saints (Eph 6:10-19).
It is important we daily arm ourselves for battle, especially in the days in which we live. Part of being fitly armed is putting on the full armor of God. In doing so, we can stand against everything the enemy attempts to bring our way. The armor of God keeps us prepared in every situation.
When we follow God's plan for battle, we will remain in peace.
The Bible says in Psalm 144:1, "Blessed be the Lord my Rock, who trains my hands for war, and my fingers for battle." God's desire is for us to be victorious. He has given us everything we need for victory. If we seek His face, He will teach us to best use those weapons to win the war.
So as Christians should we be armed? Absolutely. We must arm ourselves with the arsenal of weapons God has provided, for in them and with them every battle will be won. Every battle and every war. Today, pick up your weapons. Lay hold of them and use them to defeat the enemies of God. Once and for all.
Please share this teaching with other intercessors. Let's arm ourselves with the weapons God has provided.
Author Kim Potter is a writer and the founder of A New Thing Ministries, which sends a daily teaching to thousands of people all around the world. Her articles have appeared on The Elijah List, Charisma, Spirit Fuel and iBelieve.com. Kim's message is one of hope. She speaks to the heart of those who have grown discouraged or disappointed by the circumstances of life, imparting hope. To receive her daily inspirational writings, go to www.anewthingministries.com. Photo Credit: Canva.
Partner with Us
Intercessors for America is the trusted resource for millions of people across the United States committed to praying for our nation. If you have benefited from IFA's resources and community, please consider joining us as a monthly support partner. As a 501(c)3 organization, it's through your support that all this possible.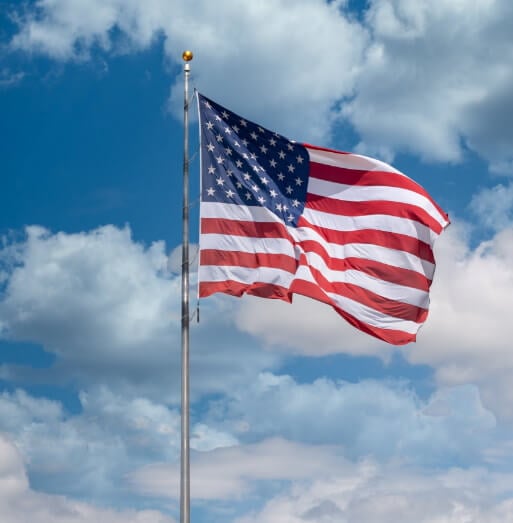 Become a Monthly Partner
You can post a prayer to share with others.
David Esteban O
August 21, 2022, 7:37 am
"Blessed be the LORD my Rock, Who trains my hands to fight … "
christine s
August 20, 2022, 4:50 pm
"For by Thee I have run through a troop; and by my God have I leaped over a wall. As for God, His way is perfect: The Word of The Lord is tried: He is a buckler to all those that trust in Him. For who is God save The Lord? or who is a Rock save our God? It is God that girdeth me with strength, and maketh my way perfect. He maketh my feet like hinds' feet, and setteth me upon my high places. He teacheth my hands to war, so that a bow of steel is broken by mine arms." Psalm 18
Kim C
August 20, 2022, 11:12 am
Father, we pray that You would arm us in our fight against the enemy. Help us to not rely on physical weapons, God, but on the spiritual armaments that come from You. in Jesus Christ name, amen