Revival AND Reformation: God's Call to Save America in a Time of Spiritual Decay
Casey Harper, IFA Contributing Writer
|
September 3, 2022
Revival AND Reformation: God's Call to Save America in a Time of Spiritual Decay
Casey Harper, IFA Contributing Writer
|
September 3, 2022
I Prayed
have prayed
Father, make us like your servant Daniel, who worked during an evil time but who committed himself to pray during his workday — even at great personal cost. Give us the prayer lives of revivalists and reformers!
Revival and Reformation: God's Call to Save America in a Time of Spiritual Decay
If there is any one thing that has become clear in recent years, it is that we need both a revival and a reformation in this country.
View Comments (27)
Revival is the spiritual renewal we desperately need, and reformation is the transformation of our society, our laws, our leadership, and more.
My question: What if God is raising up people who can do both? Even better, what if you are one of those people?
I believe that given the contemporary realities of remote work and technology, plus the increasing need for Kingdom warriors everywhere in our day, God is raising up not just revivalists or reformers, but also those who can carry both callings into their churches, workplaces, and communities. Some will even carry that dual calling out to the nation at large, and to all the nations of the earth.
Insider Intercessory Information
But what would that look like practically? Let me give you an example from my own week of how I was sowing into both revival and reformation. This week I broke a story about how public unions deleted a document to hide the ways they are colluding with the Biden administration (reformation).
Then, I went to the White House press briefing (reformation). On the train ride there, I prayed in the Spirit (revival). When I arrived, I read my Bible on my phone as I waited for the White House press briefing to begin (revival).
Here's a picture from the inside:
I left an encouraging note about Jesus at the White House for someone to find, and on Saturday I am preaching to a small group about how Jesus can deliver us from any sin and bondage, just as He did for those in the Bible's "Hall of Faith," in Hebrews 11 (revival.)
I have several stories planned to work on next week, to expose how taxpayer funds are being used in a very controversial way (reformation). Now, I'm writing this column for intercessors who are focused on the salvation of this nation (revival and reformation!)
I am very far from realizing the fullness of the reformation-and-revival lifestyle, but we have to start somewhere.
I have friends who are praying for business leaders on work trips; who are making disciples while working on Capitol Hill; who are holding daily prayer meetings via Zoom during work hours at their job for a federal contractor. Can you imagine what would happen if this movement were to spread nationwide?
What if we had school board members who spent two hours in prayer every morning?
What if we had business owners who discipled their employees?
What if we had teachers who took their students on mission trips?
What if we Christian actors were to put on Biblically inspired plays at our local venue?
What if organizational boardrooms were to bring in prophetic voices to help create the corporate vision for the year?
What if you were the best employee at your job — and also hosted a Bible study during lunch breaks?
What if you were like Daniel: a government official given to prayer on your lunch breaks?
What if you were to invite co-workers to a barbecue and then shared your testimony?
You might be "just an intercessor" right now — but what if you went deeper into intercession while also running for county board, or school board, or state office; while running a local charity; while volunteering to lead the PTA? The possibilities and the Kingdom opportunities are limitless!
Revival and reformation! It is the way forward.
Will you join in?
With this in mind, let us pray:
-Father, make us like your servant Daniel, who worked during an evil time but who committed himself to pray during his workday — even at great personal cost. Give us the prayer lives of revivalists and reformers!
-Father, empower us with boldness and compassion to share our faith at work and to do the work of an evangelist (2 Timothy 4:5), as you say in your Word.
-Father, help us to steward our positions of authority well, and raise up the members of Christ's Body to leadership in the land, that we might bring Kingdom reformation to every aspect and level of society. Let the salt preserve this society and prevent decay, Lord!
Verses to press into as you intercede on this issue: 
"You are the salt of the earth, but if salt has lost its taste, how shall its saltiness be restored? It is no longer good for anything except to be thrown out and trampled under people's feet. You are the light of the world. A city set on a hill cannot be hidden. Nor do people light a lamp and put it under a basket, but on a stand, and it gives light to all in the house. In the same way, let your light shine before others, so that they may see your good works and give glory to your Father who is in heaven" (Matthew 5:13–16 ESV).
How are you praying for your role as intercessor? Have you asked God to lead you deeper in intercession? Share your thoughts below!
Casey Harper is a writer in the Washington, D.C., area, covering national politics. He has worked for The Daily Caller, The Hill, and Sinclair Broadcast Group. Casey is a graduate of Hillsdale College, and his work has also appeared on Fox News and in Fox Business, Washington Examiner, and USA Today. Follow him on Twitter: @CaseyHarper33.
Partner with Us
Intercessors for America is the trusted resource for millions of people across the United States committed to praying for our nation. If you have benefited from IFA's resources and community, please consider joining us as a monthly support partner. As a 501(c)3 organization, it's through your support that all this possible.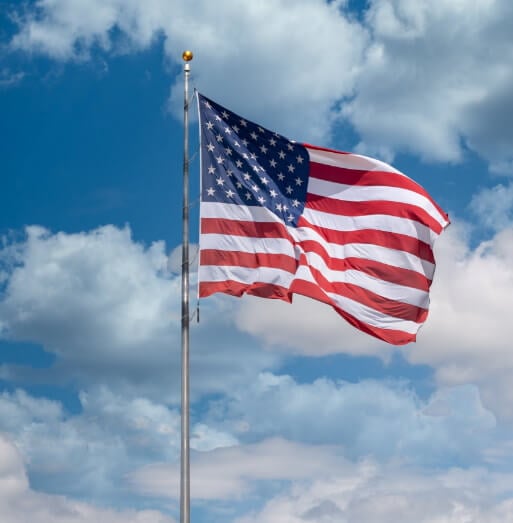 Become a Monthly Partner
You can post a prayer to share with others.
Connie S
September 16, 2022, 12:42 pm
Almighty God, there are times when it feels like the enemy comes in like a flood, that Your church has become an object of scorn to our Nation. They mock You God, our God. Your church in this country has sinned against You and rebelled, I have sinned against You and rebelled, sharing the love affair with the world in prosperity and ease and self. But we cry out and appeal to Your great mercy, that You would act for Your Holy name. We are called by Your name, and live by Your name, not to us, but to Your name give glory. O Lord revive, purify, heal and empower Your church, for we are called by Your name. "When the righteous increase the people rejoice!" Father, You have ordained Your church to be the salt and light of the world, in our government, our laws, our schools, our states, our cities. Raise up Your people to lead, Your warriors, at such a time as this! In Jesus name, amen
Christine S
September 3, 2022, 2:38 pm
dear Lord Jesus Christ please revive our souls and return our fervency toward You and Your Kingdom, Father, make us like your servant Daniel, who worked during an evil time but who committed himself to pray during his workday — even at great personal cost. Give us the prayer lives of revivalists and reformers!
Gretchen C
September 3, 2022, 10:39 am
John 3: 16-21(NAS)"For God so loved the world, that He gave His only begotten Son, that whosoever believes in Him shall not perish, but have eternal life. For God did not send the Son into the world to judge the world, but that the world might be saved through Him. He who believes in Him is not judged; he who does not believe has been judged already, because he has not believed in the name of the only begotten Son of God. This is the judgment, that the Light has come into the world, and men loved the darkness rather than the Light, for their deeds were evil. For everyone who does evil hates the Light, and does not come to the Light for fear that his deeds will be exposed. But he who practices the truth comes to the Light, so that his deeds may be manifested as having been wrought in God." 1 John 5: 14-15(NAS)"This is the confidence which we have before Him, that, if we ask anything according to His will, He hears us. And if we know that He hears us in whatever we ask, we know that we have the requests which we have asked from Him." Father God, in Jesus' name, we call out the media. They have been called on the carpet for lies and deception. Now, we call them into the Light and say, "Be transformed by Jesus!" In Jesus' name, we call for Truth. We call for real journalism. We thank You that our weapons are not carnal, but are "divinely powerful for the destruction of fortresses. We are destroying all speculations and every lofty thing raised up against the knowledge of God, and we are taking every thought captive to the obedience of Christ, and we are ready to punish all disobedience, whenever your obedience is complete." "and we are ready to punish all disobedience, whenever your obedience is complete." That last statement has always puzzled me. Could our disobedience be that we did not call the media on the carpet sooner: did not turn them off or block them, let them brainwash us and our children, and did not get involved locally on school boards and other positions of authority? Father forgive us for not realizing what we were doing. Thank You for Your grace and mercy: for second chances. Thank You that Your Word does not return void; that You do redeem the years the locust ate. The fields will look a bit different, but the harvest will be above and beyond all that we could possibly imagine our hope for. Hallelujah! Glory to God! Thank You for exponentially multiplying Your family! Ephesians 3: 20(NAS)"Now to Him who is able to do far more abundantly beyond all that we ask or think, according to the power that works within us, to Him be the glory in the church and in Christ Jesus to all generations forever and ever. Amen. Luke 23: 34, Isaiah 55: 11, Joel 2: 25-27
Priscilla M
September 3, 2022, 6:25 am
Father, make us like your servant Daniel, who worked during an evil time but who committed himself to pray during his workday — even at great personal cost. Give us the prayer lives of revivalists and reformers! I pray many will put these word inside their hearts to come out of their mouth's believing: Ephesians 6:4 The Armor of God 10 Finally, be strong in the Lord and in his mighty power. 11 Put on the full armor of God, so that you can take your stand against the devil's schemes. 12 For our struggle is not against flesh and blood, but against the rulers, against the authorities, against the powers of this dark world and against the spiritual forces of evil in the heavenly realms. 13 Therefore put on the full armor of God, so that when the day of evil comes, you may be able to stand your ground, and after you have done everything, to stand. 14 Stand firm then, with the belt of truth buckled around your waist, with the breastplate of righteousness in place, 15 and with your feet fitted with the readiness that comes from the gospel of peace. 16 In addition to all this, take up the shield of faith, with which you can extinguish all the flaming arrows of the evil one. 17 Take the helmet of salvation and the sword of the Spirit, which is the word of God. 18 And pray in the Spirit on all occasions with all kinds of prayers and requests. With this in mind, be alert and always keep on praying for all the Lord's people. This is a mighty tool to pray daily as Well as Psalms:: 91 - Psalm 91 1 Whoever dwells in the shelter of the Most High will rest in the shadow of the Almighty.[a] 2 I will say of the Lord, "He is my refuge and my fortress, my God, in whom I trust." 3 Surely he will save you from the fowler's snare and from the deadly pestilence. 4 He will cover you with his feathers, and under his wings you will find refuge; his faithfulness will be your shield and rampart. 5 You will not fear the terror of night, nor the arrow that flies by day, 6 nor the pestilence that stalks in the darkness, nor the plague that destroys at midday. 7 A thousand may fall at your side, ten thousand at your right hand, but it will not come near you. 8 You will only observe with your eyes and see the punishment of the wicked. 9 If you say, "The Lord is my refuge," and you make the Most High your dwelling, 10 no harm will overtake you, no disaster will come near your tent. 11 For he will command his angels concerning you to guard you in all your ways; 12 they will lift you up in their hands, so that you will not strike your foot against a stone. 13 You will tread on the lion and the cobra; you will trample the great lion and the serpent. 14 "Because he[b] loves me," says the Lord, "I will rescue him; I will protect him, for he acknowledges my name. 15 He will call on me, and I will answer him; I will be with him in trouble, I will deliver him and honor him. 16 With long life I will satisfy him and show him my salvation." Powerful tools: / Decree- We decree that evil Carrie's no power, authority or rights in our land or over our people. Amen