PRAISE THROUGH TO THE VICTORY
Suni Piper, IFA Contributing Writer
|
March 20, 2021
PRAISE THROUGH TO THE VICTORY
Suni Piper, IFA Contributing Writer
|
March 20, 2021
I Prayed
have prayed
Lord, help me to press in even when I feel consumed by the battle. Help me to pivot my gaze to you. YOU are the way to victory and I will lift my voice in praise even when, especially when, it looks as if we are outnumbered. There is no impossible with you!
When it looks/feels like we are surrounded by the enemy, we need only look with spiritual eyes to see the angel armies surrounding our camp.  We need to put on our battle garments of praise and set forth to that which the Lord has already called "finished".
Where is He calling you to be a "finisher"?  Where is He calling you to usher forth the victory? 
View Comments (31)
Victory Comes to Jehosaphat
Consider 2 Chronicles 20, the army of Israel looked about them and were overcome by the magnitude of what was before them.  With their natural eyes, all they saw were enemy more numbersome that they were; in their minds they already saw defeat.  And yet, look at their leader's response to their imminent threat – call forth a people of praise!  And they were sent AHEAD of the army.  Consider and pray through the following verses as the Lord leads you.
"Lord, the God of our ancestors, are you not the God who is in heaven? You rule over all the kingdoms of the nations. Power and might are in your hand, and no one can withstand you."..
'If calamity comes upon us, whether the sword of judgment, or plague or famine, we will stand in your presence before this temple that bears your Name and will cry out to you in our distress, and you will hear us and save us.'… 
See how they are repaying us by coming to drive us out of the possession you gave us as an inheritance. Our God, will you not judge them? For we have no power to face this vast army that is attacking us. We do not know what to do, but our eyes are on you."…
He said: "Listen, King Jehoshaphat and all who live in Judah and Jerusalem! This is what the Lord says to you: 'Do not be afraid or discouraged because of this vast army. For the battle is not yours, but God's… You will not have to fight this battle. Take up your positions; stand firm and see the deliverance the Lord will give you, Judah and Jerusalem. Do not be afraid; do not be discouraged. Go out to face them tomorrow, and the Lord will be with you.'"…
Early in the morning they left for the Desert of Tekoa. As they set out, Jehoshaphat stood and said, "Listen to me, Judah and people of Jerusalem! Have faith in the Lord your God and you will be upheld; have faith in his prophets and you will be successful." After consulting the people, Jehoshaphat appointed men to sing to the Lord and to praise him for the splendor of his holiness as they went out at the head of the army, saying:
"Give thanks to the Lord, for his love endures forever."
As they began to sing and praise, the Lord set ambushes against the men of Ammon and Moab and Mount Seir who were invading Judah, and they were defeated.    2 Chr 20:6, 9, 11-12, 15, 17, 20-22 (please read the whole chapter if you are able!)
Drummer Boys
I think about the "drummer boys" of the Civil War.  In the confusion of battle, it was near impossible to hear the officers' orders on the battlefield.  It was the job of these young boys – too young to fight but desperate to join the cause – to go before the troops, beating out important battle commands and communication signals.
I believe many of us have been called to be the drummers boys sent forth before victory.  Many of us have been called to be Joshuas and Calebs – who can walk forth and discern with spiritual eyes what land the Lord is calling us forth to take.  Many of us have been called to be Esthers and Deborahs – spokespeople for such a time as this.  Where is He calling you?  What is He asking of you?
We need only ready many articles on Intercessors for America to KNOW that God is presently working to bring His purposes and plans to prevail.  He is using this season to raise up a remnant who did not know HOW much they were needed until now.  He is speaking in the ears of many – many who are battling the fears and discouragements of their hearts – to press into those places He has uniquely called and positioned them for.  He is calling those to carry forth His banner.
Password of Praise
Praise is the password.
Read all of Psalm 100 below:
Lift up a great shout of joy to Yahweh!
    Go ahead and do it—everyone, everywhere!
Worship Yahweh with gladness.
    Sing your way into his presence with joy!
And realize what this really means—
    we have the privilege of worshiping Yahweh our God.
    For he is our Creator and we belong to him.
    We are the people of his pleasure.
You can pass through his open gates with the password of praise.
    Come right into his presence with thanksgiving.
    Come bring your thank offering to him
    and affectionately bless his beautiful name!
For Yahweh is always good and ready to receive you.
    He's so loving that it will amaze you—
    so kind that it will astound you!
    And he is famous for his faithfulness toward all.
    Everyone knows our God can be trusted,
    for he keeps his promises to every generation! TPT
I hear Him calling deep into my spirit – Stand up.  Be bold.  Be confident.  I have victory firmly in My right hand; I wield the scepter with authority and legal reign.  DO NOT FEAR – for I am ever with you, holding you firmly in my righteous right hand.  What the enemy means for evil, I mean for GOOD!  Do not become weary in well-doing.  Do not forsake meeting together or being in the Word.  Meditate on it DAY AND NIGHT.  YOU are MORE THAN CONQUERERORS IN CHRIST JESUS!  If HE is for you, WHO can be against you?  I have already won the battle.  Remember that!  Now, move forward with your heads held high, raise your Ebenezer, worship and praise your way into the victory.  For there is NO other God before me.  And MY name is the name above ALL other names.  I have defeated the GRAVE and it is My resurrection power that is yours to harness.  Meditate on those countless wars won not in physical prowess, but in song and praise.  PRAISE YOUR WAY TO THAT VICTORY!  It is imminent; it is at hand!
It may feel like we are surrounded, but we are surrounded by HIM!  Ask Him for strategy in this season.  I am sure one of the tools is going to be PRAISE!  So pray strategically AND praise and worship Him to victory!
Listen to "Surrounded" here.
Offer up your praises in the comments below.  We will see HIS VICTORY!
Here are some articles of praise from IFA:
Suni Piper is a writer and passionate intercessor for the nation and for the Church. She is determined and surrendered to be a voice of truth and encouragement to the Body of believers. Follow Suni at her website ASurrenderedLife.com. (Photo Credit: Unsplash.)
Partner with Us
Intercessors for America is the trusted resource for millions of people across the United States committed to praying for our nation. If you have benefited from IFA's resources and community, please consider joining us as a monthly support partner. As a 501(c)3 organization, it's through your support that all this possible.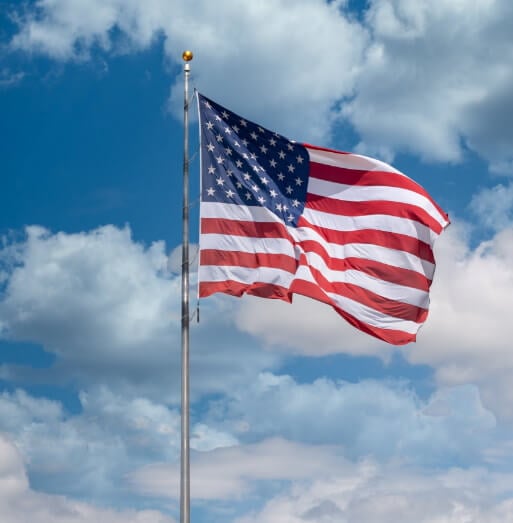 Become a Monthly Partner