KAMALA HARRIS ACTION AS CALIF AG REACHES SUPREME COURT–THE DECISION MAY AFFECT YOU
Aaron Mercer, IFA Contributing Writer
|
March 20, 2021
KAMALA HARRIS ACTION AS CALIF AG REACHES SUPREME COURT–THE DECISION MAY AFFECT YOU
Aaron Mercer, IFA Contributing Writer
|
March 20, 2021
I Prayed
have prayed
Lord, we pray that government agents would not be allowed to license or curtail fundamental First Amendment freedoms of religion, speech, or association.
Should state agents be able to demand an organization's donor list? Does that chill First Amendment freedoms? Those are key questions in a case coming to the U.S. Supreme Court next month.
The high court announced last week that it would hear the cases of two organizations — Americans for Prosperity (AFP) and Thomas More Law Center (TMLC) — in a joint proceeding on April 26. Both conservative organizations are challenging a mandate from the California Attorney General's office requiring disclosure of confidential information about major givers.
View Comments (23)
At issue is a form called Schedule B that nonprofits are required to file with the IRS annually. On that document are names, addresses, and gift amounts for donors contributing $5,000 or more in a year. The raw data of those forms are generally not open to public inspection.
In addition to the federal government, states also conduct oversight over charities as a way to combat fraudulent activities. While most do not require such in depth donor information from every organization, California has blazed a different path. Roughly ten years ago the state's attorney general, Kamala Harris, began to enforce a rule that any charity wishing to solicit donations there must turn over unredacted Schedule B's.
(Editor's note: In the current cancel culture, can you see how making public the donors of nonprofit organizations could be used and misused?)
AFP and TMLC were among several organizations that cried foul. They worried that exposing their supporters in this way would threaten their constitutionally guaranteed freedoms of speech and association. And those concerns were only exasperated when California officials repeatedly failed to properly secure the information they demanded.
Earlier this year John Bursch, a senior counsel of Alliance Defending Freedom (which is representing TMLC), declared, "The fact that California leaks confidential records like a sieve makes mandatory disclosure of sensitive information especially dangerous for donors and employees of nonprofits like Thomas More Law Center, who have faced intimidation, death threats, hate mail, boycotts, and even assassination attempts from ideological opponents."
Bursch added, "Every American should be free to support causes they believe in without fear of harassment or intimidation."
It's notable that AFP actually won an injunction against the California mandate in 2016 when a federal court found the evidence "abundantly clear" that "the Attorney General has systematically failed to maintain the confidentiality of Schedule B forms." That district court was also convinced California did not actually really need the Schedule B data and, regardless, the state's demand had burdened AFP's First Amendment rights. The Ninth Circuit Court of Appeals saw things differently, however, and overruled the lower court.
Now at the nation's highest court, the stakes are high. And, notably, organizations from across the ideological spectrum are weighing in against what they believe to be California's dangerous overreach. Groups as diverse as Concerned Women for America, Judicial Watch, the U.S. Chamber of Commerce, the Philanthropy Roundtable, the Electronic Frontier Foundation, and the ACLU have all come out on AFP and TMLC's side in this particular case. So has U.S. Senate Republican Leader Mitch McConnell (R-Ky.).
But perhaps among the most noteworthy expressions of support comes from the NAACP, which won a Supreme Court battle against Alabama in 1958 when that state attempted to force the disclosure of its members. The applicability of that landmark ruling to this situation is at the very heart of the case, and clearly the NAACP thinks California has gone too far. In its brief, the group says the Golden State's mandate "risks undermining the freedom to associate for expressive purposes…. A critical corollary of the freedom to associate is the right to maintain the confidentiality of one's associations, absent a strong governmental interest in disclosure."
The resolution of this case needs your prayers. How the justices come down on California's Schedule B mandate will likely have significant repercussions. While only two other states (New York and New Jersey) have so far started down the same path, a stamp of approval could lead more to follow suit.
How will you pray for your freedom of association to be defended?
Aaron Mercer is a Contributing Writer with two decades of experience in Washington, D.C.'s public policy arena. He reflects on faith, technology, and the public square at FTPolicy.com. Picture Credit: White House Flickr.
Partner with Us
Intercessors for America is the trusted resource for millions of people across the United States committed to praying for our nation. If you have benefited from IFA's resources and community, please consider joining us as a monthly support partner. As a 501(c)3 organization, it's through your support that all this possible.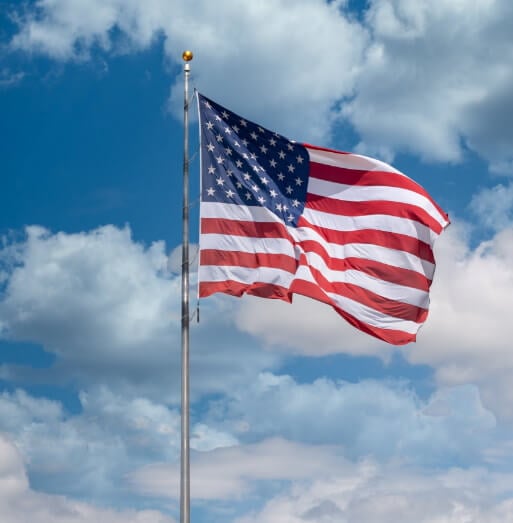 Become a Monthly Partner