POLLING PLACES PRAYER–THE LORD'S STRATEGY FOR ELECTION 2020
Karen Hardin, IFA Contributing Writer
|
September 24, 2020
POLLING PLACES PRAYER–THE LORD'S STRATEGY FOR ELECTION 2020
Karen Hardin, IFA Contributing Writer
|
September 24, 2020
I Prayed
have prayed
Lord, we pray for those who will rise up in this hour to pray at our polling places. Lord, awaken your people to this need and to see that they can make a difference.
"There is a special anointing and authority which comes when we pray on-site at a strategically important location," Tony Nasvik began as he explained the prayer strategy his wife received from the Lord.
Like many of us, Tony and Nancy Nasvik have prayed for months regarding what they could do for the upcoming election to see America saved—not only from the moral and spiritual decline but also from the socialist takeover underway. They have been actively involved in intercession and political activism for over twenty-five years, working with their state and local election boards.
View Comments (17)
READ TO THE END FOR AN EXCITING WAY TO PARTICIPATE IN A NEW EFFORT!
But it was the upcoming election that weighed heavy on their hearts, as it does with most of us.
While in prayer one day, Nancy received a strategic plan to have intercessory prayer take place on-site at every polling location in their state of Wisconsin–to walk the property and declare God's purposes and protection over the polling places.
Just think, what if this was organized in every state not just Wisconsin?
"It is such a different environment with this election due to Covid," Tony explained. "We can't go door-to-door as we typically would."
"Wisconsin is considered a key swing state which President Trump must win to be re-elected. Our ten electoral votes put him into the White House in 2016. The need for the hour is that we get Christians out to vote," he finished.
The Nasviks launched their idea and are now working with other leaders in their state to create captains and teams to cover the 4048 polling places in Wisconsin. They personally plan to visit and pray at the polling locations in the three counties closest to where they live and encourage other Christian activists to do the same in their states.
Does it seem overwhelming? It's not. It's not for one person to take on their entire state.
"But we do encourage people to build a network 'Strike-Force' with other like-minded Christians in every county of each state," Tony added. "Every person you add to your team becomes a force multiplier in their county, and will exponentially increase the speed, reach, and effectiveness of a targeted 'Boots on the Ground' army praying at the polls."
The Nasvicks said they were able to pray at a dozen or more locations in a four-hour window of time including a dinner break.
An additional strategy Tony shared was in regard to the "swing states" that are especially important places to pray. These include Arizona, Georgia, Florida, Iowa, Michigan, Minnesota, New Mexico, Nevada, North Carolina, Ohio, Pennsylvania, Texas, and Wisconsin. They are featured on the Vote Your Values 2020 map.
Exciting News:
Intercessors for America is partnering with True the Vote to provide dots on the Vote Your Values map that represent polling places, ballot-counting facilities, and other central ballot handling locations so they can be prayed over by nationwide intercessors! You can help bring this effort to fruition!
Here are a couple of practical ways you can participate:
We need help with the data gathering! This list of these facilities for the map is being created. If you would like to participate in this simple process, send us an email at [email protected] as soon as possible–use the subject line "Polling Places." Our friends at True the Vote are taking the lead in helping organize volunteers in this data-gathering assignment. Our goal is to get the data complete in the next 10 days!
Once the map is populated, you can pray on-site at your local polling locations or offer prayer for those polls and ballot-counting locations virtually by using the Vote Your Values map. This will be critical as we pray even past Election Day for the results tabulations and results challenges and disputes.
What do we pray over the polling sites?
For peace and safety for all who come to vote with no intimidation or threats to voters.
That the in-person voting process will not be hindered, threatened, or closed down.
For enough volunteers to man every polling place so that each is able to be open on Election Day.
That there will be no malfunctioning of voting machines which have in the past changed the intended vote of the voter.
That any corruption or theft of votes, whether in-person or mail-in, will be exposed quickly and stopped.
If you have never done anything like this let me encourage you that you can make a difference stepping out to pray in your area at these polling places. As I talked with Tony of his experience he shared, "This isn't hard, or dangerous because right now there is no one at those polling places! It's a good time to go and allows us to stay under the radar which is key. We don't want to be overt or draw attention to ourselves. I suggest just walking around the building as you pray. Lay hands on the doors and stairs. Let the Holy Spirit lead you in each place. Nancy and I have found that as we go to different locations the Holy Spirit has revealed different things to pray at certain places. Also, if you encounter push back in any location, don't waste time there. Just go to the next place," Tony finished.
You don't need a big group to do this either. In fact, the smaller the "group" the better. This can be done by an individual or with a group of two or three.
Remember Ezekiel 22:30 which says, "I looked for someone among them who would build up the wall and stand before me in the gap on behalf of the land so I would not have to destroy it, but I found no one." May that not be said for us at this time. May we respond to this call to pray at our polling places to take the land.
"It makes a tremendous difference how many people are on their knees praying to pierce the darkness, and liberate people to become involved in the solution," Tony shared. "It is critically urgent that we get up off our apathy NOW, and engage strategically in prayer, intercession, fasting and praise, so we can shift this nation. We know from studies that 20 million Christians didn't vote in 2016. At the present time in every church in the U.S. on average, fifty percent of the attendees aren't even registered to vote. But the good news is, Tony continued, "once we get those people of faith to vote, over eighty percent will vote for a conservative Christian candidate. It would take just a five percent increase in the Christian voting block and we would be a force to reckon with. Every single vote makes a difference," he encouraged.
Intercessors, it is time that we mobilize strategically to engage. Let's get others to register to vote before the deadline which is coming soon. (To see the registration deadline for your state, click here.)
Whether you get one or ten people to go to a polling site to pray, let us begin now. We are just 41 days away from the most important election of our lifetime.
For additional information on the Pray at the Polls prayer initiative contact: Tony Nasvik, [email protected], 715.760.0188.
Lord, we pray for those who will rise up in this hour to pray at our polling places. Lord, awaken your people to this need and to see that they can make a difference. You said that the effectual fervent pray of righteous men and women avails much. As we go and pray at these locations, Lord, we release your power and your Presence for your will to be done as people vote in this election. Open the eyes of the blind.
Lord, we also pray for the 20 million Christians who did not vote in the 2016 election and the many who have not yet registered to vote. Lord, stir them to action. We command complacency to go. Awaken your people to the need of this hour and the importance of using this right. Compel them, Lord, to take action and understand the need of this hour. Awaken your Church, Lord.
(To pray specifically for those in your state who are not yet registered to vote, click here.)
Karen Hardin is a literary agent, author, and intercessor. Her work has appeared in USA Today, World Net Daily, Intercessors For America, Charisma, CBN.com, The Elijah List, etc. To join the city-by-city prayer movement to save our nation go to: www.city-by-city.org. For additional information on her ministry, business or to sign up for her prophetic blog go to: www.karenhardin.com or you can contact her at www.prioritypr.org or www.destinybuilders.world. Photo credit: Getty Images.
Partner with Us
Intercessors for America is the trusted resource for millions of people across the United States committed to praying for our nation. If you have benefited from IFA's resources and community, please consider joining us as a monthly support partner. As a 501(c)3 organization, it's through your support that all this possible.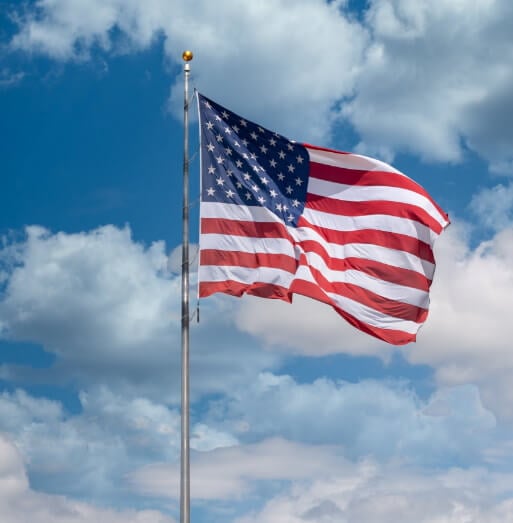 Become a Monthly Partner