LORD, YOU WANT ME TO DO WHAT?!
The Christian Post
|
February 11, 2020
I Prayed
have prayed
Jesus, we ask You to let us see our enemies through Your eyes and love them like You do. Help us to bless others even when they hurt us.
Jesus taught it. Paul reaffirmed it. And neither of them said their teaching was optional for Christians. Instead, God Himself commands us, His children, to love our enemies and to bless those who curse us.
No one said it would be easy. No one even said it would be possible, without divine help. But, without any question, the call to love our enemies is a divine command, not a human suggestion.
View Comments (5)
In the words of Jesus, "You have heard that it was said, 'Love your neighbor and hate your enemy.' But I tell you, love your enemies and pray for those who persecute you, that you may be children of your Father in Heaven. He causes his sun to rise on the evil and the good, and sends rain on the righteous and the unrighteous. If you love those who love you, what reward will you get? Are not even the tax collectors doing that? And if you greet only your own people, what are you doing more than others? Do not even pagans do that? Be perfect, therefore, as your heavenly Father is perfect" (Matthew 5:43–48).
In the words of Paul, "Bless those who persecute you; bless and do not curse. … Do not repay anyone evil for evil. Be careful to do what is right in the eyes of everyone. If it is possible, as far as it depends on you, live at peace with everyone. Do not take revenge, my dear friends, but leave room for God's wrath, for it is written: 'It is mine to avenge; I will repay,' says the Lord. On the contrary: 'If your enemy is hungry, feed him; if he is thirsty, give him something to drink. In doing this, you will heap burning coals on his head.' Do not be overcome by evil, but overcome evil with good" (Romans 12:14, 17–21).
To be sure, this is not talking about how our country's military should respond to a foreign invader. Nor is it telling a husband and father what to do if a serial killer breaks into his home, intent on killing his wife and children.
These teachings refer to our interpersonal relationships. To our attitudes. To our responses.
Will we bless those who curse us, or will we curse them back? Will we love those who hate us, or will we hate them back? Will we overcome evil, or will we be overcome by evil?
There are certainly times for making a spirited defense of one's position, especially for the cause of righteousness. And there are certainly times when evil must be publicly and plainly rebuked.
But you can rebuke someone while having great love for them at the same time.
You can even want justice to be done while having great love for the criminal justly sentenced for his crime.
In short, the command to love our enemies does not call on us to compromise our ethics. It calls on us to take our ethics to a higher level, hating evil to the point that we refuse to be corrupted by it…
This has nothing to do with liking those who hurt you or attack you. Liking has to do with personal preferences. Loving has to do with truly desiring what is best for others. And true love will make personal sacrifices for the well-being of others, even of one's enemies.
As noted by H. S. Vigeveno in his book Jesus the Revolutionary, "Our world has witnessed many a revolution, but none as effective as the one that divided history into B.C. and A.D. Every revolution involves the shedding of blood. So did this one. Not as much blood, perhaps, but the quality of the One far outweighs the quantity of others. Revolutionary, indeed, this mission, to begin with a cross and sway the whole world through suffering love. Revolutionary to build a Church on the sacrifice that offers man forgiveness and atonement with God."
How remarkable. That is the power of the cross…
Excerpt from The Christian Post article by Dr. Michael Brown
Partner with Us
Intercessors for America is the trusted resource for millions of people across the United States committed to praying for our nation. If you have benefited from IFA's resources and community, please consider joining us as a monthly support partner. As a 501(c)3 organization, it's through your support that all this possible.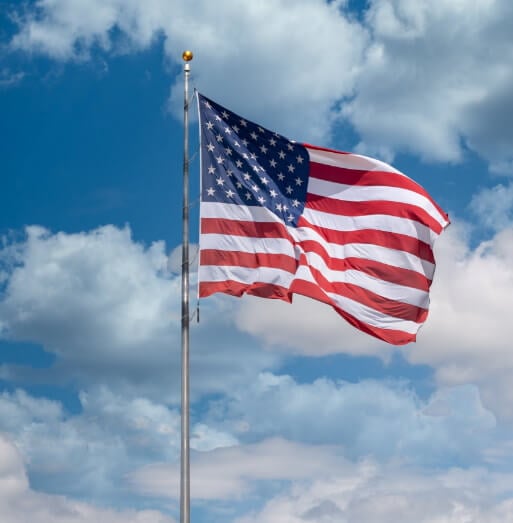 Become a Monthly Partner