Revival: Join DC Insiders for Prayer and Fasting
Casey Harper, IFA Contributing Writer
|
March 5, 2022
Revival: Join DC Insiders for Prayer and Fasting
Casey Harper, IFA Contributing Writer
|
March 5, 2022
I Prayed
have prayed
God, give heavenly solutions to the problems facing our nation! We ask for heavenly wisdom, divine creativity, and radical courage to take these issues on, to enforce your will and kingdom in the earth.
A collection of modern day Esthers – women in D.C. working on Capitol Hill, in the federal government, in education, the defense industry and more – are rallying together to pray for revival and reformation in our nation.
Will you join them?
View Comments (17)
This movement came after the Lord released a prophetic word in D.C. for 2022 that is both a challenge and a promise.
The word is based on Exodus 1, where the Hebrew midwives stood up to Pharoah, who had commanded them to kill the newborn Hebrew boys. The midwives selflessly saved the boys' lives, stood up to a powerful ruler, and gave of themselves to help someone else birth their child. As a result, God was pleased with them and gave them their own families.
The challenge here is to selflessly lay down your life to help others birth things into the earth. The promise is that those who do so will receive families of their own.
Will you become a midwife to help birth revival and reformation in America?
Insider Intercessory Information
These DC women have agreed to pray for 44 days, ending on April 18. I spoke with the leader of these "44 midwives.' She is a Christian staffer on Capitol Hill.
Here's what she had to say:
I would say as a staffer working in Capitol Hill, I was feeling the weight of the moment we are living in. Everyday from the situations with Russia and Ukraine, China and Taiwan, the supply chain shortage, the fentanyl crisis, the political polarization within America, and the list goes on and on. I realized no amount of legislative solutions or action from the American government would be able to change the current state of world affairs or our internal division. We needed a miracle. We needed heavenly solutions.
In petition to God for a miracle, I was reminded of Rev. Billy Graham's response in the midst of the Cold War, stating that "I believe the only way that we're going to win that battle is for America to turn back to God and back to Christ and back to the Bible at this hour! We need a revival!" Today, I believe this is the response we need from the United States of America in this hour to turn back to God. I began to realize the need for the Church in America to rise up in this hour to lead the way.
I felt the invitation from God that if I wanted to see the Church in America awaken, I would first need to begin with my local Church in Washington, D.C.. In February, I invited 22 people from my local church to join me in a fast for vision, strength, wisdom, and revelation for who God has called us to be as a Church in our city, the nation, and the nations of the earth. As we were about to embark on the fast, I felt God call us to enlarge our tent and extend the invitation. I immediately reached out to an additional 22 members of my church to join in the fast. We now stand with 44 women who will be fasting for 44 days by each person owning one day of the fast. We are beginning on March 6, 2021 and ending on April 18, 2022 to see our church awakened to impact every sphere of influence and to see the heavenly solutions be birthed on this earth as it is in heaven. We are calling ourselves the 44 Midwives, coming from the passage in Exodus 1 where the scripture says, "So God dealt well with the midwives. And the people multiplied and grew very strong. And because the midwives feared God, he gave them families." We want to be those who walk in the conviction and understanding of the fear of God. In the midst of chaos, we can rest in certainty that He is the King of all Kings and Lord of all Lords seated on the throne and in control. We want to see our church multiplied and growing strong to be those who stand in the gap and believe the promises of God declared throughout scripture. We want to be those who see his bride awakened to see America, as John Winthrop coined it, "a city on a hill" that would shine in the hour where darkness seems to prevail.
Will you join these 44 Esthers in prayer? Comment below.
With this in mind, let us pray:
-Lord, foster revival and reformation in our nation! Make us again a city on a hill that cannot be hidden, a light of the gospel to the entire world. That is our calling. Help us to fulfill it as a nation Lord!
-Father, we pray that you would give these 44 midwives, and those who join them, families of their own just as you did for the Hebrew midwives. Fulfill this prophetic promise in their lives.
-God, give heavenly solutions to the problems facing our nation! We ask for heavenly wisdom, divine creativity, and radical courage to take these issues on, to enforce your will and kingdom in the earth.
Verses to press into as you intercede on this issue: 
Then the king of Egypt spoke to the Hebrew midwives, one of whom was named Shiphrah and the other was named Puah; and he said, "When you are helping the Hebrew women to give birth and see them upon the birthstool, if it is a son, then you shall put him to death; but if it is a daughter, then she shall live." But the midwives feared God, and did not do as the king of Egypt had commanded them, but let the boys live. So the king of Egypt called for the midwives and said to them, "Why have you done this thing, and let the boys live?" The midwives said to Pharaoh, "Because the Hebrew women are not as the Egyptian women; for they are vigorous and give birth before the midwife can get to them." So God was good to the midwives, and the people multiplied, and became very mighty. Because the midwives feared God, He established households for them. (Exodus 1:15-21)
Casey Harper is a writer in the Washington, D.C. area covering national politics. He has worked for The Daily Caller, The Hill, and Sinclair Broadcast Group. A graduate of Hillsdale College, Casey's work has also appeared in Fox News, Fox Business, Washington Examiner, and USA Today. Follow him on Twitter: @CaseyHarper33.
Partner with Us
Intercessors for America is the trusted resource for millions of people across the United States committed to praying for our nation. If you have benefited from IFA's resources and community, please consider joining us as a monthly support partner. As a 501(c)3 organization, it's through your support that all this possible.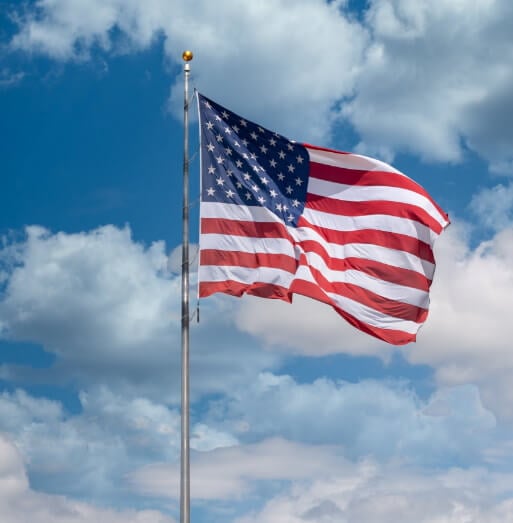 Become a Monthly Partner
You can post a prayer to share with others.
Christine S
March 5, 2022, 1:55 pm
Thank You Heavenly Father for inspiring this woman and all those women who will follow in her footsteps. Please enable each one of them to overcome the enemy, fasting and praying for 44 days, seeking Your Powerful Hand, Your Loving Intervention in the affairs of men.
Alan V
March 5, 2022, 9:07 am
God, give heavenly solutions to the problems facing our nation! We ask for heavenly wisdom, divine creativity, and radical courage to take these issues on, to enforce your will and kingdom in the earth. Praise the Lord for raising up prayer warriors who know what to pray for in the Federal government. Work Your will, O Lord.