IS A CYBER PANDEMIC ON THE WAY?
Angela Rodriguez, IFA Contributing Writer
|
June 24, 2021
IS A CYBER PANDEMIC ON THE WAY?
Angela Rodriguez, IFA Contributing Writer
|
June 24, 2021
I Prayed
have prayed
Father in heaven, as we face turbulent times on earth, we know you declare the end from the beginning. Your counsel stands in the midst of worldly plots, plans, and pandemics.
A new kind of virus may be on its way to infecting the world, according to the World Economic Forum. An article posted on June 1, 2020 declares that an attack is inevitable. Both the article and a cybersecurity video from their website states that, "A cyberattack, with COVID-like characteristics, would spread faster and further than any biological virus. Its reproductive ability would be around ten times greater than what we've experienced with the corona virus."  WEF founder and Executive Chairman
To combat this "digital virus" the World Economic Forum will sponsor a cyberattack simulation on July 9, 2021, known as Cyber Polygon. This exercise (role play) will help global organizations and leaders prep for a future cyber pandemic. Before we investigate the details of Cyber Polygon, let's look at the reasoning behind the event.
View Comments (6)
Referring to the COVID virus and its effect on the lives of everyone on planet earth, an article from the WEF predicts, "It would be comforting to think this is merely a 'blip' interrupting an essentially stable state of affairs, and that the world will return to 'normal' once medicine and science have tamed the virus. Comforting – and wrong."
Next the article points out that COVID-19 isn't the only thing that can throw a wrench into our way of life. In fact, we can expect more COVID-like incidents. "And a cyber pandemic is probably as inevitable as a future disease pandemic."
The World Economic Forum has a habit of "predicting the future."  After all, before the COVID-19 pandemic struck the world, a role-play exercise was completed a few months before on October 18, 2019 in New York City. Known as Event 201, this was sponsored by the World Economic Forum, the Bill and Melinda Gates Foundation, and Johns Hopkins Center for Health Security. Leaders from around the globe participated in a simulation described like this on the website: "Event 201 simulates an outbreak of a novel zoonotic coronavirus transmitted from bats to pigs to people that eventually becomes efficiently transmissible from person to person, leading to a severe pandemic. The pathogen and the disease it causes are modeled largely on SARS, but it is more transmissible in the community setting by people with mild symptoms… There is no possibility of a vaccine being available in the first year. There is a fictional antiviral drug that can help the sick, but not significantly limit spread of disease…"
Interestingly enough, another pandemic exercise occurred the year before Event 201 on May 15, 2018, which was sponsored by Johns Hopkins and highlighted by the WEF on their website. Known as Clade X, it simulated the outbreak of a novel parainfluenza virus that was "moderately contagious and moderately lethal." In addition, according to the role play, there were no effective treatments available for the disease, which caused severe coughing and symptoms that required hospitalization in 50% of infected patients.
It seems that real-world simulations are of paramount importance to the WEF, and they are determined to get a jump start on what they call the next cyber pandemic. In their article, they maintain the idea that the only way to stop a "cyber-COVID" would be to "disconnect all vulnerable devices from one another to avoid infection." Then the whole world would have to go on "cyber lockdown until a digital vaccine is developed." This would cripple communication outlets for businesses and no data could be transferred. Social media would come to a halt and the only way to communicate would be through copper landlines, "snail-mail," short wave radios, or good old fashioned in-person contact. The effect on the economy would be devastating, costing the world more than 50 billion dollars a day.
A cyberattack could affect medical devices that keep people alive, global financial systems, energy grids, government IT systems, military and defense infrastructure, water treatment facilities, the "Internet of Things" (the ecosystem of connected devices that run smart homes such as cameras, microphones, sensors, etc.), as well as the "Internet of Bodies" (systems of digitally connected people).
The July 9, 2021 Cyber Polygon event will bring corporate teams together to address the "key risks of digitalization" and ways to create secure "digital ecosystems." This year's exercise will focus on dealing with a targeted supply-chain attack. Global businesses and government agencies will work together in this multi-faceted role play. The event will be live streamed to millions of viewers around the world.
"The participants will deflect an active attack on a corporate system responsible for assembling, testing and delivering applications. The system manages the entire lifecycle of the organization's business-critical service." Using "Threat Hunting techniques" the teams will investigate and work together to solve the crisis.
The WEF isn't the only organization warning about cybersecurity. Since the discovery of the SolarWinds hack in December 2020, many experts are sounding the alarm that it's only a matter of time before something even bigger happens. Kevin Mandia, CEO of a cybersecurity company called FireEye said, "The next conflict where the gloves come off in cyber, the American citizen will be dragged into it, whether they want to be or not… Apps won't work. Appliances may not work. People don't even know all the things they depend on. All of a sudden, the supply chain starts getting disrupted because computers don't work."
The SolarWinds cyberattack went undetected for many months. During that time, foreign hackers were able to spy on private companies, even sectors of the U.S. government such as Homeland Security and the Treasury Department.
In early May 2021, the Colonial Pipeline was hacked by ransomware, causing certain parts of the 5,500-mile pipeline to be shut down. "This is the largest impact on the energy system in the United States we've seen from a cyberattack, full stop," says Rob Lee, CEO of the critical-infrastructure-focused security firm Dragos. The attack on America's largest gasoline pipeline, which carries up to 2.5 million barrels per day of gasoline and refined fuels, has caused great concern among Americans. Many states were affected by gas shortages, but more than anything it brought attention to a problem that could have devastating consequences on the economy.
The threat of cyberattacks is real and the World Economic Forum believes it has a solution that melds in with its globalist plan, which involves intelligence sharing between stakeholders. They say, "No stakeholder alone can sustainably identify and address all of the cyber-threats of the fast-changing digital landscape… New technology, among other interventions, promises to overcome these barriers. Action is required to make sure that information sharing can continue to be an enabler of the strategic driver of the global cybersecurity community; the need to move from individual resilience to collective resilience."
There's something unsettling about the word "collective." The World Economic Forum uses this term in conjunction with its idea of stakeholders because it all plays into their grand plan, known as the Great Reset. In this world agenda, stakeholder capitalism would fuse the public and private sectors together. In essence, it's a way to replace the old system. Of course, the best way to do this is through a crisis.
As Klaus Schwab has stated regarding the COVID crisis, "The pandemic represents a rare but narrow window of opportunity to reflect, reimagine, and reset our world." Further, he has declared, "This is our best chance to instigate stakeholder capitalism."
In an article titled the Four Building Blocks of the Great Reset, the idea proposed is that capitalism as we know it is a "flawed ideology" and most of what we currently believe is wrong.
"GDP fails on so many levels– it measures wealth and ignores its distribution. It fails to even register the human and financial costs of capitalism, 'externalities' such as social welfare, environmental degradation and the social, mental and physical health costs of innovations. Dissatisfaction with GDP is widespread, and there are many alternatives being trialed that focus on the well-being of people and planet: for example the UN's Human Development and Social Development Indexes, Well-Being metrics, Genuine Progress Indicators, a Happy Planet Index and an initiative to use Gross National Happiness."
The main theme of the Great Reset is to transform our world. The question is, how will they transform it? Here are some other questions to consider: "Is a cyber-attack the next phase of the Great Reset? Does the whole system have to crash in order to transform into a collective world?"
The World Economic Forum has recently published a report that identifies seven major barriers to cyber information sharing. These areas need to be addressed "to help build collective security–from addressing an increasingly complex regulatory landscape, to issues over trust and privacy, and organizations having access to the right tools, capabilities and skills."
There's the word collective again. Hmm… that sounds familiar. In Genesis 11 a collective plan is described. "They said, 'Come, let us build for ourselves a city, and a tower whose top will reach into heaven, and let us make for ourselves a name, otherwise we will be scattered abroad over the face of the whole earth.'" Of course, God put an end to that collective plan.
The issue of cybersecurity is real and multi-faceted. But can we trust the wisdom of globalists, whose main goal is our collective security? When it comes to real security, the nation with God as its firewall is the one that will endure even the worst hacks. In all that's going on, God sees and He knows. As we intercede for our nation and world, we can trust that He is in complete control.
The Lord frustrates the plans of the nations and thwarts all their schemes. But the Lord's plans stand firm forever; his intentions can never be shaken. What joy for the nation whose God is the Lord, whose people he has chosen as his inheritance. The Lord looks down from heaven and sees the whole human race. From his throne he observes all who live on the earth. (Psalms 33:10-14)
Some prayer points to consider:
Pray that any hidden plans of the enemy would be revealed and thwarted. Woe to those who plan iniquity, to those who plot evil in their beds. (Micah 2:1)
Pray for a supernatural wall of protection over our secure networks, such as those which run our military, healthcare, financial, agricultural and supply chain systems.
Pray for divine protection over our power grids, as well as the Internet and other digital communication infrastructure.
The Lord frustrates the plans of the nations and thwarts all their schemes. But the Lord's plans stand firm forever; his intentions can never be shaken. What joy for the nation whose God is the Lord, whose people he has chosen as his inheritance. The Lord looks down from heaven and sees the whole human race. From his throne he observes all who live on the earth. (Psalm 33:10-14)
What do you think about the potential for a cyber pandemic? How are you praying?
Angela Rodriguez is an author, blogger and homeschooling Mom who studies the historical and biblical connections between Israel and the United States. You can visit her blogs at 67owls.com and 100trumpets.com. Photo credit: Getty Images/Canva.
Partner with Us
Intercessors for America is the trusted resource for millions of people across the United States committed to praying for our nation. If you have benefited from IFA's resources and community, please consider joining us as a monthly support partner. As a 501(c)3 organization, it's through your support that all this possible.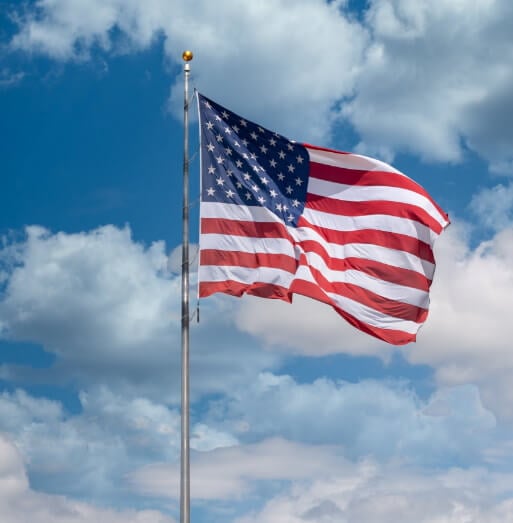 Become a Monthly Partner