IFA Singer's Story of Healing and Hope
Joyce Swingle, Contributing IFA Author and Prayer Leader
|
February 8, 2022
IFA Singer's Story of Healing and Hope
Joyce Swingle, Contributing IFA Author and Prayer Leader
|
February 8, 2022
I Prayed
have prayed
Lord, thank You for the gift of creativity You share with us through each other. We bless You for the beauty of Your world and yearn with You for the day when it is restored without sin into the vision You hold in Your Heart for it. In Jesus' Name. Amen.
The Lord is writing His Healing Song through Natasha and David Owens.  The Louisiana-based couple collaborate with the Lord to write songs for Natasha's recording career (www.NatashaOwensMusic.com).  Natasha and David joined intercessors at IFA's Appealing for Life event in Washington, D.C., where Natasha led musical worship on the day of the Dobbs Supreme Court hearing on December 1, 2021.  Initially Natasha connected with IFA through her friendship with Dr. Alveda King (www.AlvedaKing.com), a guest at the Champions for Life banquet on November 30 and a featured worship leader at IFA's event at the March for Life.
Natasha did not envision a life on the stage.  "I've come from a musical family but struggled with anxiety," Natasha told IFA.  But the sudden accidental death of her father changed her life.   Natasha was on her way to lunch with her father when she got the call that he had shot himself cleaning a rifle.  "I actually beat the ambulance to the hospital," Natasha remembered.  "I knew when I saw the ambulance come in with no lights on. I knew it."
View Comments (4)
The Lord comforted Natasha as she was in the crosswalk to the hospital's entrance.  "I felt like a heavy coat hit me on the back, " she said.  "Like something very heavy hit me.…It felt like arms came across and just held me and I stood in that crosswalk blocking traffic for I don't know how long."
Peace enveloped her, enabling her to handle the many details surrounding her father's death.   "I'm the oldest child….I tried to stay strong for everybody and delayed my grief.  About the year mark, I started questioning 'Why?'," Natasha said.  "When I didn't [get an answer], I got very angry.  And Proverbs tells us we have the power of life and death in our tongue.  I did not choose life."  Instead, she spiraled into depression.
David struggled to help his wife.  He said, "It was…rough on me because I didn't know what to do.  I'd never been through any of that — never knew anybody who'd been through any of that — so I didn't know how to help her."
Undaunted by Natasha's turmoil, her pastor at the time urged her to become the church's music minister. "He said, 'You just have to get…out of your circumstance and as you minister, God will heal you in return.…I feel this is your last lifeline.'
Natasha grabbed the rope offered, and the Lord indeed healed her.  "Even though I couldn't pray or read my Bible at that point, I would turn on a song I was thinking of for the week.  Two minutes later, I would be out of bed;  I would use that music to get me stronger.  Every song was a restoration."
The process was not easy.  "I wasn't equipped for it," Natasha said.  "I can hear by ear but I can't play.  And I wasn't equipped for that type of position.  I had to go through recovery, battle anxiety and learn how to minister….But what I didn't realize is it was a training ground for what I'm doing now."
After the worship position became a casualty of church change, a series of "chance" meetings led Natasha into recording her first CD I Made It Through, which marked healing from her initial grief.  This CD scored her a concert gig, opening for Michael W. Smith (www.MichaelWSmith.com).  Owens initially declined, citing anxiety, but reversed course immediately upon learning the event would be on October 3 — her father's birthday. She knew her Heavenly Father arranged this event for her continued healing.
"So that's how it started," Natasha said.  "And I went back to the hotel that night [after the concert], and I started feeling depressed.…I don't know what to do now.  We had prepared and 'What now, God?'  Three or four days later, a woman that I used to go to church with emailed me and she said…'I had this dream several nights ago and I can't get away from it….You walked into the church.  You walked up to the altar and these wings came out of your back.  You ascended and God kept saying, 'I made it through is not the true message.  That rising above is and I will bring you there on wings.'''  And so I called her and said 'Do you know that I have a CD called I Made It Through?' She said, 'I had no idea.'  So I said to her, 'That right there is our mission for the second project (We Will Rise).'"
David struggled to find his place in the music ministry.  The Owens' business —providing equipment to cable companies — requires less daily oversight from the couple, which enables David to join tours with Natasha.  She said, "We have worked together for…21 years.  We're around each other all the time so it feels weird when we're not together…. That's why he felt so [restless] because it's the first thing we haven't done together, and he just couldn't figure out just how to be a part."
But David pushed into the Lord.  "He has the craziest faith of anybody I've ever seen," Natasha said.  "And he proclaimed one night in the bus, 'Ok, I'm tired of this.  I'm gonna to figure out what I'm supposed to do!  When I wake up tomorrow I'm going to play like Liberace or I'm going to sing like Pavarotti!'  And I'm like, 'Ok, you do that.'  Didn't happen but about three or four days later, he said, 'Tasha, I've had this dream every single night this week and it plays out like an MTV music video in my head.'  And I said, 'Well, tell me about it.'  So he sits down and starts telling me this dream and I'm shocked because…exactly how I felt in the midst of my depression is what he's describing to me in a visual way.  I said, 'Get a piece of paper and write that down. That's a song.'…We sat down and wrote our first song for our second album called "I Am loved." …And since then, God has given him dream after dream after dream after dream and we just write songs from those dreams.  So he's a part of the ministry and he found his place."
The couple have written at least 14 songs together using David's dream gift. "Every single one ties to emotion," Natasha said.  "He's so descriptive when he tells me about these.  We're '80s kids; that's all he can think of is MTV music video.  He's so descriptive I immediately pick up on the emotion…what that character is feeling.  He's very visual so he paints the picture."
David knew the couple would team up after he first met Natasha at a youth rally.  "When the rally was over, we knew people from her church and we said, 'Hey, let's all go eat,'" David said.  "Well, she was on a date with another guy and she had not talked the whole night.  She had not even talked to her date.  And on the drive home, I told my best friend, 'Hey you know that girl I was talking to.' I couldn't remember her name."
"He couldn't remember my name," Natasha interjected.
"And he said, 'Her name's Tasha,'" David continued.  "And I said, 'Yeah, I'm going to marry her one day.'  And he goes, 'Whatever.'  Well she was only 16.  I'm eight years older.  So I didn't talk to her for two years, till she turned 18.  When she turned 18, I called her out of the blue and said, 'Hey, you want to go out?'  And we went out."
Sixteen days later, Natasha accepted David's proposal.  Since then, they've produced two sons, a successful business that funds the music ministry, five albums, and countless tours and concert performances — all orchestrated by the Lord as He continues to heal.  Natasha said, "When you look back on all my projects, every CD is a chapter in my recovery.  Just when I think I've learned everything there is to learn, He brings me to a different level."
Natasha and David use prayer to balance their earthly desire for excellence with the brokenness that allows the Lord to shine through.  "I do today…what I taught the praise singers when I led them, 'You don't stand, You don't give, You do not put one foot on this platform until you bow your head and say, "I am not worthy for this opportunity but thank you Lord for using me,"' Natasha said.   "If you do that and if you can make a connection here and a connection there, then they hear and feel God….I've learned even though I want to have perfection…it's all in vain unless someone says, 'I felt God and I heard God.'  That's how you know that you've done your job."
How has the Lord used creative gifts in your ministry?  Share your story below.
Author Joyce Swingle is an intercessor and contributing writer for Intercessors for America. With her husband Drama Evangelist Rich, Joyce shares the Gospel of Jesus Christ around the world through theatre and speaking.  Joyce also has performed on screen.  Prior to going into full-time ministry, Joyce worked for about 20 major magazines and now works in pastoral ministry and Christian counseling.  She and Rich live in New York City.
(Photo Credit: Dave Kubal. Natasha Owens pictured with Kris Kubal.)
Partner with Us
Intercessors for America is the trusted resource for millions of people across the United States committed to praying for our nation. If you have benefited from IFA's resources and community, please consider joining us as a monthly support partner. As a 501(c)3 organization, it's through your support that all this possible.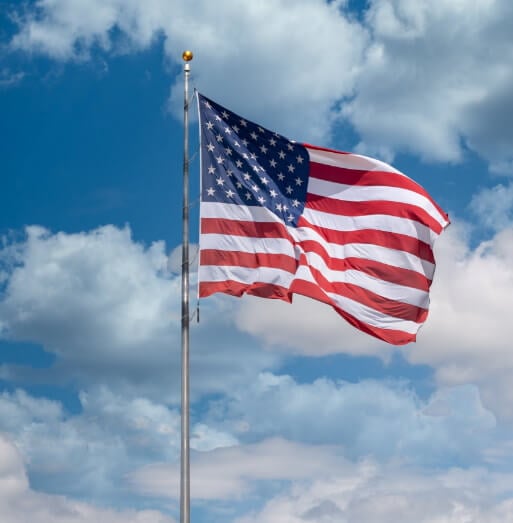 Become a Monthly Partner
You can post a prayer to share with others.
Christine S
February 8, 2022, 11:10 am
Lord, We thank You for the gift of creativity You share with us through each other. We bless You for the beauty of Your world and yearn with You for the day when it is restored without sin into the vision You hold in Your Heart for it. In Jesus' Name. Amen.
Alan V
February 8, 2022, 7:50 am
Lord, thank You for the gift of creativity You share with us through each other. We bless You for the beauty of Your world and yearn with You for the day when it is restored without sin into the vision You hold in Your Heart for it. The highest use of fine arts is to worship and glorify You. In Jesus name we pray. Amen and amen.