IFA Policy and Prayer Makes Waves in States
Gloria Robles, IFA Contributing Writer
|
June 6, 2023
IFA Policy and Prayer Makes Waves in States
Gloria Robles, IFA Contributing Writer
|
June 6, 2023
I Prayed
have prayed
Thank You, Lord, for intercessors who are becoming more proactive. Raise up more of us for such a time as this, and show us how to go from prayer to action.
For 50 years, IFA has served this nation and its leaders through prayer. This mandate has not changed, but God is now bringing about fresh initiatives and ways for intercessors to go beyond the prayer closet, to get boots on the ground and make a direct impact. IFA Chief Program Officer Kris Kubal recently had opportunity to speak with two IFA state prayer leaders and the IFA state prayer coordinator about ways the Policy and Prayer effort is making waves state by state.
View Comments (5)
In the fall of 2021, the Lord began revealing a strategy to Kris and to IFA President and CEO Dave Kubal. In response, they started raising up state prayer leaders who could host calls with other intercessors within their states to pray over the issues. The next step was the national Policy and Prayer initiative, at the nation's capital, with IFA assembling intercessors and government leaders. Here, intercessors can learn the hearts of the people who represent us in government, and they can get specifics on how to pray as well as what to pray.
All prayers are great, but specific prayers really hit the mark. This is all great news and offers intercessors the  chance to connect with state leaders and with like-minded intercessors living nearby.
Pennsylvania state prayer co-leaders Bill and Betsy West recount some encouraging stories about happenings last month at the IFA Policy and Prayer event in Harrisburg. "The aftermath has been explosive," said Bill. Through the oversight of Holy Spirit and IFA, he says, lawmakers and intercessors were brought together at the state capitol.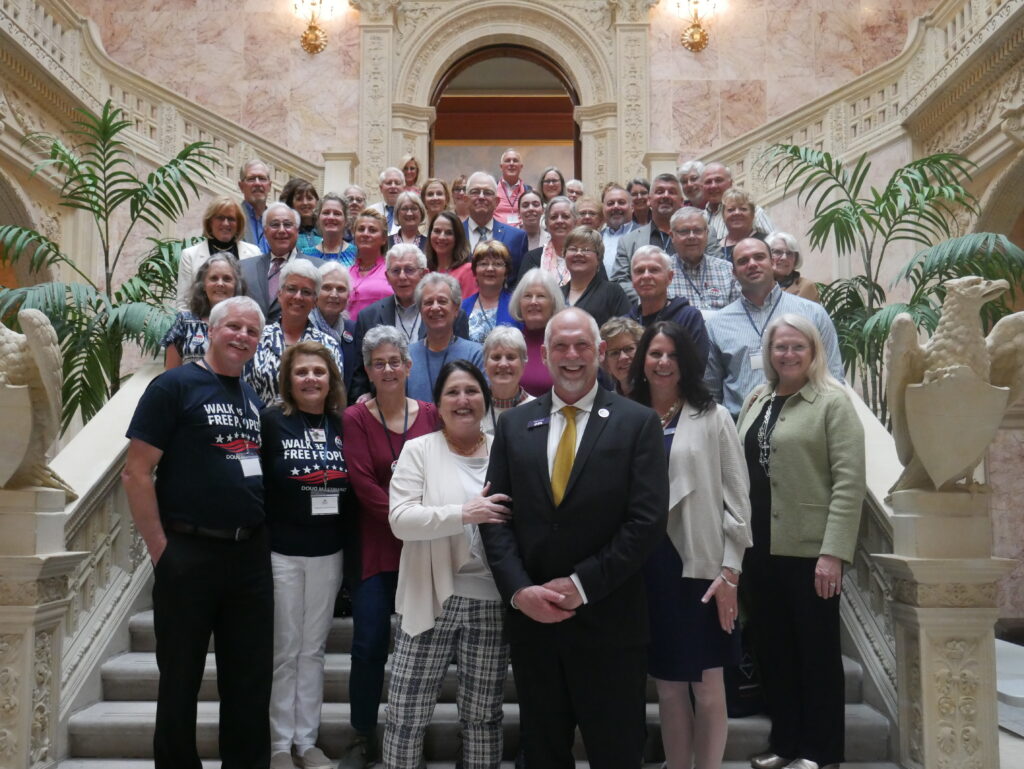 "Every state is different and has different needs," said Bill. "We were able to hear from elected leaders, and their prayer requests. Usually, Christians play the defensive — the Enemy does something, and we react. This is offensive: We went into the Enemy's camp, and we took back what he stole from us. The beauty of Policy and Prayer is, it's proactive. If there's any reaction, it'd be the Enemy, and not us."
Intercession can be a lonely business. It's hard to find that community of people who have your desire to see prayer change things. "When national Prayer and Policy was launched, we were coming out of COVID," said Kris. "We noticed there were people who longed for community, and we thought: What can we do? We wanted to do more than just pray. We also were getting calls from friends and meeting leaders in our state, lawmakers, and those on the frontlines who were weary and needed prayer. They have been given a God-given mandate and are working hard on the frontlines, and they need reinforcements. They don't need people to help with policy. They need people like Aaron and Hur — to come alongside and hold up the arms of godly leaders in our government and pray for them. As they told us how we could specifically pray for them, it gave us insight. We could take that intel and now put our boots on the ground and pray on-site."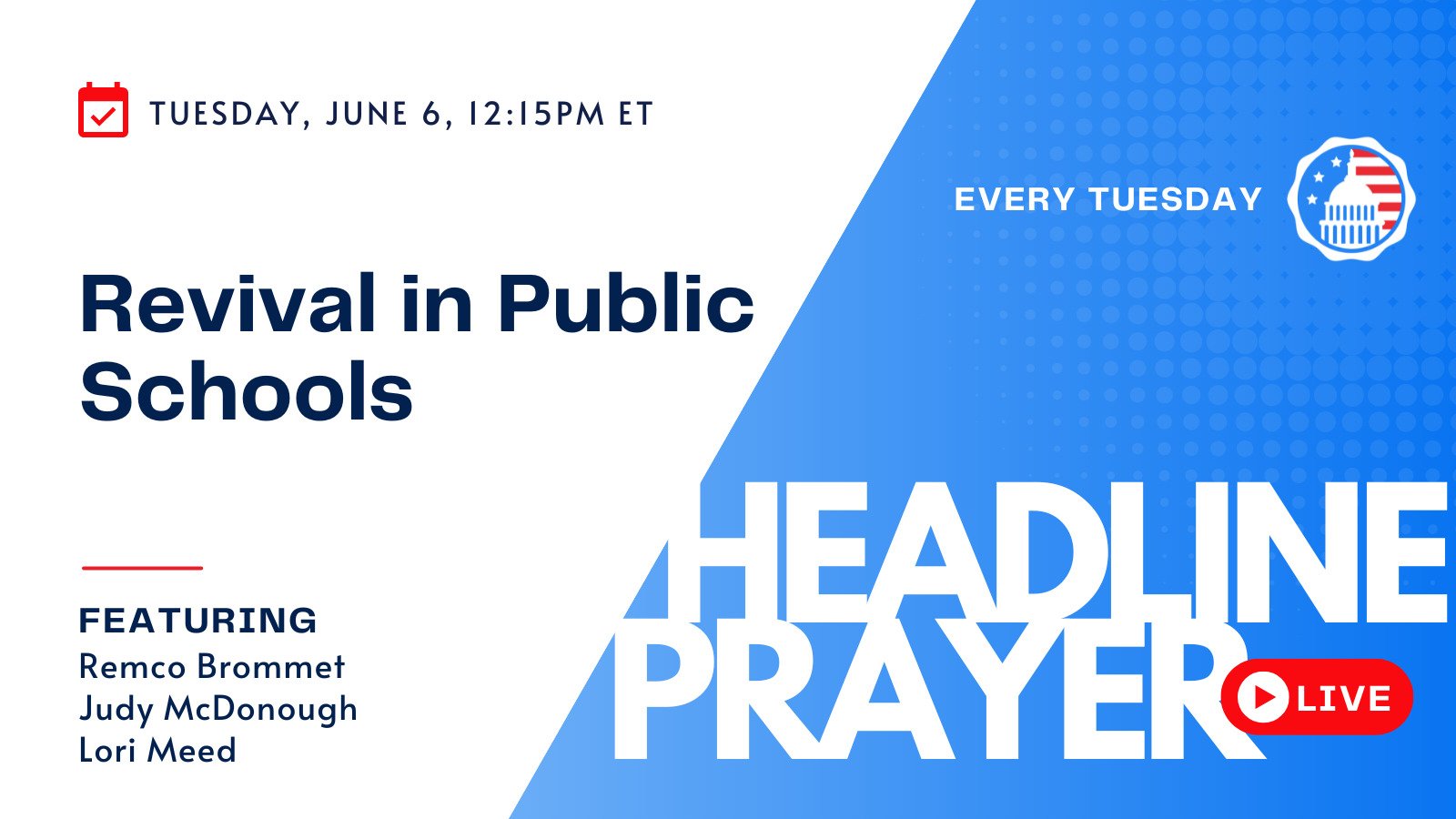 Each state has issues of its own. What are the bad things happening in your state that you can pray into? If we watch the local news, we will see themes that need prayer. Pay attention to what's going on in your state.
"In Pennsylvania, energy is at the forefront," said Bill. "They want to shut down gas and coal. We heard of issues of life, where organs were being harvested from babies born alive. We prayed about that, and it was exposed. We had controversy due to election integrity. At the Policy and Prayer, we had speakers come forward and bring much-needed facts. When we prayed together, we felt things break open."
West Virginia state prayer co-leaders Ed and Donna Rollyson say they are already seeing a stirring in their state. On the National Day of Prayer, they held a time of praise and worship on the steps of the state capitol. Despite a drug epidemic in the state, said Donna, "doors are opening in that regard. People want to talk about it and present solutions to the problem. We have come across people that are excited to be involved in Policy and Prayer. We expect it to become evident as we proceed."
State Policy and Prayer events give the Body of Christ opportunity to unify while praying for the state. West Virginia will be the next state to hold a Policy and Prayer event, in the capital city of Charleston. The prayers will be held where the House of Delegates meets.
The Wests shared how it all began with prayer calls. "We bonded through the phone calls," Betsy said. "Through the calls, we formed relationships and friendships. When we brought them to the state capitol in Harrisburg, we met for the first time. We were able to pray specifically for our area. People are excited to come into the building and pray. We had two judges, two state representatives, and a state senator come. They were taken by surprise that we have no political agenda. They shared their heart and received prayer from those who attended. They received our prayers, and the intercessors felt empowered by this. This is synergy."
"IFA's Policy and Prayer has no agenda," said Kris. "There is no lobbying, no favors. It is about building kingdom inroads to pray. We are not there for 'business' — only kingdom business."
These gatherings vary in size, depending on where they are held, but they are meant to be intimate. This gives elected officials a chance to share their hearts, and as people pray, it becomes something of a healing balm.
State Prayer Coordinator Amy Sabat recalls praying for a leader in West Virginia: "That woman willingly received the prayers and wept," Amy said. "Afterwards, she went on her way."
In Pennsylvania, Bill West had a similar encounter. After the speaker finished his presentation, he lingered awhile. Bill was able to engage with him, and they shared hearts, desires, and disappointments. That speaker was totally open to conversation. "I was able to speak life and see a response," said Bill. "A bond was built."
Added Betsy: "The Church is coming 'out of the building' and is now embracing government and politics. The Enemy would love to keep us under fear. We are seeing the Church partner with government, business, and leaders; if we bind these three cords together, we will see transformation and reformation in our communities."
And though a man might prevail against one who is alone, two will withstand him — a threefold cord is not quickly broken (Ecclesiastes 4:12).
Isn't this exciting? The Enemy is trying to thwart a growing movement in which intercessors are rising up to pray with divine authority. The devil wants to keep us fearful of taking action, and he hates it when God's people wake up and start acting like more than conquerors.
If this interests you and you'd like to get your own boots on the ground, start right here. At that link you can connect with your state prayer leaders and join the prayer calls. Then you can build relationships with other intercessors within your state or find events near you. We are strengthening and growing the IFA community, and we would love for you to join us!
Let's pray together:
Father, we thank You for these newest initiatives connecting and equipping the Body of Christ. Bless these statewide gatherings, and knit together the hearts of intercessors as they pray for those who represent us in government. We pray for open doors and for divine connections between intercessors and leaders. Please provide the resources needed for each Policy and Prayer event. And thank You for the fruit we're already seeing! In Jesus' name. Amen.
Share your own prayers for these initiatives and the direction of our states and nation.

IFA contributing writer Gloria Robles is a passionate intercessor with a prophetic voice for today. For more from Gloria, go to Spotify or Anchor and listen to her podcast, Something To Share. Photo Credit: Intercessors for America.
Partner with Us
Intercessors for America is the trusted resource for millions of people across the United States committed to praying for our nation. If you have benefited from IFA's resources and community, please consider joining us as a monthly support partner. As a 501(c)3 organization, it's through your support that all this possible.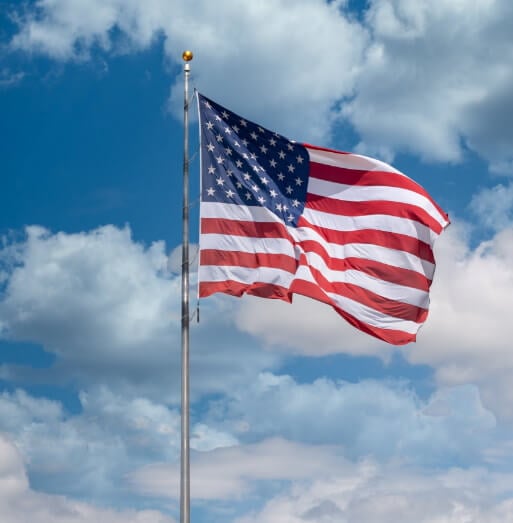 Become a Monthly Partner
You can post a prayer to share with others.
Christine S
June 8, 2023, 8:37 am
Thank You, Lord, for intercessors who are becoming more proactive. Raise up more of us for such a time as this, and show us how to go from prayer to action.
Marsha F
June 6, 2023, 12:32 pm
Thank You, Lord, for intercessors who are becoming more proactive. Raise up more of us for such a time as this, and show us how to go from prayer to action. Thank you Lord. .. you know the needs of AZ. I ask you to give the leadership of our state wisdom to correct the border crisis. May they not just talk but take action to provide safety for our state and for those coming across the border. Give our leaders wise counsel and I pray for this counsel to be activated and successful.