Return to Vote Your Values
July 31, 2021 | Camille Solberg, IFA Legislative Director
We humbly ask for the wisdom of heaven to bring godly conviction upon our nine Supreme Court Justices. Lord, cause them to rule in favor of protecting life. Lord, we appeal to You as we appeal for life. In Jesus' name, Amen.
Intercessors for America has been working hard to create an historic opportunity for YOU to participate with your prayers and protect life. On July 29, 2021, IFA filed our OWN Amicus Brief with the Supreme Court on behalf of all the intercessors of IFA. YOU can be a signer in support of that official brief. Our brief is totally unique in that it includes legal and spiritual arguments as well as a prayer, and a link to the names of intercessors who sign the prayer.
The IFA brief is written so that anyone can understand.  Although it is a legal document, it reads like a spiritual warning to our nation over the sin of abortion. We call the nation to pray for an end to abortion and for the Justices to rule in favor of the Mississippi law. Remember this was written for nine Justices whom you can pray for by name:
Justice Samuel Alito, Justice Amy Coney Barrett, Justice Stephen Breyer, Justice Neil Gorsuch, Justice Elena Kagan, Justice Brett Kavanaugh, Justice John Roberts, Justice Sonya Sotomayor, Justice Clarence Thomas, and their staffs.
The IFA Brief is a very enlightening document on many issues, including
the drift that our nation has made to undermine democratic principles
how viability is never sufficient to determine restrictions on abortion
how the Court has consistently undermined Christian principles to establish a new pagan morality under the force of law
how pagan principles have been articulated by Justices in preference over Christian principles
how this has opened our nation to the righteous judgement of God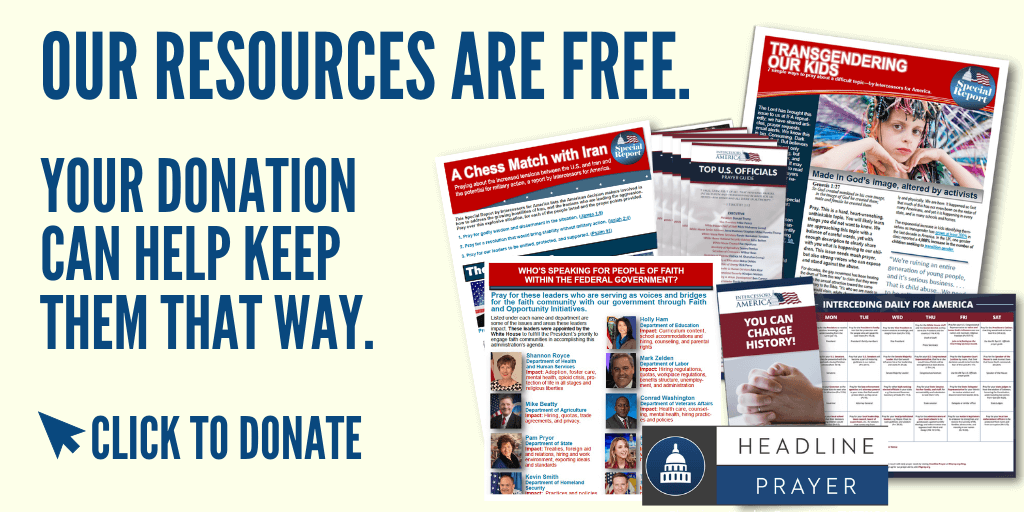 Your prayer can be included as part of our Amicus Brief and the official record of the Supreme Court in respect to this case. Take Action today. CLICK here to instantly participate in this effort—sign your name to the prayer and make your Appeal for Life to the Supreme Court of the United States. You can go to the AppealforLife.com to view the Amicus Brief we submitted. We feel directed by God to step out in faith on the issue that goes back to when Roe was decided in 1973, which was when IFA was founded. Will you join us by praying for each Supreme Court Justice by name to rule in favor of Life?
The pivotal case the court will decide is Dobbs v. Jackson Women's Health Organization which bans abortions after 15 weeks. The question before the Court is "whether all pre-viability prohibitions on elective abortions are unconstitutional." The Attorney General of Mississippi in presenting the Amicus Brief for Mississippi asked for the Supreme Court to overturn Roe v. Wade.
This will be the first abortion case challenging Roe to come before the Supreme Court since Amy Coney Barrett was confirmed and a historic 6-3 conservative majority is in place. The U.S. Supreme Court will hear this case in the fall.
Many other organizations are submitting amicus briefs in support of Mississippi's "Gestational Age Act." According to the Supreme Court docket files many organizations have filed briefs including: U.S. Senators Josh Hawley, Mike Lee, and Ted Cruz,  Priests for Life,  Melinda Thybault, Founder of The Moral Outcry Petition, and the Family Research Council. The IFA brief is unique in that it is the only Supreme Court brief we know of that includes prayer and names of intercessors.
Be sure to visit the new Pray for America's Leaders website to pray for your state leaders and those from all over the Nation!
And join us live on Tuesdays and Thursdays at 12:15 pm ET —IFApray.org/LIVE or (713) 775-7430.
How are you praying about the Supreme Court case? Please share in the comments section.