GOVERNOR TURNED TRAGEDY INTO ACTION WE NEED TO FOLLOW
Karen Hardin, IFA Contributing Writer
|
February 27, 2021
GOVERNOR TURNED TRAGEDY INTO ACTION WE NEED TO FOLLOW
Karen Hardin, IFA Contributing Writer
|
February 27, 2021
I Prayed
have prayed
Lord we repent that we didn't recognize our need to support and even assist with those running for office and to be involved in the aspect of government. Forgive us where we took our hands off the wheel.
Many of us have wondered what else we can do to see the corruption that seems to have taken over our nation removed. With the lead swamp-drainer no longer in office, the job is now fully up to us and awakens us to action. But what can we do?
While prayer is absolutely our primary weapon, it is evident that more is required. South Dakota Governor Kristi Noem came face-to-face with that same dilemma several years ago.
View Comments (42)
In an interview on Fox News, Governor Noem gave great advice and insight that we would do well to consider.
Noem has been a strong voice to preserve the freedom and rights of American's especially through this pandemic. She wasn't raised in a family of politicians. And it might surprise you how she ended up in her position.
She got involved in government because of a personal tragedy which brought an injustice within our system to light. It hit her family hard, but rather than just complain, or "take it on the chin," she decided to do something about it.
"…What happened is I was going to college and my dad was killed in an accident. He was 49 years old at the time, exactly the same age I am now. I came home and took over the family businesses, but within weeks we were notified that we owed death taxes. We owed the federal government a bunch of money because we had a tragedy in our family.

"So, it made me mad. I tell people all the time I just decided I was going to start showing up at meetings. I had been raised by a dad who was a cowboy who said, 'You don't complain about things, you fix 'em.' And I realized I needed to start showing up and if I wanted different laws, different polices then I needed to be there and be a business person, a mom, someone who actually gave my perspective," stated Governor Noem.
How does that apply to us? Right now, all across our nation, precinct meetings are happening in which delegates are selected to represent our states along with Party positions such as State Committee member, County Chair, District Committee Member, etc. Not familiar with these? Most of us aren't, but we need to be. And the only way to vote for these influencing people is to attend our precinct meetings.
In my precinct this past month, only one person showed up. (And it wasn't me. So I am preaching to myself as well.) One of my friends, Christine Leeviraphan, who is running for Oklahoma GOP Chairman, explained the importance of our getting involved at the precinct level.
"Precincts are made up of 4 to 5 neighborhoods," she explained. "People may try to tell you that the Precinct Chairman's job is really busy. It's not. It's a seat of authority. When you become a chair person you become the gatekeeper. And as the gatekeeper, the gates swing wide open. Think of the opportunity to drive through those neighborhoods, in that seat of authority, and pray over your neighbors and the people living there. God does the work. We just become the light and reach out to them. It is a powerful place of prayer," she explained.
I know what you're probably thinking, "I don't want to run." But guess what, because so few people attend their precinct meetings, just by showing up, if you are the only one, you automatically would become the chairperson and receive the opportunity to pray from a seat of authority.
The bottom line is we have to quit complaining and get involved.
I live in a red state…or what used to be a red state until one of our last elections in which only 20% of voters showed up in one of the two primary cities. Because Christians did not get out to vote, in that one election, it essentially flipped our state purple, if not blue, because of those who were elected along with progressive amendments added to our state Constitution. Sadly, most Oklahoman's don't even recognize it…yet.
What about where you live? Most likely it is quietly being taken over as well.
It's time we put our hands back on the wheel. We can no longer continue to operate under the lie of "separation of church and state" which is NOWHERE in our Constitution. (Where did it come from? In letters to the Danbury Baptists written by Thomas Jefferson where he penned his concern that government might encroach upon the Church! Not the reverse.)
Sadly, the government has encroached upon the Church as we find ourselves now in a battle for churches to continue. In Canada, a pastor was recently jailed for holding services at more than 15% capacity. In Santa Clara, North Valley Baptist Church was being fined $50,000 per week for refusing to stop worshipping together.
Now fighting back against such encroachments, two pastors in my local area have chosen to get involved. One is running for elected committee person and the other is running for U.S. Senate. Wait! Can they do that as pastors? Oh yeah. They can.
Dr. Paula Price is the pastor of Congregation of the Mighty, and Pastor Jackson Lahmeyer of Sheridan Church are both in Tulsa, OK. I asked Pastor Lahmeyer why he decided to run and what he would say to the pastors across America, some who might disagree with his decision.
He responded, "Our country is in the position we are in because of the pulpit. We are not in a good position as a country. Charles Finney, who led the 2nd Great Awakening, made a statement that essentially, if there is ever corruption in the halls of our government, if ever corruption in the boardrooms in America or if our households are falling apart, the pulpit is responsible. I think we can all say there is a lot of corruption in our nation from D.C. to the boardrooms, etc. Why? Because we (pastors) don't address what is happening outside these four walls. It is so important that churches engage with their community and within the nation we are in because we don't live within these four walls, we live outside them.
"There are two things we are told we should never talk about with people–faith and politics. Well, those are the two most important things in our lives because politics affects every aspect of our lives and faith should guide us in everything that we do."
May we become Christians who will affect our communities because we choose to go outside the walls of the Church and get involved with areas that affect daily lives.
Lord, we repent that we didn't recognize our need to support and even assist with those running for office and to be involved in the aspect of government. Forgive us where we took our hands off the wheel. Help us to have wisdom and courage to walk into areas beyond our comfort zone to support godly candidates and to even be willing to work within our precincts to pray over our neighborhoods and the people in them who so desperately need You. We pray for your revival fire to fill our homes, our neighborhoods, our cities and states and our nation.
NOTE: To find information on when and where your Party's Convention will be held, you can begin with an internet search. Type in your county/political party/convention in the search. For example, in my area I could search 2021 Tulsa County Republican Party Convention.
The convention you need to attend will be based on the Party with which you are registered. Note, you must attend the convention in order to vote for party positions and delegates which is an important step in this process. To find out about becoming a precinct chair and when your precinct meetings are held you can do an internet search entering your state/Party/County Meetings to find the date and location. For Oklahoma readers here is your link: OK-GOP County Meetings/
Karen Hardin is the author "INFECTED: How to Stop the Global Spread of Rage, Deception and Insanity" To order click here. She is a literary agent, author, and intercessor. Her work has appeared in USA Today, World Net Daily, Intercessors For America, Charisma, CBN.com, The Elijah List, etc. She is also co-founder of the City-by-City prayer movement to save our nation. For additional information on her ministry, business or to sign up for her prophetic blog go to: www.karenhardin.com or you can contact her at www.prioritypr.org. (Photo Credit: Getty Images.)
Would you be willing to go to a precinct meeting? Become a precinct chairperson and pray over the neighborhoods in your precinct? Could THAT begin the revival we so desperately need in our nation? Would you be willing to volunteer to help someone else who is willing to run for office? Many such meetings are happening THIS weekend. Can we all commit to take a step in addition to prayer to say, Here I am Lord, use me?
Partner with Us
Intercessors for America is the trusted resource for millions of people across the United States committed to praying for our nation. If you have benefited from IFA's resources and community, please consider joining us as a monthly support partner. As a 501(c)3 organization, it's through your support that all this possible.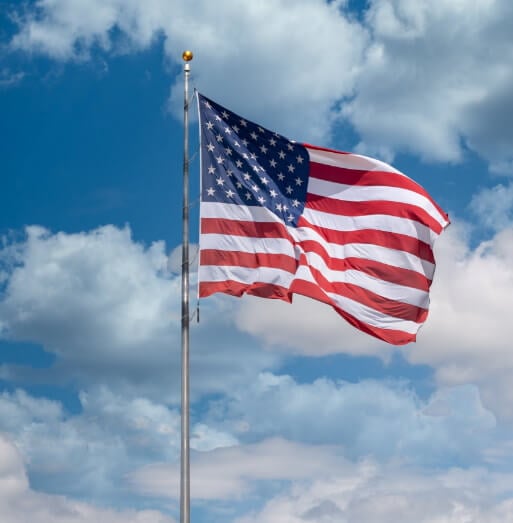 Become a Monthly Partner