God Speaks in the Hurricane
Angela Rodriguez, IFA Contributing Writer
|
October 6, 2022
God Speaks in the Hurricane
Angela Rodriguez, IFA Contributing Writer
|
October 6, 2022
I Prayed
have prayed
Lord Jesus, the radar of this world shows constant storms and hurricanes. Certainly, we can prepare our homes, but more importantly, help us prepare our hearts. Give us shelter and peace in your strong arms.
Living in Florida my whole life, I've seen my share of storms and hurricanes. By now, I should be used to it. Nevertheless, each time I spy a new one on the radar, a wave of anxiety stirs up within me. What do I worry about? Oh, the usual things–my house, roof, pets, cars, losing power, no air conditioning, downed trees, flooding, and whatever else pops into my head. God has carried me through many rough storms, so why do I fret each time I hear the words hurricane and Florida mentioned together in a sentence?
View Comments (44)
The Lord is certainly gracious—even with my doubts, He provides encouragement as the eye of the storm is bearing down. When Hurricane Ian began making its way toward Orlando, I had no idea the Lord would use something so small to teach me something really big.
The Little Fig Tree that Could
A few days before the storm arrived, my husband pointed out a juicy fig that had formed on the very top of our fig tree. Noticing it wasn't ripe, he suggested leaving it on the tree for a week or two. As Hurricane Ian approached Orlando on September 28, 2022, I started thinking about the fig tree and wondered if it would be damaged by the high winds of the storm. The thought crossed my mind that I should go and pick that little fig at the top of the tree before the storm barreled through. But as I made my way toward the tree something stopped me in my tracks. The still small voice of the Holy Spirit whispered, "The little fig will hold on during the storm." The Holy Spirit's message reminded me of the story called the The Little Engine that Could. I decided to take a picture of the fig on the tree before the hurricane. If the fig was still there after it passed, I would take another photo as a reminder of the message.
Before the storm hit, I also placed a printed copy of Psalm 91 on the back porch, which was close to the fig tree and several other trees in the backyard. This is my favorite psalm of protection and I figured it was a great reminder that no matter what happened, God's mighty wings would surround my home.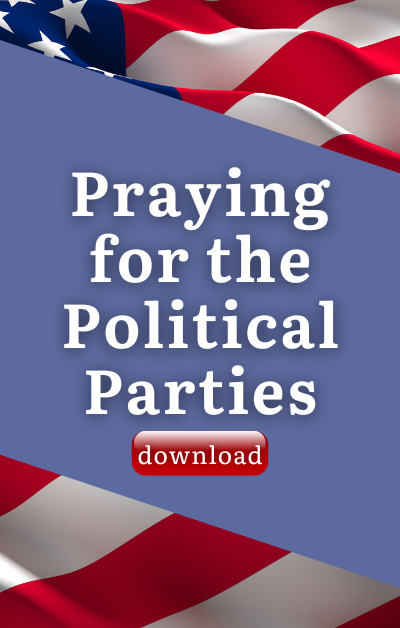 The storm hit early in the evening and right away I could see gusts of wind battering the fig tree. Hours and hours went by as the tallest branch with the fig dangling from it endured powerful gusts and constant pounding rain. But through it all, that little fig kept hanging on. By 4 a.m. the winds were intensifying and I thought, "Surely this is the end for the little fig." At that point, however, I couldn't see through the hammering rain. I decided to go to sleep.
When I woke up three hours later, the winds were still howling, but had slowed down. From the back sliding door, I had a clear view of the fig tree. And guess what? The little fig was still holding on. I couldn't believe it!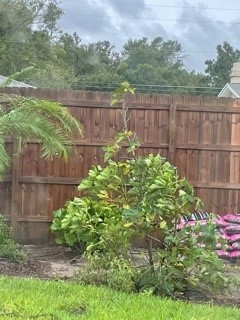 As I walked out to the back porch, I noticed the printed copy of Psalm 91 I had placed there before the storm. It was wet and torn, but still readable.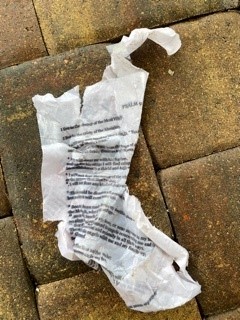 In that moment I knew the Lord had taught me something quite valuable and it was no coincidence that the Holy Spirit urged me to pay attention to the that little fig, as well as print out the copy of Psalm 91.
What I learned through this experience will change the way I view disasters and difficult situations in my life. Firstly, seeing that little fig being battered by the winds and rain reminded me of how life can be full of storms and hurricanes. Some days, it seems we cannot bear what we are dealing with, whether it be a situation with a family member, or the never-ending fight for our nation and its core values. A one hundred mile-per-hour gust hits us in the face, nearly knocking us to the ground. Through it all, the Lord reminds us to be like the little fig that braced itself to the tree. In the same way, we must brace ourselves when our lives and the world become turbulent. The word brace means to get ready for something which could be difficult or unpleasant by providing added physical support or strength. Middle English describes brace as clasping or fastening tightly. In French, however, the word brace comes from bracier, which means to embrace. This word derives from braciere, which refers to a lining of armor that protects the arm. But even more telling is that in Latin, the word brace is related to bracchia, which means arm.
Before the storm was on the weather radar, the Holy Spirit brought the story of the Exodus to mind. After studying the Ten Plagues, as well as God's amazing rescue of the Israelites in Egypt, there was an important phrase I noticed that was repeated within the text: I will redeem you with an outstretched arm (Exodus 6:6).  Throughout this story of deliverance, the Lord's powerful outstretched arm or hand was used to show that God was in complete control and it was HE who would do the saving.
The human arm is often used in scripture to show spiritual power and strength. Yet the source of strength is not in human power, but in Almighty God. There are more than 40 verses that attest to God's powerful arm. This is revealed beautifully in Isaiah 53, where Jesus is described as the suffering Messiah who would die on the cross. It begins: And to whom has the arm of the Lord been revealed…he was pierced for our transgressions; he was crushed for our iniquities; upon him was the chastisement that brought us peace,  and with his wounds we are healed (Isaiah 53:1,5). These verses show that God bears His arm by delivering us through his Son Jesus. He not only bears our punishment, but he also takes on the storms that attempt to wreak havoc in our life.
The little fig held on despite the powerful blasts of wind–despite the stinging rain. It held on tightly to the branch at the top of the fig tree. Likewise, Jesus is referred to as the Righteous Branch. We can brace ourselves to Him.
Behold, the Lord God comes with might,  and his arm rules for him; behold, his reward is with him…He will tend his flock like a shepherd; he will gather the lambs in his arms; he will carry them in his bosom (Isaiah 40:10-11).
In these difficult times, the Lord will carry us. His ARM is mighty to save. The battered and torn copy of Psalm 91 that lay on my porch after the storm attests to this and even reminds us to hold fast (brace ourselves) to Jesus.
Because he holds fast to me in love, I will deliver him; I will protect him, because he knows my name. When he calls to me, I will answer him; I will be with him in trouble; I will rescue him and honor him. With long life I will satisfy him and show him my salvation (Psalm 91:14-16).
Hurricane Ian brought widespread flooding and severe damage to homes, cars, and buildings. Additionally, many of us were without electrical power during the storm, but with Jesus to hold on to, we weren't truly powerless. Like "the little fig that could," we had to hold on tight and ride out the storm. Afterward, we must press on all the more, relying on Jesus to provide what is needed to thrive and survive.
A few days after the storm my son found a beautiful cockatiel outside on the branch of a tree. Likely, he was someone's lost pet. Perhaps he accidentally flew away before or after the storm. My son gently picked him up and gave him safe shelter inside the house. Exhausted, thirsty, and hungry, the bird eagerly received the food and water my son gave him.
The bird that needed rescue reminded me of Psalm 91:4. He will cover you with his feathers, and under his wings you will find refuge. Then verse 5 says, you will not fear the terror of the night, nor the arrow that flies by day. In this dark world of storms, pandemics, and lawless governments, we can rest assured that the strong arm and hand of the Lord is fastened tightly to us, providing nourishment and safe shelter. Interestingly enough, the last word in Psalm 91 is salvation. This is quite revealing because Jesus' name means salvation.
Yes, the world is out of control, but He is not. The arms of Jesus are perfectly stable and able to SAVE. In disasters, floods, and everyday tribulations, be the "little fig that could" and stand firm with Him.
Prayer Point: Lord, we know the storms and hurricanes of life wear us down with torrents of wind and rain. But even in the flood, you will reach out with your mighty hand so we can take hold of it and be pulled to safety. We trust your sovereignty over all situations.
Are you encouraged? Please share this article with a friend.
Angela Rodriguez is an author, blogger and homeschooling Mom who studies the historical and biblical connections between Israel and the United States. You can visit her blogs at 67owls.com and 100trumpets.com. Her latest book, Psalm 91: Under the Wings of Jesus, was released in June 2021. Photo Credit: Jametlene Reskp on Unsplash.
Partner with Us
Intercessors for America is the trusted resource for millions of people across the United States committed to praying for our nation. If you have benefited from IFA's resources and community, please consider joining us as a monthly support partner. As a 501(c)3 organization, it's through your support that all this possible.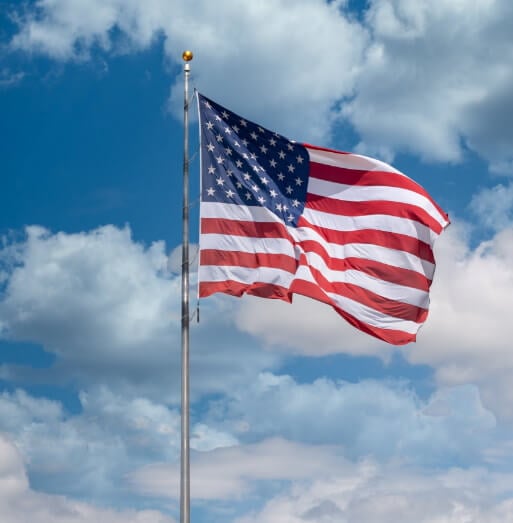 Become a Monthly Partner
You can post a prayer to share with others.
Christine S
October 8, 2022, 7:40 pm
Lord Jesus, the radar of this world shows constant storms and hurricanes. Certainly, we can prepare our homes, but more importantly, help us prepare our hearts. Give us shelter and peace in your strong arms.
Alan V
October 7, 2022, 7:04 am
Lord Jesus, the radar of this world shows constant storms and hurricanes. Certainly, we can prepare our homes, but more importantly, help us prepare our hearts. Give us shelter and peace in your strong arms. Guide us in the spiritual storms, may we fight by prayer. You, O Lord are the victory. Amen.
Dianna P
October 7, 2022, 5:53 am
Lord Jesus, the radar of this world shows constant storms and hurricanes. Certainly, we can prepare our homes, but more importantly, help us prepare our hearts. Give us shelter and peace in your strong arms.
Priscilla M
October 6, 2022, 9:13 am
Lord Jesus, the radar of this world shows constant storms and hurricanes. Certainly, we can prepare our homes, but more importantly, help us prepare our hearts. Give us shelter and peace in your strong arms. Thank you Father God for such beautiful words from a True Faith believer. The words were so simple but powerful, her favorite Scripture to turn to was Psalms -91 as is one of my favorites Psalms-91 I want to share for others to read to prepare for any storms ahead in their lives. Psalms - 91 1 Whoever dwells in the shelter of the Most High will rest in the shadow of the Almighty.[a] 2 I will say of the Lord, "He is my refuge and my fortress, my God, in whom I trust." 3 Surely he will save you from the fowler's snare and from the deadly pestilence. 4 He will cover you with his feathers, and under his wings you will find refuge; his faithfulness will be your shield and rampart. 5 You will not fear the terror of night, nor the arrow that flies by day, 6 nor the pestilence that stalks in the darkness, nor the plague that destroys at midday. 7 A thousand may fall at your side, ten thousand at your right hand, but it will not come near you. 8 You will only observe with your eyes and see the punishment of the wicked. 9 If you say, "The Lord is my refuge," and you make the Most High your dwelling, 10 no harm will overtake you, no disaster will come near your tent. 11 For he will command his angels concerning you to guard you in all your ways; 12 they will lift you up in their hands, so that you will not strike your foot against a stone. 13 You will tread on the lion and the cobra; you will trample the great lion and the serpent. 14 "Because he[b] loves me," says the Lord, "I will rescue him; I will protect him, for he acknowledges my name. 15 He will call on me, and I will answer him; I will be with him in trouble, I will deliver him and honor him. 16 With long life I will satisfy him and show him my salvation." Put these words in your heart to meet God in his sheltered Arm. Be blessed