Eric Clapton, Hypnosis, and Spiritual Warfare
David Kubal, IFA President/CEO
|
February 5, 2022
I Prayed
have prayed
We ask You, Father God, to protect our minds and thinking, individually and in our nation. We ask You to release us and our nation from the deceiving spiritual powers that would desire to control.
The great blues/rock guitarist Eric Clapton broke from the usual entertainment industry parroting of mainstream media messaging after hearing about the concept of mass hypnosis. I believe his statement, recorded in a recent Real Music Observer interview, is a prophetic quote:
"I started to realize there was really a…guy, Mattias Desmet [professor of clinical psychology at Ghent University in Belgium], [who] talked about…the theory of mass formation hypnosis. And I could see it then. Once I kind of started to look for it, I saw it everywhere."

View Comments (164)
Not only did this statement contradict the mainstream, but also raised to a higher level the concept of "mass hypnosis." This secular concept describes a spiritual condition I have been talking about for months. Our nation – and many nations – have fallen under the influence of a deceptive spirit in ways we have never seen (see my article from May, 2021). Clapton referred to a centuries-old theory sometimes called "mass formation psychosis."
I researched people who developed this theory and investigated the following question: why do large numbers of perfectly intelligent people believe bizarre ideas and commit incredible atrocities?
My research uncovered a fairly consistent process:
An event that creates anxiety and fear;
Isolation of individuals;
Authority figure (leader or government) offers a solution;
Repetition of a constant, controlled message of why people should be anxious, coupled with the specific, particular message of the group narrative.
Censorship of any information or questioning of the "approved" message.
To quote Mattias Desmet,
"If under… conditions a narrative is distributed through the mass media which indicates an object of anxiety and provides a strategy to deal with this object of anxiety, then all the free floating anxiety might be associated to this object and a huge willingness might be observed to participate in the strategy to deal with the object of anxiety."
This process of isolation, daily bombardment of anxiety and fear, along with the presentation of only the endorsed truth, creates an environment where people begin to lose the ability to see lies and think for themselves. As the level of fear and anxiety is ratcheted up, those "hypnotized" become more and more committed to the leader or government's solution, creating zealous individual propogandists in every corner. These zealots become very passionate and as a group devise effective ways to work together. They increasingly become unable to see beyond the lies and think for themselves. Their passion and arrogance are blinding. They will become intoxicated by any authority.
As I was reading about this, the Lord seemed to trigger this thought: "Dave, this is how territorial spirits gain control of areas." This makes such perfect sense! This is how spiritual warfare works its way out in the natural: spiritual forces of darkness using natural events to convince people to believe lies.
The Covid pandemic is the perfect scenario for mass hypnosis, for people across the globe to come under the spell of a grand illusion. Step one: A very real virus with unknown effects. Step two: a world forced into isolation. All of us were scared and afraid to some degree. We were isolated. We looked for a cure from the experts. Step Three: The "experts" become tremendously powerful authority figures. Step Four: The media bombards us with messaging of fear and anxiety every day. News outlets, such as CNN, used fear to drive traffic.
Step five: Censorship of alternative messages. Joe Rogan, one of the most popular podcasters in the world, hosted an episode on the pandemic with a guest who contradicted and questioned the mainstream narratives. Demands to ban Rogan from Spotify topped the news for days.
Green Bay Packers Quarterback, Aaron Rodgers, described this process when he tweeted, "If science can't be questioned, it's not science anymore; it's propaganda and that's the truth."
Studies of mass hypnosis indicate 30% of a population group will become brainwashed by the indoctrination, 40% will be persuadable, and 30% will fight the narrative. Does this ring true to you as you consider what's happening in the world today?
Let's look at this with spiritual eyes:
Spiritual forces use natural occurrences to increase their territorial influence.
The theory of mass hypnosis is a secular description of a spiritual battle.
We are seeing people come out from under this hypnotic spell.
How can we accelerate this process of coming out of this "hypnotic" (deceived) state? (Download this as a prayer guide.)
1.Personally pray God would reveal the truth to you.
Scripture is clear. There is a structured authority of spiritual forces attempting to bring us into captivity. The power of God is more than able to protect us from these forces and to reveal the truth of circumstances to us. We can choose to cooperate with the work of the Spirit, who leads us into all truth (Jn 16:13).
Pray through the following scripture:
See to it that no one takes you captive through hollow and deceptive philosophy, which depends on human tradition and the elemental (structured) spiritual forces of this world rather than on Christ. (Col 2:8)
Lord, I am relying on the power of your Holy Spirit to protect me from the spiritual forces attempting to deceive me. I rely upon the promises of scripture as I seek you for the truth.
2. Fast and pray for our nation.
Daniel provides a great example for us as we pray for our nation. In Daniel 10:2, we read that he was greatly concerned about the nation he lived in, so he fasted (the original Daniel Fast) and prayed:
I, Daniel, was mourning three full weeks. I ate no pleasant food, no meat or wine came into my mouth, nor did I anoint myself at all, till three whole weeks were fulfilled.
For an extended period of prayer and fasting, he saw no results. Then he experienced breakthrough. An angel appeared before Daniel (verses 12-13 and 18-19):
[F] rom the first day that you set your heart to understand, and to humble yourself before your God, your words were heard; and I have come because of your words. But the prince of the kingdom of Persia withstood me twenty-one days; and behold, Michael, one of the chief princes, came to help me, for I had been left alone there with the kings of Persia. . . [O]ne having the appearance of a man touched me and strengthened me. And he said, "O man greatly loved, fear not, peace be with you; be strong and of good courage." And as he spoke to me, I was strengthened . . .
From this passage in Daniel we learn a method to pray for nations under spiritual oppression. Each point is hyperlinked to an IFA resource offering more help and encouragement.
1. Set your heart to understand God's ways.
2. Humble yourself before God.
3. Fast. (IFA Founder Derek Prince taught that fasting is one of the ways to humble yourself before God.)
4. Pray with perseverance.
5. Receive strength from the Lord.
3. Pray for release from the spirits that desire to control.
As we pray for protection, individually and for our nation as a whole, let's pray for the release from the deceiving spiritual powers that would desire to control.
The truth is that, although of course we lead normal human lives, the battle we are fighting is on the spiritual level. The very weapons we use are not those of human warfare but powerful in God's warfare for the destruction of the enemy's strongholds. Our battle is to bring down every deceptive fantasy and every imposing defense that men erect against the true knowledge of God. We even fight to capture every thought until it acknowledges the authority of Christ. (2 Cor 10:5 PHILLIPS)
4. Fuel your mind with God's truth that displaces deception.
The more familiar we are with God's Word, the more we can instantly arm ourselves with truth when lies and deception come our way. Speak the truth. Proclaim the scriptures that defeat the lies and deception we see around us. There is power in proclaiming God's Word aloud. Remember to suit up daily with the armor of God, as Ephesians 6:11-18 tells us to do.
Finally, be strong in the Lord and in his mighty power. Put on the full armor of God, so that you can take your stand against the devil's schemes. For our struggle is not against flesh and blood, but against the rulers, against the authorities, against the powers of this dark world and against the spiritual forces of evil in the heavenly realms.

Therefore put on the full armor of God, so that when the day of evil comes, you may be able to stand your ground, and after you have done everything, to stand. Stand firm then, with the belt of truth buckled around your waist, with the breastplate of righteousness in place, and with your feet fitted with the readiness that comes from the gospel of peace. In addition to all this, take up the shield of faith, with which you can extinguish all the flaming arrows of the evil one.

Take the helmet of salvation and the sword of the Spirit, which is the word of God.

And pray in the Spirit on all occasions with all kinds of prayers and requests. With this in mind, be alert and always keep on praying for all the Lord's people.
I believe that God is speaking to you, intercessors all across America, and around the world, about what is happening. Please share your insights in the comments.
(Article by David Kubal, IFA President/CEO. Photo by MK Hamilton on Unsplash.)
Partner with Us
Intercessors for America is the trusted resource for millions of people across the United States committed to praying for our nation. If you have benefited from IFA's resources and community, please consider joining us as a monthly support partner. As a 501(c)3 organization, it's through your support that all this possible.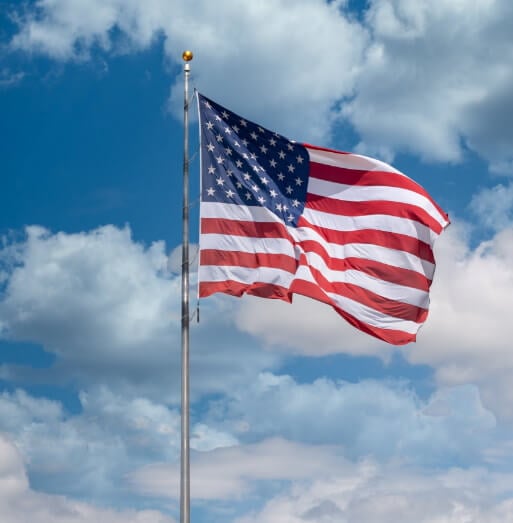 Become a Monthly Partner
You can post a prayer to share with others.
Rome B
February 14, 2022, 11:22 am
Our OMNIPOTENT Abba Father, we ask that a hedge of protection to protect our minds and thinking, individually and in our nation. We plead the Precious BLOOD of the LORD JESUS to cover us. We bind the strongman of lying and deceiving spirits and release us and our nation from the deceiving spiritual powers. We resist the demonic powers that would desire to control us. Greater is HE (HOLY SPIRIT) that is in us than satan & his cohorts) that is in the world. In HIS Awesome and majestic NAME- JESUS. Amen...
Erika K
February 14, 2022, 7:16 am
Would you please help us, Father, to constantly be alert and walk in spirit, so that dark spiritual powers cannot deceive us in any area of our lives. Thank you, Father, that you walk with us and protect us.
Alan V
February 6, 2022, 8:32 am
We ask You, Father God, to protect our minds and thinking, individually and in our nation. We ask You to release us and our nation from the deceiving spiritual powers that would desire to control. The media narrative is led by Baal, reporters are the priests and opinion writers the prophets. O Lord, that many would repent!
De D
February 5, 2022, 9:08 pm
We ask You, Father God, to protect our minds and thinking, individually and in our nation. We ask You to release us and our nation from the deceiving spiritual powers that would desire to control.
De D
February 5, 2022, 9:08 pm
Father in Heaven, We thank You for Your many blessings, even in the midst of trials. We ask for Your protection of Your Church from the fear and manipulation that permeates our culture and seeks to conceal and destroy Your Image by the destruction and concealment of Your image bearers. We pray that You would "pass over" those in Your Body who have succumbed to the pressure to take into their bodies any substance which the enemy would use to destroy them, protect those who have or will become infected with the virus or variants that they may give testimony of Your provision in their recovery. Father we especially ask Your mercy with regard to masking (covering & concealing Your image) and isolation (disunifying) policies that destroy the relational "Body" connections that are so vital to life and growth. Speak to Your church through its leaders to stand firm to promote the imago dei and the unifying relationships which are so important to the survival and readiness of Your Bride. Conform us to Your will, O Lord. Amen.
Ellen H
February 5, 2022, 5:11 pm
Oh father, once again we come to You. You are a Loving, Caring and Righteous God! We know You are who You say You are as reveled to us in Your living Word. We know, our enemy the devil desires to kill, steal and destroy (anyone and everyone that he can). We are being led and lied to by many whom we voted into power, who are being used by our enemy to defeat You. Please God, remove the veils, restore righteous thinking, defeat our enemy in the spiritual realms! Use Your people mightily. Please Lord, you are the author and finisher of our faith, give us the faith we need to move these mountains! We believe You can!! We know You have plans to prosper (your people) and not to not harm us, to bring us hope and a future. Help guide us to stand where we should, give us discernment to understand Your will for the situations we find ourselves in. We know the ending from the beginning, but we must do our part! Inspire us to be used to bring a great awakening or revival. Lord help us to replace apathy with Your Agape love. We must love people into the kingdom. We must pray, but we should not clean a house unless it will be filled by You! Fill us (Your people) to overflowing with Your Holy Spirit! Help us to be ready to retake ground we have surrendered. We know this will not be easy but we're in it for the long haul! Bless our country again!
Christine S
February 5, 2022, 12:43 pm
Jesus Christ, and Father God, only You can break our minds free from the hypnosis of the devil, thank You for using specific celebrities as Your mouthpiece and Your voice, giving them such a broad platform around the world.