Encouragement: Capitol Hill Staffers Pray God's Heart for Government
Casey Harper, IFA Contributing Writer
|
March 19, 2022
Encouragement: Capitol Hill Staffers Pray God's Heart for Government
Casey Harper, IFA Contributing Writer
|
March 19, 2022
I Prayed
have prayed
Lord, we pray that You would continue to raise up Christian leaders in our nation For those who aren't Christian, God, move in their hearts and bring them to You.
The prayer connection between the prayer warriors with Intercessors for America and the Christians in Washington, D.C. is growing stronger and stronger. The influential Christians in Washington have been asking me for your prayers! Be encouraged, and stay faithful in this crucial intercession.
For this week's column, I spoke with a prophetic prayer warrior working in the House of Representatives. This staffer is part of a weekly prayer meeting on Friday mornings among Capitol Hill staffers that is calling the Kingdom of God into the legislative branch and beyond.
View Comments (37)
I don't know about you, but this gives me hope for our nation.
From my source:
A small group of Hill staffers gather together in various House and Senate offices each Friday to pray for our nation, our nation's leaders and our coworkers. Throughout our prayer time, we are consistently drawn back to praying for our coworkers' identities not to be in the work they do, or the feeling of "power" that can come from working in a place like Congress. We are praying they would encounter the love of Father God that would shatter the broken cisterns to which they have been turning. We have been praying against apathy for our brothers and sisters in Christ and for those who do not know Jesus to taste and see his goodness – and ultimately, give their lives to him.
We also pray for creative, strategic policy solutions for the problems burdening our nation. While these deep-rooted problems can easily overwhelm us, we know they are not too big for God.
We pray for unity among our leaders knowing that a house divided cannot stand. We pray that our leaders would see each other through the eyes of Jesus – eyes of love and compassion.
We have been praying that Hill staffers would not see people through the lens of their "party," but that we would see each other in love.
And we pray for hearts of repentance in the Capitol – from every intern to every Member of Congress – that would lead to revival breaking out in the halls of Congress.

Be encouraged!
I was encouraged that these prayer themes are similar to those we have often prayed for in through this column:
-New identity and revival among those in D.C.
-Strategic policy solutions.
-Kingdom vision and wisdom for our leaders.
This kind of Spirit-led unity in prayer should encourage every reader of Intercessors for America. You are aligned with God's prayer plan for Washington, D.C. and for our nation! From myself, and the other Kingdom warriors in D.C., keep up the good work!
With that in mind, let us pray:
-Father, we pray for this group of praying Capitol Hill staffers! Strengthen, encourage, and bless them! Keep them abiding in your Presence, strong in community, and in love with your Word. Please bless their efforts and grow their numbers with like-minded believers.
-Lord, we join those staffers in praying for divine, strategic solutions to our nation's problems. We pray for your heavenly wisdom and ingenious ideas to come into all areas of society: the economy, fiscal policy, foreign policy, energy, inventions, education, healthcare, small business, regulations, and more!
-Jesus, you are the King of kings. Give our leaders and earthly "kings" the eyes to see the world the way you do. Give Kingdom vision to our leaders, both local and national, that they see the people they lead as image-bearers and turn to you for your wisdom to solve our country's problems.
Verses to press into as you intercede on this issue:
"If my people who are called by my name humble themselves, and pray and seek my face and turn from their wicked ways, then I will hear from heaven and will forgive their sin and heal their land." (2 Chronicles 7:14)
"The king's heart is a stream of water in the hand of the Lord; he turns it wherever he will. Every way of a man is right in his own eyes, but the Lord weighs the heart. To do righteousness and justice is more acceptable to the Lord than sacrifice." (Proverbs 21:1-3)
Are you encouraged by this news? Share your own prayers for our nation below!
Casey Harper is a writer in the Washington, D.C. area covering national politics. He has worked for The Daily Caller, The Hill, and Sinclair Broadcast Group. A graduate of Hillsdale College, Casey's work has also appeared in Fox News, Fox Business, Washington Examiner, and USA Today. Follow him on Twitter: @CaseyHarper33. Photo Credit: Louis Velazquez on Unsplash 
Partner with Us
Intercessors for America is the trusted resource for millions of people across the United States committed to praying for our nation. If you have benefited from IFA's resources and community, please consider joining us as a monthly support partner. As a 501(c)3 organization, it's through your support that all this possible.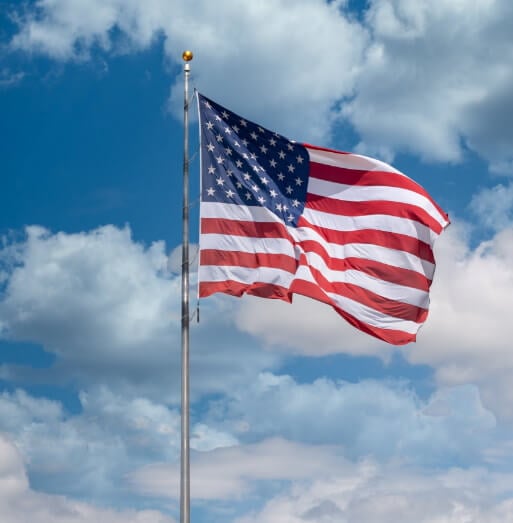 Become a Monthly Partner
You can post a prayer to share with others.
Sue T
March 19, 2022, 11:53 am
Lord, we pray that You would continue to raise up Christian leaders in our nation For those who aren't Christian, God, move in their hearts and bring them to You.
Gretchen C
March 19, 2022, 10:13 am
2 Corinthians 5: 17-20(NAS)"Therefore if anyone is in Christ, he is a new creature; the old things passed away; behold, new things have come. Now all these things are from God, who reconciled us to Himself through Christ and gave us the ministry of reconciliation, namely, that God was in Christ reconciling the world to Himself, not counting their trespasses against them, and He has committed to us the Word of reconciliation. Therefore, we are ambassadors for Christ, as though God were making an appeal through us; we beg you on behalf of Christ, be reconciled to God." Lord, we pray that those who work in D.C. will shed the old things and be reconciled to You, Father; to identify as Your children; that they would come to You, Father, for strategic solutions to policy issues, and that they would seek and gain kingdom vision and wisdom, in Jesus' name, amen.
Alan V
March 19, 2022, 9:38 am
Lord, we pray that You would continue to raise up Christian leaders in our nation For those who aren't Christian, God, move in their hearts and bring them to You. Use leaders, as You do to accomplish Your work. We do not always understand the works, but we know who is working.