DAVE KUBAL: THE URINALS ARE COMING DOWN
Dave Kubal, IFA President/CEO
|
August 21, 2021
I Prayed
have prayed
Lord, show us how You want us to respond to the needs around us. Help us to see things through Your eyes, to have Your heart, and to see Your glory!
The urinals are coming down. 
I can't believe I just typed those words as the first five words of an article I am writing! In our local middle school (in the small Virginia town where Intercessors for America is located), contractors are removing all the urinals from the men's bathrooms. Why? Because, supposedly, there are too many men without male genitalia who are offended by urinals. 
View Comments (41)
I can't believe I just typed those last nine words.  
And to make matters even worse, the signs on the bathroom doors denoting "male" or "female" will be taken down. 
This decision comes in the wake of Loudoun County School Board last week passing Policy 8040 which states: 
"LCPS staff shall allow gender-expansive or transgender students to use their chosen name and gender pronouns that reflect their gender identity without any substantiating evidence, regardless of the name and gender recorded in the student's permanent educational record…staff or students who intentionally and persistently refuse to respect a student's gender identity by using the wrong name and gender pronoun are in violation of this policy."  
This policy caused much controversy in Loudoun County. Parents have been arrested, teachers have resigned, protests have occurred, recall petitions have been signed, lawsuits have been filed. The school board has even closed board meetings to the general public and restricted the number of speakers in a vain attempt to limit the outrage. 
In the midst of this, let's remember that we are all made in the image of God – male and female. As God declares it in Genesis 1:27 and 31, "It is indeed good." Unfortunately, some people are not comfortable being a male or female. The pain this gender dysphoria causes them is real and needs to be treated with grace and compassion, with a focus on encouraging them to be all that God desires them to be. 
According to the Center for Disease Control and Prevention, the percentage of Americans struggling with gender dysphoria is .3%. One million out of 332 million of America's inhabitants are transgender.  
ONE-THIRD OF ONE PERCENT.  
Watching the news or listening to the debates at school boards would lead you to believe the number is more! Astronomically higher in fact. 
Now, because of .3% in Loudoun County: 
46,000 junior high and high school students were given permission, by the school system, to believe they may not be a male or female as their chromosomes have determined by God's design. 

 

23,000 young women will be required to share a bathroom and locker room with young men.

 

Thousands of young women's positions on teams are now in jeopardy by men who are now allowed to participate in female sports on female teams.

 

These school bathrooms may now become the scene of sexual assault and sexual immorality in ways that will mark the lives of these young men and women forever.

 

Teachers will have to remember a person's desired pronouns or other "gender-expansive" terminology (I must confess, I have never heard this term, nor do I know what it means).

 
This is a form of institutional, systemic discrimination as hundreds of thousands of taxpayers' dollars are now being used to address the desires that go against 99.7% of the student population. 
So, what are we to do? God is calling us to focused and steadfast pray!
Please download my new prayer resource: "Praying for Liberty" to guide your personal prayer life in this day. You will see 2 Corinthians 3:17 applied in a way that will help you understand our world today in a new light. 
Here are some points to guide your prayers:
Prayer Point #1: Pray that Believers will ENGAGE regardless of the outcome or popularity of their views. Pray that those being called to serve in the public sector will OBEY. The Church needs to support people who sense this calling and are pursuing it. There are hundreds of thousands of Believers ministering in the civil arena but are not recognized or supported by their local church. Churches MUST embrace this new form of ministry that utilizes laws, civil suits, public office, etc. to extend God's values into our culture. The days of simply focusing on what happens within the four walls of the church are over if we desire to see "His Kingdom come on earth just as it is in heaven." 
Prayer Point #2: Pray that God will raise up Christian lawmakers who have a vision to write legislation that results in the implementation of biblical values. For inspiration and information, please consider utilizing the American Legislative Exchange Council. This is a trusted source of legislative examples that can be adopted and personalized for local groups such as school boards, city councils, etc. The Body of Christ has a place and tremendous potential in this work! God created government and has a design for it. Those called to this arena must seek divine revelation. 
Prayer Point #3: Pray about running for public office. The IFA constituency is mature and at a point in their lives when they might have more time than when they were younger. Or, at least pray about supporting those running for office who have biblical values. There is a fabulous discipleship series for lawmakers called Oaks in Office that could be considered as a discipleship tool, as well. Our nation's first Chief Justice, John Jay, said it well, "We should prefer Christian leaders."  
Dear intercessor, please do not be discouraged as you consider these times. God has chosen YOU at this significant point in history to be alive to make a difference in the challenges we are facing! So whether you are called to pray, to give, or to GO to the frontlines in one capacity or another–take your place to run the race the Lord has set before you. He has a wonderful plan for you. God's army is in place, and "with God all things are possible!" 
Has this been encouraging to you? Please share with a friend!
(Photo Credit: Jonathan Chng/UnSplash).
Partner with Us
Intercessors for America is the trusted resource for millions of people across the United States committed to praying for our nation. If you have benefited from IFA's resources and community, please consider joining us as a monthly support partner. As a 501(c)3 organization, it's through your support that all this possible.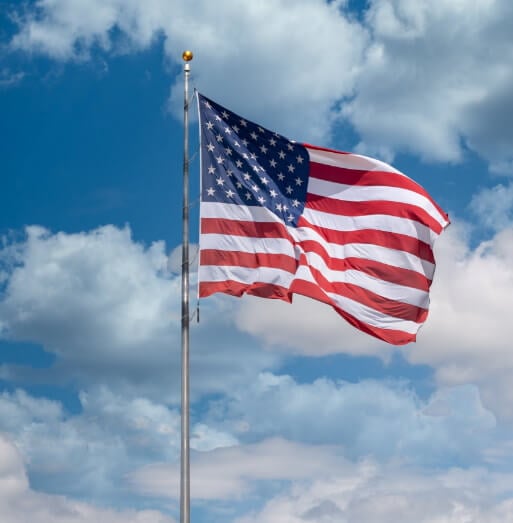 Become a Monthly Partner