INTERCESSOR IS AWAKENED BY POWERFUL DREAMS : A CLARION CALL TO THE CHURCH
Gloria Robles, IFA Contributing Writer
|
August 21, 2021
INTERCESSOR IS AWAKENED BY POWERFUL DREAMS : A CLARION CALL TO THE CHURCH
Gloria Robles, IFA Contributing Writer
|
August 21, 2021
I Prayed
have prayed
Lord, thank you for people who love you and who love spreading the gospel. Would you raise up bold and courageous leaders who are willing to go to the dark places to spread the light of Jesus.
Recently I was connected to a beloved Intercessor from Florida who shared her dreams with me. She explained that she has been a Christian her whole life; but 10 months ago was introduced to the Daily Audio Bible app. It gave her a way to be in God's word everyday. She loved the explanation, context, and prayer within the online community.  Since then, the Lord has poured out dreams, visions, and His voice in the night and she has graciously decided to share with Intercessors for America. I pray that every reader receives her dream as both a wake up call and an encouragement.
Her dreams began in January of 2021 when she decided to participate in a three day fast led by IFA. On the third day she was prompted by the Holy Spirit not to break her fast. It was supposed to be three days, but she kept feeling the urgency of the Spirit to press on in prayer and fasting. Three days eventually became three weeks. During this time and months following, she has received several dreams and encounters. Many are warnings, however they give hope and bring a clear message to the church to wake up.
View Comments (42)
Here is the context into her dream. During this time she and her husband were sending their kids to a Christian school. She was eventually  invited to be on the school board and she accepted. She began to be bothered by hearing secular worldviews and false teachings invading this Christian school.
At the same time, a church down the road from her, who has a history of church planting, did something dangerous. They hired a "woke" pastor. Here is the dream she shared.
"In my dream; I was in a room with the  pastor from our Christian school and the pastor from the church down the road.  There were others sitting at the table whom I didn't know.  I saw perversions and false teachings. I stood, raised my hands, and cast out the demons from the room. At that moment insects and snakes appeared on the ground and scattered.
I looked into a mirror and saw myself.  My face turned into a lion. 
I believe that there are so many false teachings in our churches today and His people need to be bold and stand firm in God's Word.  But so many christians; myself having been one of them most of my life; are not in the Word daily.  These subtle false teachings can be easily missed if we are not in God's Word.  God also came to me in a dream with His voice and clearly told me "Be Bold" This is what He wants for his Church!
"Many christians and leaders are scared to speak out against abortion, critical race theory, gender confusion ideology, unwilling to speak truth into the brokeness of the LGBTQ community for fear of being cancelled by the community, or their own congregation. They have let fear and pressure silence their voice when each of these issues aren't just political, these are biblical moral issues that we cannot ignore. We must ask the Holy Spirit to lead us into all truth."
 So Proverbs 28:1 has been a passage that has been my armor for the last 8 months."
The wicked flee though no one pursues, but the righteous are as bold as a lion.
(Prov. 28:1)
This is a clear word and warning to the church just as she shared in her dream.
There is much compromise in the body of Christ. Wokeism has invaded our schools, invaded the workplace, and now it's  invading the church. We must be bold against compromise and false teachings.
I believe the Lord gave her insight in this dream that we can learn from.
She saw the spirits behind the perversion and false teachings. When they were cast out their true form of insects and snakes appeared. Remember that we are in a spiritual battle for our families, friends, and this nation. We must be armored up and ready.
Put on God's whole armor [the armor of a heavy-armed soldier which God supplies], that you may be able successfully to stand up against [all] the strategies and the deceits of the devil.
 For we are not wrestling with flesh and blood [contending only with physical opponents], but against the despotisms, against the powers, against [the master spirits who are] the world rulers of this present darkness, against the spirit forces of wickedness in the heavenly (supernatural) sphere.
 Therefore put on God's complete armor, that you may be able to resist and stand your ground on the evil day [of danger], and, having done all [the crisis demands], to stand [firmly in your place].
(Eph. 6:11-13 AMPC)
When she looked in the mirror, she saw a lion. She had the boldness to lift her hands and cast out the spirits.
This is a beautiful picture of the authority that we have been given in Jesus Christ.
Look at these verses Jesus taught his disciples about authority.
One day Jesus called together his twelve disciples and gave them power and authority to cast out all demons and to heal all diseases.
(Lk 9:1)
Behold, I have given you authority to tread on serpents and scorpions, and over all the power of the enemy, and nothing will injure you.
(Lk. 10:19)
There were clear mandates given to the disciples, and put into practice in the early church.
And he said to them, "Go into all the world and proclaim the gospel to the whole creation."
These miraculous signs will accompany those who believe: They will cast out demons in my name, and they will speak in new languages.
They will be able to handle snakes with safety, and if they drink anything poisonous, it won't hurt them. They will be able to place their hands on the sick, and they will be healed."
Mk. 16:15-17
Go and preach the gospel.
This is the good news the world needs to hear. Jesus Christ came in the flesh, died for our sins, and arose victoriously.  Every follower of Christ must preach to the lost. This was Christ's passion and burden while He walked the earth. It is still his passion today to see the church winning souls. Every soul, every life is precious to God.
The signs follow the preaching
Notice how Jesus listed casting out demons, handling snakes, and healing the sick after preaching the gospel.
You may wonder, "What happened to the church? Where's the miracles? Where's the healing? Where's the deliverance?"
All of those wonderful things that confirm the preaching of the gospel message. I truly believe when the church goes back to preaching Jesus Christ and the true gospel, we will see his miracles, healing, and deliverance once more. Signs and wonders will always confirm God's message.
And they went out and preached everywhere, while the Lord kept working with them and confirming the message by the attesting signs and miracles that closely accompanied [it]. Amen (so be it).
(Mk. 16:20 AMPC)
I focused on this dream, however this Intercessor has had several dreams of Jesus appearing. In another dream she saw Jesus with his arms opened. She ran to Him, but was outran by a family member who ran into Jesus arms. This family member is not saved yet, but she rests in the promise that the family member will be saved one day.
In another dream Jesus appeared in the sky above the church before she woke up. However in this dream she expressed that the church was panicked and completely unprepared.
What a sobering dream! Church, are we unprepared? Examine your heart before the Lord and seek his face.
We know that it is true, Christ is coming for his church. We know that we are in fact in the last days Christ spoke of. However we cannot just sit back and wait for rapture and let the world burn.
We have people who need Jesus Christ desperately, whether they are aware of it or not. We have a lot of work to do.
And so I solemnly urge you before God and before Christ Jesus—who will someday judge the living and the dead when he appears to set up his Kingdom— to preach the Word of God urgently at all times, whenever you get the chance, in season and out, when it is convenient and when it is not. Correct and rebuke your people when they need it, encourage them to do right, and all the time be feeding them patiently with God's Word.
 For there is going to come a time when people won't listen to the truth but will go around looking for teachers who will tell them just what they want to hear.  They won't listen to what the Bible says but will blithely follow their own misguided ideas.
Stand steady, and don't be afraid of suffering for the Lord. Bring others to Christ. Leave nothing undone that you ought to do
(2 Tim. 4:1-5 LBT)
In the series of dreams the Lord has been giving her, she feels the overwhelming burden that Jesus Christ has for the lost. The Lord has also revealed through her dreams that deliverance is coming, but we need the power of His Holy Spirit.
Remember, in the book of Acts when the Holy Spirit was poured out on the church?
I think we focus on the tongues of fire, and heavenly languages and that's great but there's more.  They received boldness to be witnesses for Jesus.
The power of the Holy Spirit turned Peter from a fisherman who hid in fear, into a bold preacher who won 3,000 souls in one day. (See Acts 2:14-41)
The disciples asked for boldness
And now O Lord,  hear their threats, and give us, your servants, great boldness in preaching your word. Stretch out your hand with healing power; may miraculous signs and wonders be done through the name of your holy servant Jesus."
 After this prayer, the meeting place shook, and they were all filled with the Holy Spirit. Then they preached the word of God with boldness.
(Acts 4:29-31)
We are in a battle for this nation. We must win the lost. If it matters to Jesus, it should matter to us.
Charles Surgeon said it best,
"Consider how precious a soul must be, when both God and the devil are after it."
 Pray with me
Heavenly Father,
I come before you and repent. Forgive me when I've taken your grace for granted. Forgive me when I've stayed silent, when you've given me a voice. I come to you and I pray the prayer of the disciples, "listen to their threats, but grant us your servants great boldness to preach your word. Stretch out your hands with signs, wonders, and miracles once again.
Forgive your church for allowing compromise and doctrines of demons to invade it. I pray for Pastors, christians leaders, and all believers alike to exhibit great boldness and take a stand. As long as we stand up for you, we know that you will stand with us and we are not alone.
I pray for a fresh baptism of your spirit for those who have grown weary in the past months. I pray for a fresh baptism of courage and strength for the coming days.
Make me brave, to continually fight these spiritual battles for my family, friends, loved ones, for the church, and for the nation. Together we will win, because you already won on the cross and arose the Victor.
Now lift up your voice and give Him thanks and Praise.
Thank you for giving us authority.
Thank you for the power of your name that makes the demons tremble in fear. Thank you for our spiritual weapons. Thank you for the blood of Jesus that never loses power.
Thank you for giving us your word that gives up promises of hope.
Thank you for the angels that listen for the sound of your word as we quote the scriptures.
We praise you. You are enthroned over all. You are high and lifted up. You are victorious. You came and destroyed the works of the devil. We know that there is none like you who can bear his holy right arm, save, and deliver. Our eyes are on you. We take up the armor of God and stand firm. We choose to be aligned with your presence and your promises.
In Jesus name, Amen
How did this Intercessors dream speak to you? Do you sense the truth in her dreams?
(Article written by Gloria Robles. Photo by IStock)
Partner with Us
Intercessors for America is the trusted resource for millions of people across the United States committed to praying for our nation. If you have benefited from IFA's resources and community, please consider joining us as a monthly support partner. As a 501(c)3 organization, it's through your support that all this possible.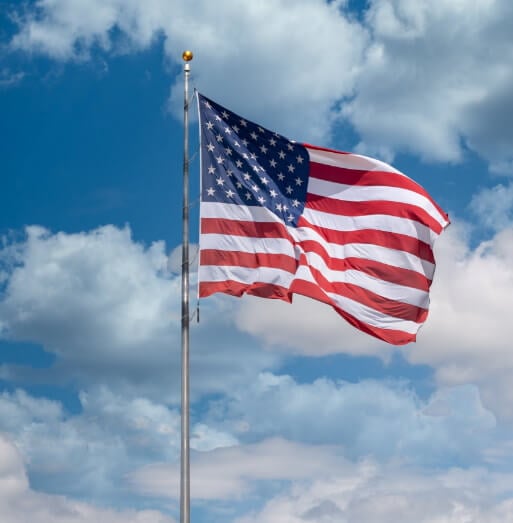 Become a Monthly Partner