ANSWERED PRAYER: STATE ELECTION AUDITS GAIN MOMENTUM
From Camille Solberg, IFA Legislative Director
|
August 21, 2021
ANSWERED PRAYER: STATE ELECTION AUDITS GAIN MOMENTUM
From Camille Solberg, IFA Legislative Director
|
August 21, 2021
I Prayed
have prayed
Father, we pray that You would give wisdom to all state leaders involved in pursuing forensic audits across the nation. We ask You to defend the integrity of every state's election results.
We are very close to the publication of the first forensic audit of a general election in the history of our nation! It is startling to think that protecting the integrity of our elections has never risen to the level of the public demanding accountability. Many businesses have to conduct an audit every year.  Unfortunately, for years people have turned a blind eye to "Chicago-style politics" and half joked about and accepted the corruption it represents in the integrity of running elections.  We will soon learn if Chicago-style politics has been exported to a state near you.
Soon America is about to see the results of its first forensic audit completed in Maricopa Country, Arizona's general election. One of the Arizona's champions of election integrity, State Senator Wendy Rogers, is actively promoting forensic audits in every state. Senator Rogers attended a Pennsylvania Audit the Vote rally this past week in which she conveyed, "Nobody is specialized in election audits–until now' #Wethepeople now have a blueprint for conducting audits, because of the audit in Maricopa County."
View Comments (23)
The Arizona Senate is now waiting for the draft report as early as Friday, August 20th, of the results of the election machines, ballots, and other voting material analyzed during the review. Arizona Senate President Karen Fann shared, "Confirming audit companies are preparing the draft report to present to the Senate team. The Senate team will then review for accuracy and clarity for final report which will be released publicly."
Other states are beginning to take election integrity seriously.  State Sen. Wendy Rogers issued a similar statement on Twitter: "Once Arizona delivers our prelim report, it is up to the rest of the states to do forensic audits and issue their reports. We need to keep pushing. Don't let big states like Florida, Texas, or Ohio slide."
Other states have joined with Arizona in seeking forensic audits.
Georgia State Elections Board recently voted on Wednesday to appoint a bipartisan panel to investigate Fulton County. According to Yahoo news, "the review board is assigned to conduct a full and thorough investigation of election equipment, registrations, elections, and compliance with state law. The board will then issue a report sharing its conclusions." Also, last week the Fulton County Elections Chief resigned according to Alive News.  Mr. Jones was one of the county officials at the State Farm Arena on election night. In a press release, the ACLJ explained they filed an amicus brief  filed on behalf of more than 647,000 of our supporters and 57 Members of Congress. "The brief emphasized the substantial constitutional authority of Georgia, and other states, to protect the integrity of their elections. The brief explained that the Constitution's Elections Clause (Art. I, § 4, Cl. 1) provides that state legislatures, not the President or his Administration, have the primary responsibility and authority to regulate the times, places, and manner of holding elections."
This brief was in response to the Biden Administration's case against the State of Georgia that challenges certain provisions of the State's election reform law (Senate Bill 202) that was enacted earlier this year.
In Michigan last Monday, a team of attorneys, elections experts, and local candidates announced their plan to carry out a full forensic audit for the state of Michigan. They want a bill that defines what a full forensic audit is and what it would accomplish. The bill will consist of a bipartisan audit board to review the 2020 election and identify corrective action to improve Michigan's election processes. The group is asking for 350,000 signatures for the Citizen's Initiative Petition in order to present this to the Board of Canvassers. They are hoping the Board of Canvassers approves the initiative so it can go to the House and Senate for a vote.
Wisconsin's Assembly election committee ordered subpoenas on election materials from two counties for an investigation of the state's 2020 presidential elections.
Pennsylvania State Senator Doug Mastriano has been calling for an election audit. In July, Mastriano submitted a forensic investigation request for records from three counties: York, Tioga and Philadelphia.
The Epoch Times reported on an Indianapolis-based Public Interest Legal Foundation (PILF) which published a report that found nearly 5 million mail-in-ballots unaccounted for in the 2020 election. Here is their research brief. According to the report and the article in the Epoch Times, there were many counties across the nation that had many "unknown" ballots. It shows that in California, Los Angeles County had 1,491,459 such ballots, followed by Orange County (482,940), Riverside County (454,911), San Diego County (317,614), San Bernardino County (274,937), Santa Clara County (251,840), and Sacramento County (241,367). In Nevada's Clark County, there were 724,708 unknown ballots. Essex County, New Jersey, had 248,290 unknown ballots, and Maricopa County had 229,123 unknowns.
To access the IFA Special Report on Election Integrity, click here.
Be sure to visit the new Pray for America's Leaders website to pray for your state leaders and those from all over the nation!
And join us live on Tuesdays and Thursdays at 12:15 pm ET —IFApray.org/LIVE or (713) 775-7430.
How are you praying about the first forensic audit? Please share in the comments section.
(Camille Solberg is IFA's Legislative Director. Photo Credit: Elijah Nouvelage/Getty Images).
Partner with Us
Intercessors for America is the trusted resource for millions of people across the United States committed to praying for our nation. If you have benefited from IFA's resources and community, please consider joining us as a monthly support partner. As a 501(c)3 organization, it's through your support that all this possible.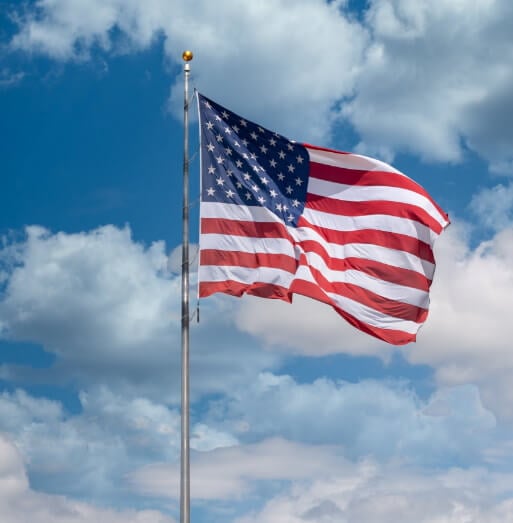 Become a Monthly Partner