BANNER WEEK FOR STATES AND ELECTION INTEGRITY
Camille Solberg, IFA Legislative Director
|
July 17, 2021
BANNER WEEK FOR STATES AND ELECTION INTEGRITY
Camille Solberg, IFA Legislative Director
|
July 17, 2021
I Prayed
have prayed
Lord, we pray for election integrity in every state and ask You to protect those who are pursuing audits. Provide a clear understanding if our elections included fraud.
Election integrity is the foundation of a successful democracy and the only way we will learn if we have free and fair elections is through forensic audits.  A dramatic development in the investigation to determine if fraud was involved in the 2020 election took place this week in Arizona and several other states.
In the Arizona State Senate, a hearing was conducted on Thursday that provided an update on the Maricopa County 2020 forensic audit. We found out that 74,000 ballots in Maricopa County did not have a "clear record of being sent." Also the county could not produce evidence that they had the proper documentation showing the ballots were received. In addition to this startling revelation, there were 18,000 voters who were scrubbed from the voter rolls after the election who voted in 2020 but likely should not have been on the rolls in the first place. The AZ Senate hearing also shared that the Maricopa County voting system was breached or hacked meaning unauthorized individuals had access to voting records. The official report on Arizona is scheduled to come out in the coming weeks.
View Comments (5)
Pennsylvania State Senator Doug Mastriano appeared on IFA's Pray for America's Leaders webcast and shared that his Intergovernmental Operations Committee will press forward with a full forensic investigation into the 2020 general election. "Too many Pennsylvania voters believe that their vote did not count. I believe that by undertaking a forensic investigation of the 2020 and 2021 election results, faith in our election process can and will be restored," stated Mastriano. The Senator issued a statement in response to the irregularities of the 2020 general election and 2021 primary here.
In Georgia, 10,300 illegal votes were cast in the November 2020 elections, according to new evidence reported by The Federalist. They see the numbers increasing over the next several months, potentially exceeding the 12,670 votes. Georgia has already had an audit and statewide recount which do not achieve the examination that a forensic audit uncovers. One of the concerns is among residents voting in a county they no longer reside in. On Tuesday, VoterGA, Garland Favorito held a press conference. The election integrity group claimed to have found that the Fulton County, Georgia recount included a 60% error reporting rate. To read more on their claim of massive error in the audit go here.
In Michigan, the allegations about election fraud continues to surface. Constitutional attorney Matt DePerno shared on Twitter that Michigan Representative Matt Maddock says the Legislature "should order a forensic audit of the 2020 election— We must examine ballots, tabulators, and chain of custody…All of it." DePerno also reported that the same problems he found in Michigan are being found in Arizona and Georgia: namely, remote access log-ons to election systems with ability to change results.  Liberty one reported that Rep. Daire Rendon (R) sent a letter addressed to "The Citizens of the United States of America," stating that she "has evidence reflecting systemic election fraud in Michigan." One of Michigan's most reliably conservative lawmakers, Matt (Mad-Dog) Maddock (R) is now also calling for a forensic audit.
In Texas, a special legislative session started on July 8th to address election integrity laws. However the majority of Texas Democrat State House members left for Washington, D.C to avoid the quorum needed to move forward a voting overhaul bill. Governor Abbott, a Republican, told KVUE-TV that the House speaker's office has the power to arrest the lawmakers and he will continue to call special sessions until they "get the job done." The Governor's 87th special session agenda can be found here. Texas House Bill 3 (HB3) and Texas Senate Bill 1 (SB1) were introduced on the first day of the special session. These bills include reforms that would give constituents confidence in the protection of their ballot. House Speaker Dade Phelan, R-Beaumont, said in a statement that the chamber would "use every available resource under the Texas Constitution and the unanimously-passed House rules to secure a quorum to meaningfully debate and consider election integrity, bail reform, benefits for retired teachers, Child Protective Services reform, Article X funding, and the other important measures Gov. Abbott placed on the special session agenda. The special session clock is ticking — I expect all Members to be present in our Capitol in order to immediately get to work on these issues."
As more states consider election integrity, ten delegations from the states of Georgia, Nevada, Pennsylvania, Virginia, Alaska, Colorado, Utah, Oklahoma, Washington State, and Michigan have reviewed the Maricopa County, Arizona, ballot counting audit.
Please pray for election integrity in each of our 50 states to be achieved and protect those who are pursuing audits and we would be provided a clear understanding if our elections included fraud.
Be sure to visit the new Pray for America's Leaders website to pray for your state leaders and those from all over the Nation!
And join us live on Tuesdays and Thursdays at 12:15 pm ET —IFApray.org/LIVE or (713) 775-7430.
How are you praying about election security in America? Please share in the comments section.
Partner with Us
Intercessors for America is the trusted resource for millions of people across the United States committed to praying for our nation. If you have benefited from IFA's resources and community, please consider joining us as a monthly support partner. As a 501(c)3 organization, it's through your support that all this possible.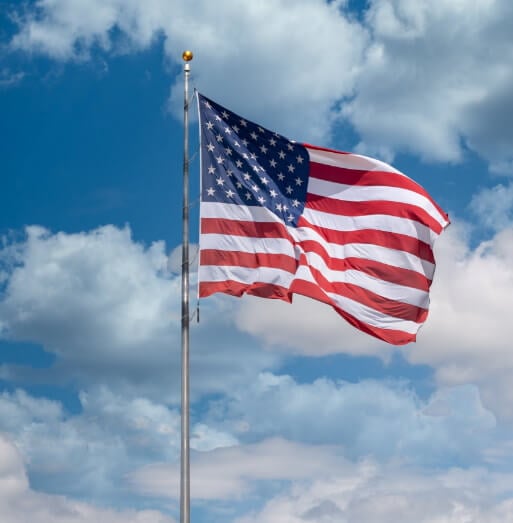 Become a Monthly Partner