Virginia
State Prayer Call:
Every Thursday at 7:00 PM EST
(605) 313-5502
Access Code: 7130757
State Leader(s):
Bob Davis
State Motto:
Sic semper tyrannis, translated "Thus always to tyrants"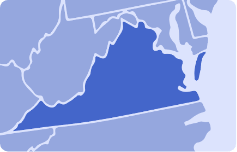 Download State Prayer Guide
Post Your Prayers For Virginia
Submitted Prayers For Virginia
Susan H
June 18, 2022, 11:10 am
Father, I pray that election integrity would prevail in Virginia. Especially I pray that LOUDOUN County would halt the outsourcing of printing and distribution of absentee ballots from a third party in Washington State and return to the their past practice of printing and distribution in house. Lord, protect our elections from all harm and danger. Let truth and honesty prevail. May the powerful Name of Jesus protect the integrity of LOUDOUN County election process.
Sandra F
June 16, 2022, 7:09 am
Father, praying in the name of your love, JESUS. Praying for the leaders of my state of Virginia. Praying for wisdom, for knowledge of your direction and plans, praying for opened eyes and ears to hear you. Praying over the Black Robe Regiment conference in July - being held in Virginia Beach - that you would send more pastors than ever before. That more hearts will be stirred to attend. Let this be the continuation of saving this commonwealth and our nation from its wicked and sinful ways. No matter the future days - we accept your plans for us and pray over them. Amen
Kathy E
June 13, 2022, 11:35 am
Father, I thank you for the state of VA. I commit this state to you. Father please break up the Stony ground of people's hearts who don't know Jesus, and put a desire in your childrens' hearts to introduce Jesus to them. Holy Spirit put the right words in our mouths when we encounter individuals that come across our paths. I pray that our leaders will seek you for guidance and wisdom concerning leading this state. Thank you Father, in Jesus name, Amen.
Alana B
June 8, 2022, 5:11 am
Father, I thank you for this beautiful state. Thank you for our new Governor, and Lt Governor. Thank you Father for keeping our state elected officials safe. I plead the blood of Jesus over those who are decision makers for the state of Virginia, and those who are choosing to step-up and do what is right. Father, I ask that you expose the corruption, and abuse of any illegal mistreatment of funding for the school systems here in Virginia. I pray that you tug on the hearts of individuals who are supposed to be in the position(s) of any area of the school board, and all of its governing functions. I plead the blood of Jesus over our children, our elderly, our teenagers, our young adults, and those men and women in-between. Father I ask that you use Virginia as a catapult for change for your Glory. In Jesus name, Amen❤️
Kris K
May 31, 2022, 11:51 am
Praying for the state of Virginia that it would be a leader among states for godly leadership and legislation.
Barbara M
May 23, 2022, 10:14 pm
Abba Father we come to you as your children who love you, adore you and trust you. We give you thanks for your unending blessings. You are on the throne and you reign supreme. We have only to look up and keep our eyes on You. We bring to You now this great state of Virginia and we ask you to bless her from North to South and from East to West. We bring to You now all those who hold seats of leadership in this state and we pray for the veils to be lifted from their eyes so they may be guided by the light of Your truth as they represent all people in this great state. We bring to You now all Virginia's citizens - that they may come together in unity under your watchful eye. We pray this state will respect the gift of life and protect its most vulnerable citizens - the unborn. We pray this state will uphold and protect the rights of all individuals. We pray this state will protect future generations by educating our children without doing them harm. Father we ask you to bless us, protect us and give us this day our daily bread. Amen.
Pray For Virginia Leaders