South Dakota
State Prayer Call:
Every 2nd Monday of the Month at 7:00 AM MT
(605) 313-5337
Access Code: code 3779638
State Leader(s):
Laura Barnes
State Motto:
Under God the people rule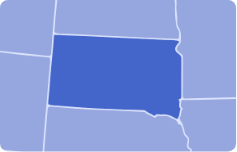 Download State Prayer Guide
Post Your Prayers For South Dakota
Submitted Prayers For South Dakota
Cindy S
June 13, 2022, 9:04 pm
God, our Father, Giver of Life, we entrust the United States of America to Your loving care. You are the rock on which this nation was founded. You are the true source of our cherished rights to life, liberty, and the pursuit of happiness. Reclaim this land for Your glory and dwell among Your people. Please touch the hearts of our nations leaders and citizens. Open their minds to the great worth of human life, and the responsibilities that accompany human freedom. Remind Your people that true happiness is rooted in seeking and doing Your will. Through the intercession of Mary Immaculate, patroness of our land, grant us the courage to reject the culture of death. Guide us into a new era of Life and Love. Amen
Lynne W
May 23, 2022, 9:01 pm
Father I thank you for the privilege of living in SD. I ask that you will turn the hearts of South Dakotans toward yourself. We pray for the churches in our state, that they would be teaching the pure gospel. I pray that abortion would be recognized for what it is, nothing but child murder. I pray for our families, that they would be strengthened, and that fathers would be the defenders of their children. I ask that you would give wisdom to all of our state and local leaders, that they would make their governing decisions based on truth.
Pray For South Dakota Leaders