Oregon
State Prayer Call:
Every Thursday at 6:30 PM PST
(605) 313-4119
Access Code: 1816936
State Leader(s):
Diane Scofield /Deidre Dodson
State Motto:
Alis volat propriis, translated "She flies with her own wings"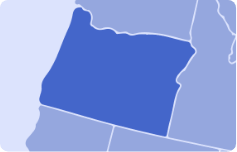 Download State Prayer Guide
Post Your Prayers For Oregon
Submitted Prayers For Oregon
Diane R
June 24, 2022, 12:30 pm
Today is a day of gratitude at the Supreme Court Decision to overturn the ability of the Federal Government to have permission to rule over a State in such delicate matters as abortion. Thank you, Father for what I believe is an answer to 50 years of prayers to return this to the states, and now God may we in our states do what is the next right thing in this decsion. Which means hard decisions and choices at the local level in November. Our vote counts, just like our prayers count, we ask that your Spirit lead and guide us in the months ahead. Be with us in Oregon and give us Your wisdom and grace. Amen
Robert H
June 21, 2022, 7:46 am
We love our beautiful state and we pray that we can remove control from those who are under great deception and restore voter and election integrity! Have mercy and help wake up the Body of Christ in unity! Ecc 7:8
carol A
June 1, 2022, 12:03 pm
I pray that the Lord would continue to bring unity into the body of Christ and His Jewish and Christian brother to walk together in our state. That the strongholds that have keep the church from raising up in this hour in prayer for our State be broken and a outpouring of the Holy Spirit to move with mercy and grace in the Body of Christ. I especially pray for Forest Grove that God would bring a fire of His Love into this city that will consume the whole state. In Jesus name
Janice F
June 1, 2022, 10:43 am
Lord I ask for an awakening in Oregon to who you are and what you want for the peoples. I ask that you what touch each leader in our state with your love and mercy. Open their eyes to see and know you and that their hearts would turn to you alone. We bind the strategies of our enemies and ask for you glory to fall upon many! We praise and thank you Lord King of glory!