Missouri
State Prayer Call:
Every Wednesday at 1:00 PM CST
(716)384-3300
Access Code: 6371309
State Leader(s):
Pamela Zook
State Motto:
Salus populi suprema lex esto, translated "The Welfare of the People is the Highest Law"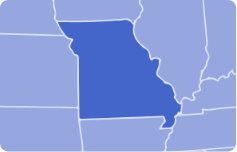 Download State Prayer Guide
Post Your Prayers For Missouri
Submitted Prayers For Missouri
Priscilla M
June 25, 2022, 10:50 pm
I pray you will get the women from Il. That needs help with abortion decisions since you are next door. I know God would be full of joy until the problem changes in IL. Jesus I ask this request in your precious name.
Marcia A
June 24, 2022, 12:38 pm
Lord, I have a specific prayer for Missouri's livestock and crops. I pray that you will protect the beef industry, as well as the dairy, poultry, and pork industry. I ask that you block all bioterrorism leveled at animals, crops, or our food supply. Shield us from the Level 4 biolabs and from all forms of vandalism, false journalism, and evil legislation intended to sabotage Missouri agriculture. I ask this in the name of Jesus, to the glory of God the Father.
Skye A
May 24, 2022, 11:28 pm
Father in heaven, holy is your Name. There is no one like you and what a privilege to call upon you! Thank you for inviting us to your throne room, Lord, the place I derive strength, assurance, hope, comfort and courage. Lord, when you said "I can do nothing of myself" (Jn 5), I think how much more true that is for the rest of us! God, how we need you! Lord, I pray for the leaders we elected here in Missouri. I pray for them. I ask you Father that they may be people after your heart, seeking to know and do your good will above all else. Give them insight and your particular wisdom in discharging the duties before them. Help them carry out those duties with grace and courage and help them to know what is best for all the people. Finally, God bless them as they do so with singleness of heart to receive your approval. In the Name of Jesus, the Christ who gives every good and perfect gift. Amen
Pray For Missouri Leaders