Kentucky
State Prayer Call:
Every Sunday at 6:00 PM EST (Starting July 17th)
(716)384-3110
Access Code: 5325884
State Leader(s):
David Snider
State Motto:
Deo gratiam habeamus, translated "Let us be grateful to God"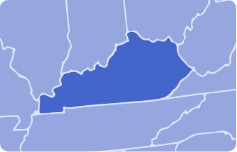 Download State Prayer Guide
Post Your Prayers For Kentucky
Submitted Prayers For Kentucky
George L
May 31, 2022, 6:12 am
Father, we are the boots on the ground in Kentucky. We are your watchmen keeping watch day and night. Give special clarity to our understanding that the words of our prayers be as sharp as the sword of the Lord which is the word of God. May our prayers defend those who sacrifice there precious time to rebuild the walls and repair the gates. That our state in who's ground we walk may come to fully serve you in these the days at the enging of the age. For the earth has waxed old as a garment and we must walk out the harvest at the end of the age.
Marti S
May 23, 2022, 7:00 am
Father, Thank you for being present in our state His-Story! Lord we see your hand, we see your work in our state motto, Deo gratiam habeamus, translated "Let us be grateful to God". Lord we do not fear, for you are with us! You Lord appoint our leaders, you set our land apart for your glory, for your purpose, for your kingdom come. Lord, we confess, we have strayed from being grateful to being self sufficient, self serving, Lord help us return to You! Forgive us of our short sighted plans and our love of worldly things and bring us back to seeing, knowing and trusting You ONLY. Lord we are far away, help us Lord. Abba we are for Spirit filled leaders, leaders who's hearts are set on honoring You above all. Lord, unite us Kentuckians to The One so that we can one with you and Jesus. Lord we want to be spared influence of this world, we want to be set apart and useful to you, but we want Your Kingdom come above all. Give us courage Lord, we are lost without you, give us wisdom Lord, we stray without you, give us peace left to us from The Cross, without it, we perish. Lord, again, thank you for the foundation. Our state was founded upon the greatness of God, founded upon The Rock, so Lord, lead us back to deepen that foundation. We are weak Lord, but you are strong, help us, we cry out, help us Lord! Amen.
Pray For Kentucky Leaders