Indiana
State Prayer Call:
Every Thursday at 11:30 AM EST
(605) 313-5371
Access Code: 8120308
State Leader(s):
Jeff Britton
State Motto:
The crossroads of America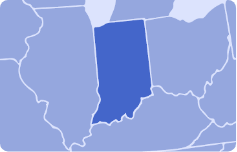 Download State Prayer Guide
Post Your Prayers For Indiana
Submitted Prayers For Indiana
Jeff B
July 2, 2022, 12:36 pm
Pride Month? Psalm 23 23 Love the Lord, all of you who are faithful to him! The Lord watches over the faithful. But he completely pays back those who are proud. Roe V Wade? Indiana Prayer team is lifting up adoption. We are all adopted into the kingdom when we receive Christ. "Lord, awaken your people and let them come forward to save these unwanted lives through adoption. Your word in James 1: 27 teaches us the kind of belief that you accept as pure and without fault is when widows and children who have no parents are in trouble, and we take care of them."
Mark B
June 30, 2022, 8:25 am
Father God, creator of all that is good and beautiful, thank you for our Country, for our State and for being alive at this time in history. There is so much going on, it's dizzying! I pray that You keep your hand on each of our leaders, that You help them to keep their eyes open & hearts turned towards You and Your Word. Strengthen each of them to stand firm for our lives & people - abortion, medical, immigration, hiways and so much more that affects our daily lives. May each of them seek you each morning as they prepare to serve the State, let them be reasonable & good in your sight. Sincerely, Mark Brickey
Jeff B
June 16, 2022, 10:35 am
Indiana! Please note the new call in number as of 6-16-22. Same time. Thursday 11:30
Carol J D
June 1, 2022, 6:55 am
Lord Jesus, how I pray for Indiana and all the people who live here. How I pray for our Indiana leaders. Oh, that we all would want to do what is right in your sight more than anything else. That our hearts will be softened and our ears and our eyes would be opened. That we love your word and we love to seek your face. We thank you for life. We thank you that our names and our families names are written in the lambs book of life. I pray these things in faith and we will give you all the glory, Lord. I pray Ezekiel 36:26 over us all: And I will give you a new heart, and I will put a new spirit in you. I will take out your stony , stubborn heart and give you a tender, responsive heart. We lift you up Lord and thank you for all that you are doing for us, for pushing evil back and removing and replacing those who are not doing what is right in your sight. Thank you for keeping our Indiana leaders safe and their families and may they do what is right in your sight, always. In Jesus's Name, Amen.
Jeff B
May 19, 2022, 1:21 pm
Indiana Constitution PRERAMBLE: TO THE END, that justice be established, public order maintained, and liberty perpetuated; WE, the People of the State of Indiana, grateful to ALMIGHTY GOD for the free exercise of the right to choose our own form of government, do ordain this Constitution. Lord, We claim this right, as your will be done and your kingdome comes to earth as it is in Heaven.... We declare this right and post it over our state that every eye can see it, both the people below as well as the powers that are above. Jeff B.