Florida
State Prayer Call:
Every Monday at 11:00 AM EST
(667) 930-8566
Access Code: 4350388
State Leader(s):
Anita Lynott
State Motto:
In God we trust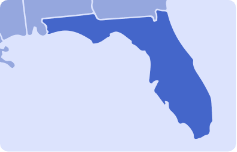 Download State Prayer Guide
Post Your Prayers For Florida
Submitted Prayers For Florida
Dennis S
June 23, 2022, 9:37 am
Lord, Please give our leaders the strength they require to fight the evil that is destroying our Country. Open peoples eyes to the lies and subterfuge of the left, who are pitting us against one an other. Please give me the strength to keep hate from my heart, and allow to fight this evil in assistance to the leaders of this State, in a decent and Christian way. Thank you for the great leaders of Florida, Gov. De Santis, Rick Scott, Jeanette Nunez, Laurel Lee and Ashley Moody. Heavenly Father, please intercede on behalf of those wrongly inprisoned by an unlawful and evil government in Washington DC. Thank yo Lord for the wonderful Country we have and would like to keep. Dennis Sheehan
Gail W
June 21, 2022, 8:33 pm
Heavenly Father, I pray for Governor DeSantis safety. Lord your children see your hand upon this man and we know that there are those who feel that he is a threat to their ideals. We thank You and praise You precious Lord for placing him as our incredible Governor and for all the wonderful issues he has been responsible for putting into place for our state and for it's citizens. Father . In Jesus Holy and most precious name we as your children join together in asking you to lift him up where he can not be touched by evil people and we break and bind all harm from he and his family and we pray safety and peace be with them and those who are loyal who work alongside of him in the powerful name of Jesus Christ of Nazareth. Father we trust you and know that your will is going to be done on earth as it is in heaven concerning Governor DeSantis and Florida. We praise You oh precious and omnipotent Lord and we glorify your holy name. Amen
Gessy D
June 15, 2022, 4:01 pm
Jesus Christ beloved of my soul, my king and my God in whom I trust, I ask Lord Jesus, protect the governor Ron DeSantis, his family, cover with your blood his children, protect from all attacks he has been suffering, stops the fury of the Teachers Association against the Ron DeSantis and State of Florida. Give wisdom to this team Ashley Moody, Laurel Lee, Jeanette Nunez, that was chosen by the Lord to make decisions according to your desire Lord Jesus. I also pray for Senator Marco Rubio and Rick Scott for them continue defending the Family, the Nation and Peace. I decree in Spiritual World their victory, and already declare them more than conquerors in Jesus Christ (Roman 8:37). " And the peace of God, which transcends all understanding, will guard your hearts and your minds in Christ Jesus." Philippians 4:7 The Florida and America belong to the Lord Jesus! Amen!
jacqueline o
June 15, 2022, 10:23 am
I pray for the great state of Florida, for her leaders to be in line with Godliness, family and to be a light of Christ to other states. Thank you Lord for Governor DeSantis and his leading. Protect him and his family, "No weapon formed against them will prosper." Isaiah 54:17. Praise You Lord for Your protection and guidance for all Florida leaders. Give them discernment and wisdom in leading this country back to You Lord and Your great blessings. In Jesus Holy name, Amen.
Gail W
June 13, 2022, 4:37 pm
Dear Daddy God. In the precious name of Jesus Christ of Nazareth I pray for my state of Florida. I ask you Father that you bless and protect Governor DeSantis and his family and those leaders in our state who seek to do what is the right thing. Lord our state and it's leaders are going through very trying times like the other states. As our righteous leaders seek you and seek to do the right thing we ask that you would guide them and protect them and show them what direction and decisions to make. We glorify you Lord God and we know through faith that you hear the prayers of all of your children and that no weapon formed against us and those we pray for will prosper. I committ our state of Florida , it's Godly leaders and all of your children into your capable hands.
Patrice B
June 8, 2022, 9:24 am
May our Florida Leaders continue to be your LIGHT unto our STATE and our NATION in Jesus Name. I thank you Heavenly Father for your favor and continued protection upon the leaders of the Great State of Florida!
Darlene F
June 8, 2022, 5:57 am
Heavenly Papa, Your love for us is immeasurable. You show favor to those who seek Your face. I know Governor DeSantis and his family seek you on a daily basis. Continue to guide and protect him and his family and give him Your wisdom to lead the people of Florida in Godliness. Protect them from all evil. Our State motto is "In God We Trust"! Keep Florida and it's citizens in Your constant gaze and give us the graces that we need to stay strong through the challenges our state, our country and the world faces. We know You win in the end. Remind us of Your Victory when we stumble or fall. Continue to give our state leaders the courage to lead in righteousness with You always at the head of every decision. May the Precious Blood of Jesus cover our country, our Supreme Court justices, all national and local leaders, and our blessed state of Florida and its citizens so that all evil is exposed and defeated and our land healed of all unrighteousness and ungodliness! May we become, once again, the "city on a hill", the light of the world, that leads the rest of the world towards the Glory of God. In Jesus' mighty name I pray. Amen.
Anita L
June 7, 2022, 7:12 pm
Heavenly Father, Thank you for the faith of these men (Tampa Bay Rays players) .What a great example of 'men of valor' -- Judges 6:12 And the angel of the LORD appeared to Gideon and said, "The LORD is with you, O mighty man of valor." May their example speak loud and clear to all believers ---- to be courageous and take a stand to speak the truth. Allow their example to build up the body of Christ, especially men, to become more like Jesus and a hunger to labor in the things to build up the Kingdom of God. I pray protection over these players and their families. Let Your presence be upon them and surround them with Your protection and favor. Psalm 31:20 "You hide them in the shelter of your presence, safe from those who conspire against them. You shelter them in your presence, far from accusing tongues." Just as You promised in Your Word, give Your angels charge over them ----- Psalm 91:11 "For He will give His angels charge concerning you." Heavenly Father, Make Your face shine upon them and give them Your peace. In the Name of Jesus, AMEN
Anita L
June 1, 2022, 1:38 pm
Heavenly Father, We thank you for the leaders in the state of Florida -- Governor DeSantis; Lt Governor Nunez; Senators: Rubio and Scott; Attorney General Moody; Sec of State Lee. Father God, please fill each of our leaders with the knowledge of your will in all wisdom and spiritual understanding so that they may walk worthy of You. Help them to be like the men of Issachar-- that they will understand the times and know what to do for the state of Florida (1 Chronicles 12:32 "From Issachar, men who understood the times and knew what Israel should do"). Father, please protect each one of them, guard their minds and minister to their hearts. We ask that You give them divine strength to not grow weary in doing good. Galatians 6:9 "Let us not become weary in doing good, for at the proper time we will reap a harvest if we do not give up." Please keep evil far from them, and help them to trust You as their refuge and protection. Psalm 121:7 "The LORD will guard you from all evil; He will preserve your soul. The LORD will watch over your coming and going, both now and forevermore". Help them to find rest in You. In Jesus name, amen
Gail W
June 1, 2022, 10:05 am
Father in Jesus Holy name I join my voice with my Christian brother's and sister's. We ask you Father that you guide the leaders of our state as they are faced with difficult decision daily. We ask that you bless them and their families as well as ours.We ask for your protection over us all and our state. We also pray for our stare and for the large number of people who are pouring into our state to make it their home . Many people in Florida do not know you Lord so we pray that your hand will move in their lives.