LOOKING TO THE PAST FOR PRAYER POINTS TODAY
Gloria Robles, IFA Contributing Writer
|
January 12, 2021
LOOKING TO THE PAST FOR PRAYER POINTS TODAY
Gloria Robles, IFA Contributing Writer
|
January 12, 2021
I Prayed
have prayed
Father, continue to protect our nation and help us to call on Your name.
This was written before the events of last week.  Please read, especially the prayer points, and then share what you think in the comments section.
Before we go into a new year, I usually seek God's guidance and ask about where we are in our nation and what we can do? On November 6, 2020 I asked, "Lord, how can I pray over our nation, what now?" He didn't reply the same day, but shortly after He said, "It's a 1776 do-over."
View Comments (14)
I wrote it in my journal for prayer and then spent time studying it further from a historical perspective. If you are knowledgeable in American history, you know the Revolutionary War took place in 1776.  This is a subject that many intercessors have shared powerful words about. Don't you love how the Lord confirms his word? If He is repeating it to many intercessors, I am  convinced we must pay attention and act accordingly. IFA Contributing Writer and fellow intercessor Jamie Rohrbaugh wrote about 1776 and the warrior spirit.  If you haven't read her article, I highly recommend you do. She exhorts the church and has written beautiful prayers to decree. 
The Revolutionary War happened after many years of conflict. In 1764, the British government began new laws and taxes to gain greater control. Colonists were upset because the people had no one to represent them in the parliament. Protesting began in 1765 and the term " no taxation without representation" was born. Thirteen colonies joined to rebel against Great Britain as they fought for their independence. In 1776 the Second Continental Congress declared America's independence from Great Britain. The result was a new government, not ruled by tyranny under a king, but a government ruled by the people. But this followed protesting, unfair treatment, government pushing to gain greater control, religious persecution on the rise, and  freedom at risk. 
Do you know about the unsung heroes of the Revolutionary War, who made a huge impact? I believe that this is something that we can focus on in prayer.
The Pastors
When studying the role of the Church in the war, they were in fact very active. Ministers were on the frontlines in more ways than one. The call of duty didn't end on the battlefield. Some chose to suit up and join the war like Rev. John Peter Mullenburg. He was a pastor who became a major general during the war. He later became a U.S Senator and Congressman.  
Some, like James Caldwell, were chaplains during the war. He preached sermons urging Christians to take a stand for the truth. Yes, he encouraged political activism! Rev. John Witherspoon served as a representative for New Jersey, was a delegate of the Continental Congress, and a signer of the Declaration of Independence. These ministers loved God, but also loved the nation enough to fight for it. They not only fought literally but politically. They served God in ministry, but they served the country by running for governmental offices. How wonderful would it be to see godly men and women occupy more seats in Congress and government? 
Prayer points:
Pray for pastors to not only exhibit boldness in preaching the truth, but to encourage the church to stand boldly for the truth. (Josh 1:9, Prv 28:1)

Pray that many in ministry who feel they are being called to a higher office in government would rise to the occasion. Pray that they would clearly hear the call and be obedient to answer. Daniel and Joseph are two examples of believers who served in government and made great impact and had great influence. 
The Ladies
"Remember the ladies." This quote stems from a letter that Abigail Adams wrote to her husband John Adams reminding him that the ladies would start a revolution of their own if they were neglected by the new government. All they wanted was a voice of their own. Women were in fact a major part of the American Revolution. "Molly Pitcher," as she is known, once brought water to the soldiers on a hot day. Upon seeing her wounded husband, she took his place and fired at the enemy. Many women followed their husbands along on campaigns. Deborah Sampson disguised herself as male, using her brother's name to register. Not all women were on the frontlines, many served by acting as nurses to the wounded. Some chose domestic service, washing clothes, mending, cooking for soldiers, and doing chores, which brought money to their families while their husbands were at war. Every woman had a job to do and history recognized they were essential. What stood out to me the most is the partnership. Women followed their husbands, some stood in for their husbands. Some chose to stay with their children and provide for their families. Each action is equally honorable. 
Prayer points:
Pray for women to rise up and let their voices be heard once again. (Esther 4:14, Judges 4:1-10)

Pray against a Jezebel spirit operating through a false women's movement that destroys the family unit created by God. 
The Patriots
Also called Revolutionaries, the patriots were the colonists who rejected Britain's rule. Many patriotic civilians joined militias. They were trained for war, and would be called upon when needed. Many African-American patriots fought as well? These brave men, many enslaved, chose to side with the colonists opposing the rule of the British. Many joined the "Sons of Liberty" movement. Salem Poor was born into slavery and bought his freedom for 27 pounds. He then fought for America's independence. Poor impressed the soldiers so much he was recognized for his "excellent battle skills." He was  memorialized by the General Court of Massachusetts as "A brave and gallant soldier, behaving like an experienced officer."  Phyllis Wheatley was the first female African-American slave to be published. Her poetry covered patriotism, freedom, and virtue, highlighting her biblical values. She even wrote to George Washington, who was so impressed by her writing that he wanted to meet her. What an amazing accomplishment at a time when her color and sex didn't grant her much opportunity. Peter Salem was another patriot, born into slavery but then  freed, and fought as a minutemen at Lexington. He is believed to be in John Trumbull's painting, "The Battle at Bunker Hill." As the brave African-American patriots fought for their literal freedom, we must take a stand for ours as well. Our religious freedom is on the line as well as many other freedoms we have. 
Prayer Points:
Freedom is a gift from God we cannot afford to lose. Ask God to give you a fighting spirit.

It is for freedom that Christ has set us free.

Stand firm, then, and do not let yourselves be burdened again by a yoke of slavery.

(Gal 5:1) This is not the literal yoke of slavery, but refers to the bondage of being trapped by sin.

Pray for America for the yokes of bondage to be broken off. Ask the Lord to reveal how you can pray and what must be broken off this nation. 

Pray for racial reconciliation and healing. (Ps 130:1-5) (Gen 1:27) (2 Chr 7:14)
These unsung heroes stood out to me, but after reading about it, I realized something. Each of these groups of people are facing attacks now–pastors, women, African-Americans. 
The enemy is trying to silence the voice of God through silencing the Church. The Church has been silent for too long. No more Church! You must raise your voice! Pastors/Ministers, please don't hide behind political correctness. Rise up and take your stand! 
Women have been under attack for years. Femininity is a gift from God. Yet now it's considered insulting to be a woman and be feminine and domestic. A false women's movement is robbing women of femininity and trying to emasculate men at the same time. Women, you are powerful just as God created you to be. There is power in partnership. Even Deborah in the Bible wasn't a lone ranger. She partnered with Barak. Women leaders will be on the rise, with a divine partnership of men and women supporting one another.
We have recently seen riots that began after the murders of African-American men. We cannot tell people to just "get over it." The hurt is real and we cannot deny that. The enemy is playing on the wounds of people, specifically men and women of color. Just as these patriots in the past sought physical liberty, I'm praying for reconciliation and liberty once again. Healing and forgiveness will flow again from the African-American community. 
Patriotism is under attack now. Since when did being proud of your nation and taking a stand make you a "racist and nationalist?" Since cancel culture reared its ugly head, that's when. 
David in Psalm 122:6 prayed for the peace and prosperity of Jerusalem. Praying for your nation and cities is a biblical concept and encouraged by the Lord. Being patriotic is not a sin! It's only sinful when you exalt something before the Lord. If you are appealing to the Lord on behalf of your nation because you love your nation, and want to see his values exalted, keep on doing what you're doing! If you want to see the people come to Jesus, keep doing what you're doing. If you know that God has a plan for America, keep doing what you're doing! Refuse to give up even an inch.
There is a right time for everything:
 A time to be born; a time to die;
A time to plant; a time to harvest;
 A time to kill; a time to heal;
A time to destroy; a time to rebuild;
 A time to cry; a time to laugh;
A time to grieve; a time to dance;
A time for scattering stones; a time for gathering stones;
A time to hug; a time not to hug;
 A time to find; a time to lose;
A time for keeping; a time for throwing away;
 A time to tear; a time to repair;
A time to be quiet; a time to speak up;
A time for loving; a time for hating;
A time for war; a time for peace.
(Ecclesiastes 3:1-8 TLB)
The Lord used the word "do-over," because He is the God of second chances, and even more. He is giving America the chance to repent, humble herself, and turn back to Him wholeheartedly. He's also giving us our moment to take our stand once again. Just like in 1776, everybody had a part to do in the battle for America. There were no minor players. This is your now or never moment! This is time to speak up or forever wish you had. 
In 1776 they were engaged in a literal war; we are currently engaged in a spiritual war. Church, this is a call to action from the Lord. False peace and passivity from the Church is what got us into the trouble we are in now. Church, it's time to rise up! God has been trying to rouse up his Church. We cannot afford to look away any longer. This is not a time for peace, but a time to wage war on the devil. Remember that we do not wrestle against flesh and blood but against spiritual wickedness in high places. (Eph 6:12) This is our 1776 Do-Over. Will you be a modern day revolutionary for the army of the Lord? 
Author Gloria Robles is a passionate intercessor with a prophetic voice for today. For more from Gloria, go to Spotify or Anchor to listen to her podcast Something To Share. (Photo Credit: Unsplash.)
Partner with Us
Intercessors for America is the trusted resource for millions of people across the United States committed to praying for our nation. If you have benefited from IFA's resources and community, please consider joining us as a monthly support partner. As a 501(c)3 organization, it's through your support that all this possible.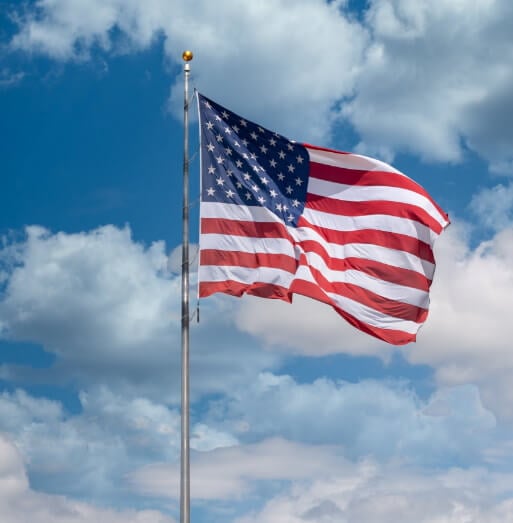 Become a Monthly Partner