WHOSE REPORT WILL YOU BELIEVE?
Gloria Robles, IFA Contributing Writer
|
January 9, 2021
I Prayed
have prayed
Lord, we come to You and ask that You would strengthen the weary. Hope is not lost because our hope is in You Lord.
Who has believed (trusted in, relied upon, and clung to) our message (report)  [of that which was revealed to us]? And to whom has the arm of the Lord been disclosed. (Isaiah 53:1 AMP-C)
The prophet Isaiah spoke these words, as he prophesied of the suffering and exaltation of the coming Messiah to the people. According to the Jamieson-Fausset-Brown Bible Commentary, the Jews rejected Isaiah's message of a suffering servant. They couldn't accept a king who would be humiliated. They wanted a king who would rule and reign. As I thought on this verse, I couldn't help but think how fitting this scripture is.
View Comments (51)
In the aftermath of the election and everything that has since followed, there is a pervading sense of gloom and hopelessness. I've had several family members tell me they've lost hope altogether and they will not vote again because it's pointless. Between hearing these things, seeing prophets and prophetic people under attack, seeing the growing division, I feel overwhelmed. 
As a Christian, I have believed the report of the Lord. I believe the trusted prophetic voices who believed the Lord spoke to them about Trump's re-election shared in faith. Several have apologized and I commend them for having such integrity and humility to do that. Some are taking a stand in faith, believing in what God has shown them and I also commend their courage and faith in the midst of online harassment. This is not about who's right and who's wrong. If our eyes were on a political party to save America, then we completely missed it altogether.
This verse in Isaiah 53 is two-fold. After Isaiah asks "who has believed our message/report?," the second half of this verse reveals another question. "To whom has the Lord's powerful arm been revealed?" The arm of the Lord is connected to his power and deliverance. We first hear of this is Exodus when the Lord delivers his people from Egypt.
So the LORD brought us out of Egypt with a mighty hand and an outstretched arm, with great terror and with signs and wonders. (Dt 26:8)
He brought Israel out of Egypt. His faithful love endures forever. He acted with a strong hand and powerful arm. His faithful love endures forever. (Ps 136:11,12)
For by their own sword they did not possess the land, And their own arm did not save them, but Your right hand and Your arm and the light of Your presence, for You favored them. (Ps 44:3)
This verse reminds us that it was not the Israelites who delivered themselves. Their swords and weapons didn't save them. It was the arm of God that brought deliverance. We in our own strength, in our best days, will never accomplish what only God can do. We must remember that. 
Jesus would later recite this verse from Isaiah in the Gospel of John because even though he had performed many miracles the people still denied him (John 12:37,38). After Jesus preached this verse from Isaiah it says "Many people did believe him," however they stayed silent due to fear of persecution.
It takes faith to believe God's report in the face of  uncertainty.  We know that faith comes by hearing the word of God. To those whose faith is in the Lord, who continue to trust and place their hope in him, they will see his power and deliverance. They will see the arm of the Lord revealed according to his Word. 
After Jesus preached this Scripture from Isaiah, he offered the crowd a choice to believe his report or reject it.
Jesus summed it all up when he cried out, "Whoever believes in me, believes not just in me but in the One who sent me. Whoever looks at me is looking, in fact, at the One who sent me. I am Light that has come into the world so that all who believe in me won't have to stay any longer in the dark. If anyone hears what I am saying and doesn't take it seriously, I don't reject him. I didn't come to reject the world; I came to save the world. But you need to know that whoever puts me off, refusing to take in what I'm saying, is willfully choosing rejection." (Jn 12:44-50 MSG)
Every day we have a choice about whose report to believe. Will you believe in faith what the Lord has spoken to you? Will you believe the Scriptures he has been speaking to you? Will you stand on his promises? I choose to stand on the promises of God. I choose to stand on his Word.  I choose to stand in faith. Because I have made that choice I am being mindful of the reports that I'm hearing. They seem to be coming in from every side. There's strife, there's debating, name-calling, mockery, conspiracies everywhere. This is why we must keep our eyes fixed on the Lord right now. 
The Lord has given me a strong warning not to think like everyone else does. He said,
"Don't call everything a conspiracy, like they do, and don't live in dread of what frightens them. Make the Lord of Heaven's Armies holy in your life. He is the one you should fear. He is the one who should make you tremble. (Is 8:11-13)
What we need now is the truth and there's only who is worthy to bear that title. Jesus answered, "I am the way and the truth and the life. No one comes to the Father except through Me." (Jn 14:6)
Lord, we come to You and ask that You would strengthen the weary. Hope is not lost because our hope is in You Lord. Bring healing to a hurting nation and let us fix our eyes on You. Your Word says that we lift our eyes to the hills where our help comes from. Our help comes from the Lord. Oh that You would comfort your people with your Holy Spirit who is called the helper. Your people, this nation, we need Your help. We need Your truth and Your Word says the Spirit of truth will guide us in all truth and tell us what is to come (Jn 16:13).  Give us wisdom and discernment to know what to do next, how to pray, how to respond to the needs around us. Guide us by your Holy Spirit. I believe Your report, Your Word, Wour promises and I thank You Lord that as I stand in faith I will see Your mighty hand and outstretched arm revealed. In Jesus' name, amen.
Author Gloria Robles is a passionate intercessor with a prophetic voice for today. For more from Gloria, go to Spotify or Anchor to listen to her podcast Something To Share.
Partner with Us
Intercessors for America is the trusted resource for millions of people across the United States committed to praying for our nation. If you have benefited from IFA's resources and community, please consider joining us as a monthly support partner. As a 501(c)3 organization, it's through your support that all this possible.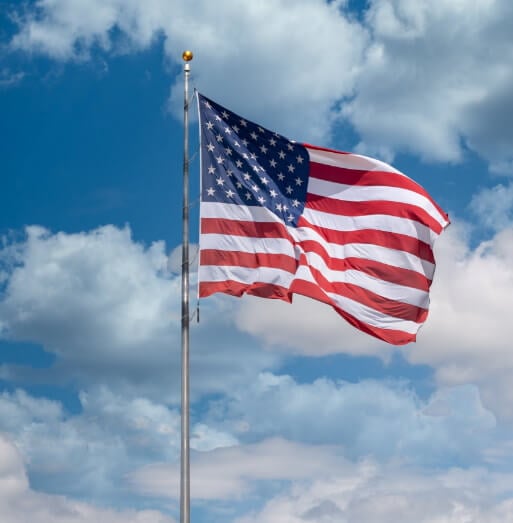 Become a Monthly Partner