WHO SHALL SEPARATE US FROM THE LOVE OF CHRIST?
Angela Rodriguez
|
January 9, 2021
WHO SHALL SEPARATE US FROM THE LOVE OF CHRIST?
Angela Rodriguez
|
January 9, 2021
I Prayed
have prayed
Lord, we are grateful that you are the strength we need in the storms of our times. May we look to You and no other for our security.
Do you remember these lines from the famous hymn, the Old Rugged Cross?
"So I'll cherish the old rugged cross
Till my trophies at last I lay down
I will cling to the old rugged cross
And exchange it some day for a crown."
View Comments (14)
Many Christians have a special place in their heart for this song that was written by Methodist preacher George Bennard. The Old Rugged Cross was written after Bennard was ridiculed at a revival meeting. Undeterred, Bennard continued having revival meetings and praising the Lord. The completed song was eventually performed for the first time on June 7, 1913. It became an instant hit.
The entirety of the song speaks of Bennard's great love for Jesus and his sacrifice on the cross for our sins. Many who hear the song are often overcome with emotion as they reflect on "the old rugged cross, stained with blood so divine." It reminds us to cling to the cross, even as the world around us crumbles.
2020 has been a year filled with uncertainty, trials and pestilence. From Covid-19 to election chaos, our lives seem like they've sailed on the Titanic. To some, the future may look like a doomed ship, destined to sink to the bottom of the ocean.
But something changes when we fix our gaze on something rugged, old and marvelous. When our gaze fixes on the Old Rugged Cross, everything changes. If we look at the cross instead of the crisis, we can steer clear of the iceberg. We can avoid the sinking altogether.
On June 7, 2020 (107 years after the Old Rugged Cross song was first performed), my friend posted some amazing pictures on Facebook. She'd been keeping milkweed plants on her porch to host caterpillars that would turn into monarch butterflies. She did this in an effort to boost their populations, as monarch butterflies have been disappearing worldwide.
One picture showed a monarch butterfly chrysalis that was clinging to a small wooden cross she had sitting in a pot. The cross was hand-carved for her by a child a few years ago. The second picture showed another chrysalis that was clinging to an American flag. When I saw these pictures, my heart skipped a beat as I thought of 2 Corinthians 5:17 which says, "Therefore, if anyone is in Christ, the new creation has come: The old has gone, the new is here!"  The monarch butterfly chrysalis clinging to this "old rugged cross" reminded me that we become new creations when we receive Jesus as our savior. Like the caterpillar that will transform into a butterfly, so too will the life of a person who is changed by the saving blood of Christ.
The picture of the chrysalis on the American flag brought a wave of thoughts as I pondered the fate of America. 2020 was truly a year of great changes. It was a year where our country's foundations were challenged and assaulted. But as I looked at this small chrysalis clinging to the flag, I was reminded that our new life in Christ transforms us into people who are more than capable of handling whatever comes our way. Romans 8:31-37 attests to this marvelous truth:
"What, then, shall we say in response to these things? If God is for us, who can be against us? He who did not spare his own Son, but gave him up for us all—how will he not also, along with him, graciously give us all things? Who will bring any charges against those whom God has chosen? It is God who justifies. Who then is the one who condemns? No one. Christ Jesus who died—more than that, who was raised to life—is at the right hand of God and is also interceding for us. Who shall separate us from the love of Christ? Shall trouble or hardship or persecution or famine or nakedness or danger or sword?  As it is written: 'For your sake we face death all day long; we are considered as sheep to be slaughtered.' No, in all these things we are more than conquerors through him who loved us."
Our nation is under attack, but we have the cross to cling to. God is the original Founding Father, not those who want to transform our nation. Even if our nation's leaders and policies change, our hearts will cling to the one who transformed our heart in the first place. We will follow Jesus no matter what happens.
Below is the Facebook post my friend shared about the chrysalis hanging on the cross and the flag (used with permission). These are the pictures she took as well.
The caterpillars eat voraciously until they form a chrysalis and emerge as butterflies. It is neat to watch them, as they do as they should, eating only their designated host plant, undistracted by anything, not afraid, faithfully munching. Their reward is to go from creatures crawling on their bellies for their own purposes to ones which take flight and act as pollinators for the benefit of plants and animals everywhere.

Usually, we see the caterpillars form their chrysalis on the side of the pot of milkweed or even on the milkweed plant itself. That's the easy safe path. Today, I saw a chrysalis clinging to a wooden cross, which was hand carved for me years ago by a child. Upon closer inspection I was stunned to see a second chrysalis hanging on the American flag next to the cross. This pot with the cross holds a nearly dead basil plant which the caterpillars won't eat. And it is over three feet in the air, and three feet away from the nearest milkweed plants, perched atop a metal plant stand. So instead of just making a chrysalis in the easy spot with everyone else, they had to crawl far and struggle upwards to get to the cross and the flag. They could have made the chrysalis on the plant stand or the pot itself if they had grown weary before reaching the cross and flag. But they didn't.

This seems so symbolic to me. What changes are in store for America? Are we going to cling to God and our beautiful America, our land of unity and opportunity, even if that is unpopular or difficult? Are we Christians made for such a time as this? How are we to take flight and share the love of Jesus with everyone across America?

We are all children of God. He loves us equally and commands us to love one another and obey his commands. His blessings are a gift to us, given to us by Jesus. We have everything we need in Him. He provided all the instructions in the Bible for us to lead healthy lives and to be kind to one another, in order to have a taste of heaven here on earth. We need to do what we should and not be afraid or distracted.
I found it quite interesting that my friend found the chrysalis on the cross and the flag the morning after a tornado had ripped through her area of town. Yet through it all, each chrysalis held on for dear life.
Like I mentioned earlier, the Old Rugged Cross was first performed on June 7, 1913 and my friend found the chrysalises on June 7, 2020. But something else happened on June 7 that's important to our nation's history. On June 7, 1776, Richard Henry Lee of Virginia introduced a resolution for independence to the Continental Congress in Philadelphia, Pennsylvania. This is what the resolution said:
"That these United Colonies are, and of right ought to be, free and independent States, that they are absolved from all allegiance to the British Crown, and that all political connection between them and the State of Britain is, and ought to be, totally dissolved; that measures should be immediately taken for procuring the assistance of foreign powers, and a Confederation be formed to bind the colonies more closely together."
Soon after this resolution was presented, the Declaration of Independence would be drafted and adopted. Interestingly enough, the birthdate of Richard Henry Lee, the founding father who presented the resolution, just happens to be January 20, 1732. Of course, we know January 20th as the date of the Presidential Inauguration.
No matter what happens in our nation from this point forward, we must remember we always have true freedom through Christ. We must declare our Declaration of Dependence on Jesus. Like the caterpillars who traveled the difficult path to get to the cross and the flag, we too must travel that rocky road. The butterfly chrysalises were found on June 7, and the Old Rugged Cross was first performed on this date as well. But do you know what else happened on June 7? Actually, this event happened on the exact date and year that the Old Rugged Cross was first performed. On June 7, 1913 an Alaskan missionary named Hudson Stuck and his team became the first people to successfully climb to the summit of Mt. McKinley (also known as Denali), which is the highest mountain peak in the United States. They endured seven weeks of blistering Arctic conditions. They battled exhaustion, sickness and fierce winds in upwards of 100 mph. When they reached the summit, they held a prayer service in the midst of howling winds. Before leaving, they planted a small cross and hoisted up a homemade American flag.
Our lives and our nation are facing these same howling winds and blistering weather. Perhaps our exhausted hearts feel sick as we see the turmoil around us. But we can face this mountain. Our transformed lives in Christ will help us in every circumstance we must face. The choices we make will not always be easy. Most times we will face resistance. Nevertheless, we must make the journey to the Old Rugged Cross daily, remembering that someday we will trade everything for the crown Jesus promises us.
WE CAN TRUST CHRIST. HOW ARE YOU FINDING HIM FAITHFUL IN THE STORM? SHARE IN THE COMMENTS…
Author Angela Rodriguez blogs at 67owls.com and 100trumpets.com
(Photo credit: Canva )
Partner with Us
Intercessors for America is the trusted resource for millions of people across the United States committed to praying for our nation. If you have benefited from IFA's resources and community, please consider joining us as a monthly support partner. As a 501(c)3 organization, it's through your support that all this possible.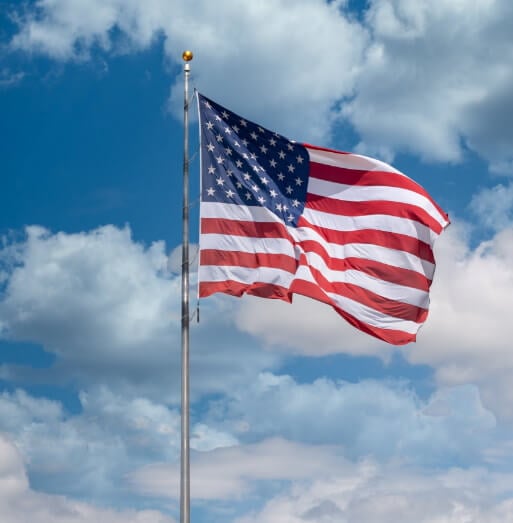 Become a Monthly Partner