August 17, 2021 | From Center for Security Policy and U.S. & World News Report
Lord, we ask that our leaders will rightly discern and act upon terror threats in the U.S. We ask for your protection upon our nation and its people. Amen.
On Friday, the Department of Homeland Security issued a new terrorism warning. The list of potential terror threats should give IFA readers reason for concern.
Before the bulletin released on Friday, the Senate held hearings last week on the domestic terror threats. Here's what the Center for Security Policy had to say about it:
"For well over a year now, the Biden Administration, Democratic politicians and the so-called mainstream media have bombarded Americans with the claim that the greatest terrorism threat comes from "white supremacists" and "right-wing" extremists….
U.S. & World News Report wrote this: The Department of Homeland Security on Friday issued a new National Terrorism Advisory System bulletin warning of the threat of extremist violence as the coronavirus spreads widely again and the 20th anniversary of the September 11, 2001…approaches.
"The Homeland continues to face a diverse and challenging threat environment leading up to and following the 20th Anniversary of the September 11, 2001 attacks as well religious holidays we assess could serve as a catalyst for acts of targeted violence," the bulletin says. "These threats include those posed by domestic terrorists, individuals and groups engaged in grievance-based violence, and those inspired or motivated by foreign terrorists and other malign foreign influences."…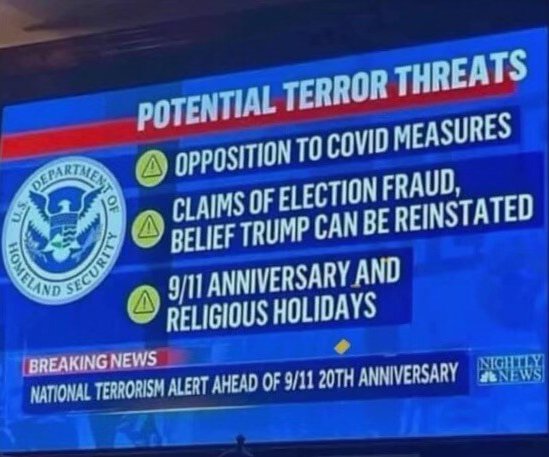 Our prayers are needed desperately. It is difficult not to imagine that political bias and/or animus are fueling these terrorist designations. How are you praying? What are you sensing from the Lord? Please share in the comments.