ARIZONA AUDIT: EYEWITNESS TESTIMONY OF THE POWER OF GOD AT WORK
Gloria Robles, IFA Contributing Writer
|
August 17, 2021
ARIZONA AUDIT: EYEWITNESS TESTIMONY OF THE POWER OF GOD AT WORK
Gloria Robles, IFA Contributing Writer
|
August 17, 2021
I Prayed
have prayed
Father, help us to take up our armor and partner with You in fulfilling Your destiny for this nation. Awaken us, strengthen us, draw us near, and help us to hear and follow through on what You are calling us to do.
It's been eight months since the election and fallout. It has been overwhelming, frustrating, and heartbreaking to see the direction of our nation turn around in favor of a progressive, anti-Christian agenda.  Recently, a glimmer of hope has emerged from Maricopa County in Arizona. This is a beautiful testimony of one woman who decided it was time to take action. 
Cheri Tuttle is 72 years young. She lives in Arizona with her husband Joe. She is a mother of three adult children and eight grandchildren. She moved to Arizona in 1977 from Wisconsin. Cheri confessed that although she grew up in a Christian home, it was legalistic. It wasn't until much later that she would encounter the grace, faithfulness, and unconditional love of God and be delivered from religion. Cherri said she always prayed; however, her prayers were more self-focused at times. She prayed for family and needs that came before her, but never actively prayed for our government or nation until she became familiar with Intercessors for America. 
View Comments (23)
2020 Was the Catalyst
2020 will be a year that no one will forget. It brought death, fear, pressure; but for many it brought about desperation to be closer to God. Cheri says that during Covid when the churches were shut down it awakened something within her and Joe. As they listened to online sermons, she says she felt as if their eyes were opened. They diligently pursued the Lord and had a renewed sense of passion and perspective.
Cheri and Joe, along with two other couples, began meeting every week and praying together in their homes about what was going on in the nation. They still continue this prayer time, using the prayer guides that IFA provides. Cheri is thankful for the prayer guides that keep the intercessors well informed of how they can pray. As they continued to pray for the nation and contacted state leaders and legislators making their feelings known, Cheri sought the Lord. She wanted to do more. She felt pressed to take action. 
Knock and the Door Will be Opened
Cheri heard of a meeting taking place in her town. It was held by the NorthWest Valley Christian Conservatives. She remembered being greatly impressed by the speakers. They spoke of a forensic audit that would happen in March. An open invitation was given to the attendants to be a part of the audit to uncover election fraud. Cheri and Joe signed up fully believing that this was God's answer to her prayer to take action. Everything else after this point was a series of confirmations that the Lord was responding to her and many others who have been praying for Arizona.
The Hand of God Over the Audit
Cheri believes that God's hand has been over the audit from the very beginning.
She shared some beautiful stories of how she and her husband, along with others, have been sustained through it all. 
The Arizona Veterans Memorial Coliseum was known for hosting NBA games, rodeos, circus attractions, and more. It eventually earned the nickname, "The Madhouse on McDowell."  Nowadays it is still used for county fairs and random events. The Coliseum that usually holds nearly 14,000 people would soon hold 350 people who came together for a greater purpose.
It wasn't about politics or people. Cheri says, " it was a group of people who love America; all we wanted was to pursue the truth." 
Cheri's first confirmation from God came when she met Doug Logan, the CEO of Cyber Ninjas. He offered the small groups words of wisdom about living above reproach and repenting as individuals and as a nation. She believes that every person involved in the audit and every speaker was handpicked by God for this moment. 
The Prayer Wall
One day a large white king sized sheet was placed on the wall. It had the words prayer wall written on it. People were encouraged to write their prayers, and they did. It became so full that poster boards had to be added onto the sides. The wall was covered with prayer and scriptures. Cheri later said that this was one of Doug Logan's requirements. There had to be a prayer wall somewhere. 
Where God Guides, He Provides
When I asked Cheri how she saw the hand of God with her through the audit process she replied, "there was no way we could've ever done this if it weren't for God."  During the audit Cheri, Joe, and all the volunteers had been warned that threats were being made. Some groups gathered in downtown Phoenix and had been threatening to show up at the audit and make a scene and dox the volunteers. Cheri said, "I'm not a brave person. I've never thought of myself that way, but there was such a positive atmosphere, the peace of God was there. I knew the building was protected, and as for all those threats, the group never even showed up. I definitely felt God's strength." 
Cheri also credits the Lord for supernaturally sustaining her and Joe. 
They are in their 70's and already retired. "The audit process has been lengthy and tedious. Joe and I took double shifts, working in two five-hour shifts counting ballots. We left our home at 6:40 a.m and returned at 9:00 p.m. I was counting an average of 5,000 ballots per day.
Joe was placed in the 'ballot corral' within the first week due to his excellent leadership and organizational skills. It was very hectic. It required a constant awareness of the whereabouts of 2.1 million ballots at all times, but God blessed us with fresh strength and peace each morning that sustained us throughout the day."
What Scriptures have you been Praying? Here are some words of wisdom Cheri has to offer intercessors:
He says, Be still, and know that I am God;  I will be exalted among the nations,
 I will be exalted in the earth. (Psalm 46:10)
She states that in Hebrew the word "be still" can also be translated as "let go."
She offers this word of encouragement:
"Don't dread, He already knows the details. God is not at all caught off guard by what is going on in our nation right now." 
For God has not given us a spirit of fear, but of power and of love and of a sound mind. (2 Tim. 1:7)
As Cheri mentioned earlier, she never considered herself to be a brave person. Because she partnered with God through the audit, she said she never once felt fear. She knew that God was with her as He promises in His word. He will never forsake us.
No weapon formed against you shall prosper, And every tongue which rises against you in judgment You shall condemn. This is the heritage of the servants of the LORD, And their righteousness is from Me," Says the LORD. (Isaiah 54:17)
Cheri believes Isaiah 54:17 is a great reminder when we armor up daily. No weapon formed against us will prosper.
I asked, "How would you encourage intercessors to step out in faith?"
"If

you feel a call from God to take action, then he will give you the opportunity to do it. Step out in faith and He will give you exactly what you need. God will let you know where He wants you."

"Make yourself available. This is cooperating with God. When we pray on earth as it is in heaven, I don't think people realize that God wants us to be His vessels here on earth. How can we touch other people if we won't cooperate?"
"How can intercessors be praying for Arizona?" 
"Pray for the subpoenas coming. Whoever is in charge is refusing to release all the information to complete the audit. We need those subpoenas, otherwise the audit will be incomplete. They are being so secretive. Please pray they will be cooperative, and pray for all the truth to be revealed."
"How are you praying for the nation?" 
"I am praying for Christians to be faithful to the call of God and that they would honor the sacrifice Jesus made for us. Revival begins in His Body. We must repent for turning our backs to Him. We must repent personally and then as a nation."
"I am praying for those who call themselves Christians to get up.
Get up! Speak up! Stand up! 
We must get rid of our flippant attitudes. 
We need to vote, pray, and take action. 
We need to educate ourselves on what is happening in this nation, the policies, the leaders and what they stand for."
Final words for the intercessors
"We are in the midst of a war right now. This is not about Biden vs. Trump; this is God's Kingdom vs. Satan's kingdom. This is about light and darkness. Ephesians 6 talks about the armor of God we take up daily. What good does armor do laying on the ground? You must pick it up and put it on. If you choose to put it on, remember why. Why do we need armor? To be protected in battle."
"This nation was God's idea. He brought a group of people over here and founded a nation on His biblical principles. I have repented for how we have let this go over the years. But I know that even now it is not too late. God has not brought us here and turned His back on us. We are not done yet! When God's people choose to speak up, stand up, and call on the Lord He shows up. I know that just as Arizona is A to Z what God began in this nation he will finish! The fight is not over. God is still in control here!"
Cheri Tuttle is living proof of the awakening that has already begun in America. Everyday people like you and me are raising up and making their voice heard, and God is responding. I pray that whoever reads this knows that the kingdom of God needs you. People need your voice. Your courage may be what helps someone else make their decision to rise up.  She is a mature woman of faith, who had a God-given desire to take action. I pray this would inspire every reader. It is never too late to take a stand. Despite your age, occupation, or gender, you are needed.
Will you accept the call?
Ask and it will be given to you; seek and you will find; knock and the door will be opened to you. For everyone who asks receives; the one who seeks finds; and to the one who knocks, the door will be opened. (Mt 7:7,8)
Partner with Us
Intercessors for America is the trusted resource for millions of people across the United States committed to praying for our nation. If you have benefited from IFA's resources and community, please consider joining us as a monthly support partner. As a 501(c)3 organization, it's through your support that all this possible.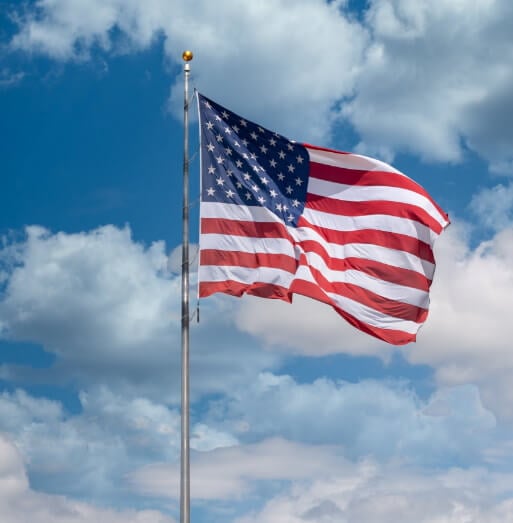 Become a Monthly Partner